Top 5 Ecommerce Retargeting Strategies
Topics Covered:
Retargeting is one of the most powerful strategies for ecommerce companies to help attract and retain customers. While it's a great idea to attract potential customers with social media posts and online ads, a comprehensive ecommerce strategy should encompass retargeting campaigns, too.  
But you may be wondering: Who should I be trying to reach with retargeting campaigns? What kind of strategies should I employ?
What is Retargeting?
Retargeting focuses on reaching potential customers who have interacted with your brand in the past. Whether they've visited your website or filled a cart without completing their purchase, the goal is to find a new way to reach them and bring them back into the fold. 
Imagine you are moving into a new apartment, so you visit an ecommerce website that sells furniture and spend time browsing coffee tables. You find one but decide to put off the decision until a little later. In the days that follow, ads pop up on your browser, reminding you of the wooden coffee table you left in your cart. The company sends you 30% off discounts, and you see ads throughout the day that let you know the table is still waiting for you. While you're at it, there's an additional $50 savings if you buy the matching bookshelf. 
Ultimately, you realize that you can't resist the deal, so you go back and complete your purchase. This is an example of successful retargeting. It's a marketing tactic that focuses on reeling in customers that have already shown interest or interacted with your brand.
Why Do Ecommerce Brands Need an Retargeting Strategy?
The majority of people who visit your website aren't going to make a purchase. It's not your fault, though! Most people aren't ready to buy when they first head over to your website—instead, they're simply virtually browsing. Some want to compare prices, some want product or service information, and some just want to shop for the fun of it.
Retargeting focuses on using tools like ads, emails, and SMS messages to reach those customers, as opposed to bringing in new customers altogether. There's lots of advantages to this approach. They will almost definitely have higher brand awareness than a completely new customer. And, if you can find the reason why they came to you in the first place, you'll know exactly how to reach them.
Sometimes retargeting is as simple as reminding shoppers that your company exists and that they can still get that product they once desired. Other times it's about enticing them with a sweet deal. But the end goal stays the same — bring in the customers that got close but didn't convert.
The Top 5 Ecommerce Retargeting Strategies for Brands
You're likely to have a wide pool of retargeting candidates and segments, containing practically everyone who has visited your site or interacted with your brand. It's a good idea to be specific about the groups you want to retarget. So who should you retarget? Ultimately, it depends on your strategy. 
Check out the five most popular retargeting strategies that will help identify and impress potential customers for your next retargeting campaign.
1. Segment your audience by behavior
Different audiences are going to have different behaviors, right? Well, in that case, it's up to you to segment your audiences in a way that makes it easier to retarget them. Then, you can create personalized ad copy that will be more effective than just general outreach.

There are several ways you can do this based on shopper behavior or even by analyzing how they interact with your site. Data is power, especially when you're identifying your audience. Here are some of the most effective segmentation strategies for retargeting campaigns:
Segment using URL-based tracking. With URL tracking, you can segment retargeting ads based on which pages a shopper visited on your site. If a shopper clicked on a product page, you can send them dynamic ads featuring that product or similar products they might be interested in.With URL tracking, you can create new audiences for retargeting campaigns based on who visited specific pages on your website.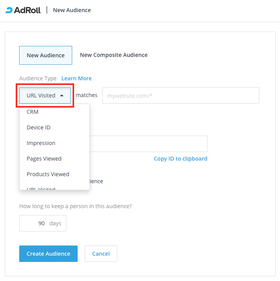 Segment by checkout process. Using the same kind of URL tracking, you can also identify and segment shoppers who abandoned their carts — it's even possible to record when this happened during the checkout process. If they kept going until they saw the cost of shipping, for example, it could be a good idea to reach out with a coupon for free-shipping in a targeted ad.

Segment by customer type. The way a shopper interacts with your site is going to be different from person-to-person. But you can segment shoppers further by dividing them between where they are in their customer journey. Here are some examples:

First time vs. returning customers: When a shopper first gets to your site, target them with discounts and free shipping codes to encourage them to try your brand. Alternatively, returning customers can be invited into a loyalty program where they can find incentives for continuing to shop at your store. Personalized ads thanking returning customers for their loyalty are also very effective for this group.

Current vs. dormant customers: If it's been a while since they've visited your site, create personalized ads for dormant customers that entice them to see the new products you have to offer. The messaging in your ads should change depending on whether or not the shopper is a regular or someone who hasn't stopped by in a while.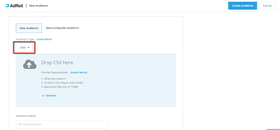 Before purchase vs. after purchase: Even when a customer is going through the checkout process, you can design ads that encourage them to complete their purchase and incentivize them to not abandon their cart. After a purchase, you can direct new/returning customers to loyalty programs or your email newsletter.
Seasonal vs. year-round customers: A customer purchased a scarf last winter. Why not run an ad showing the scarves you have this winter? You can even spice up the ad, make it a carousel, and include other products like gloves and beanies. Rinse and repeat this process for the seasonal items you sell during the year. 
2. Create personalized ads 
Now that you've identified multiple different segments, the next step is to create personalized retargeting ads that appeal to each unique shopper directly. With the information you've collected about these shoppers, you can get a pretty clear picture about what who they are and why they might want to shop with you.
Use this data to laser-target your ads and serve them product recommendations that are most relevant to their needs. If they've clicked on a specific product or have shown an active interest in a particular product category, personalized ads should showcase those products. Ads could include relevant reviews of these products or update shoppers on price drops. 
People live busy lives, so personalized ads help remind potential customers that you've got exactly what they're looking for.
3. Make your ad copy compelling
Everyone with internet access sees dozens of ads on daily basis. You've got to cut through the noise to reach them, your ads need to stand out. Ad copy should be interesting and convincing enough for the shopper to click the link and return to their cart. If you suspect that they abandoned the product for a reason (maybe shipping was too expensive or they're waiting for a product to come back in stock), your ad can convince them to go back and take action.

Pairing a compelling message with incentives is a great way to accomplish this. Remind your customer that they don't want to miss out on your product — then send over a discount code to make it an offer they can't refuse.
4. Cross-sell to existing customers
It can cost between six to seven times more to acquire a new customer than it does to retain one. Happy customers equal more revenue opportunities, plain and simple. The customer who bought the coffee table may also need a sofa — good thing you already have all the right data to retarget them for their next purchase. 
By retargeting your existing customers, you can suggest items that are similar to the products they love or complement their past purchases. This is the concept at the heart of cross-selling to existing customers. Retargeting ads ensure your company is always top-of-mind when they think of products like yours. Leverage retargeting to remind customers why they love your brand and how your offerings are better than the competition.
5. Invest in email retargeting
Every strategy listed above can be complemented by email retargeting. You can use it to reach out to shoppers who visited your site and didn't purchase anything, shoppers who have abandoned products in their carts, and shoppers who have purchased a product before. It is also appropriate to email inactive customers.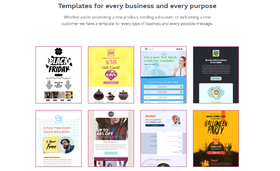 Take advantage of the opportunity to personalize your email campaigns in ways that you can't with advertising. While emails should be kept short and sweet, you still have a lot more space to craft a detailed message in an email compared to a display ad.
Unlike ads, email retargeting can only reach customers on your subscriber list. So, make sure to capture the contact information of potential customers and keep subscriber lists up to date to maximize your retargeting success. 
Emails and advertisements are both useful tools for retargeting — but they're even better when you combine their powers. Users who see both emails and ads from your brand are twice as likely to convert.
(Re)Target Practice
Whichever of these ecommerce retargeting strategies you choose, you'll need an intelligent ad management tool like AdRoll to put you on the right track — our platform is the best way to launch retargeting campaigns across all your channels, including Google and Facebook. AdRoll organizes and analyzes your campaigns so you can focus on finding the right audience and messaging to reach your retargeting goals.
Last updated on December 2nd, 2022.