The Price Is Right: A Pricing Model Worksheet
Topics Covered:
Developing a pricing strategy for your ecommerce site requires a careful, balanced approach. Price too low, and you'll lose out on potential profit. But price too high, and you risk alienating budget-conscious shoppers, making them gasp and say, "Yikes, I'm not paying that much!" 
Similar to most marketing strategies, pricing success involves a significant amount of research and planning. Before slapping a price tag on anything, you'll need to consider your production and materials costs, consumer trends, competitor pricing, and business goals. 
That said, take a minute to gather the necessary data to answer these questions: 
Who is your target audience? How much are they willing to pay for your products? What is their average income bracket? How much disposable income do they have? Are they budget conscious? Are they comfortable purchasing luxury or premium items?

Who are your competitors? How much do they charge for similar products?

What are your expenses and upfront costs, including packaging, marketing, shipping, storage, fulfillment, processing fees, employee salaries, software, and platform fees? 

Are your sales affected by demand and market conditions? 

What are your business goals? Are you striving to position your brand as a luxury retailer? Or do you want to come across as affordable and approachable for all? 
Armed with this information, you're now ready to determine which pricing model works best for your ecommerce brand. 
Using our guide, choose a product and then calculate its price using the four models to see how they differ. Remember: There's no right or wrong answer, and you can always adjust your pricing strategy based on results and sales numbers. After all, marketing and ecommerce are all about continuously optimizing as you receive more data and information. 
Pro tip: If you're interested in learning more about developing a pricing strategy, check out this post.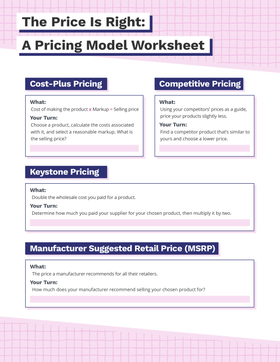 Originally published on January 24th, 2022, last updated on January 25th, 2022.