Swipe Up No More: 4 Ways to Use Instagram Link Stickers
Topics Covered:
Say goodbye to the swipe ups on Instagram Stories, and hello to link stickers. Instagram is revamping its popular social-selling feature once again, so here's everything you need to know — especially if you have no clue what anything in the previous sentence meant. 
Wait, What's Happening?
If you follow brands on Instagram, you're probably familiar with swipe up links and link stickers that appear in their Stories. For years, these useful features were only available to businesses, influencers, and other high-profile creators with at least 10,000 followers.  
That's all changing: The platform recently announced the beloved swipe up is a thing of the past, and all users, regardless of account size and type, can now use the link sticker feature instead. With the introduction of link stickers for all, it's a massive win for smaller, growing brands that want to use Instagram Stories as a way to engage with users and boost conversions. 
Why Is This a Big Deal?
If you're an avid reader of our blog, you know how much we preach about the importance of a snappy call to action (CTA). What's the point of posting compelling content if you don't tell viewers, shoppers, or users what you want them to do next?
Instagram's link stickers are your golden keys when it comes to creating CTAs. Instead of forcing shoppers to navigate through your profile to find a link to your store, they can now take action right there on your Story. That said, here are some helpful ways to use link stickers:
Visit your website
If you're featuring a product on your Story, your link sticker can take users directly to a product page where they can purchase said item. Seriously, it's that easy.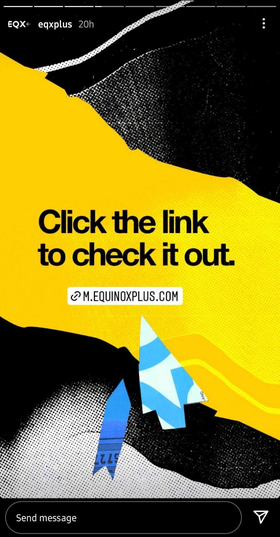 Read an article
For users who are higher up in your sales funnel and aren't necessarily ready to shop, you can link them to a blog post or any piece of content on your site that serves a more introductory or informative purpose. 
Sign up for your marketing emails
Trying to build up your first-party data? You can use link stickers to direct users to an email sign-up page. Remember to provide an incentive, like a small discount or free shipping, which you can promote in your Story.
Promote an event
Hosting an in-person or virtual event soon? Use link stickers to easily register attendees — just triple-check that you're linking to the correct registration page! 
How to Access Instagram Link Stickers
Once you've filmed, shot, or uploaded content to your Story, go to the top navigation bar, select the sticker tool, and click on the "link sticker" button. You can then type or paste the link, tap "Done," and move your sticker anywhere on the page. You can also customize the color variations to match the theme or style you're going for. 
Pro Tip: We recommend adding a CTA or other visual graphics to direct attention to the link sticker.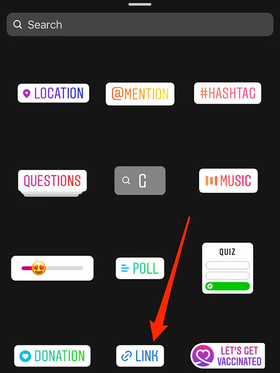 Make note that you're using Instagram's link sticker feature properly — the platform has warned anyone caught using them to spread misinformation or post spam will be blocked from accessing them. 
Get on the 'Gram
Instagram moves fast, but you can move even quicker by tuning in regularly to our resources linked below!
Last updated on May 10th, 2023.