Seasonal Marketing Goals: October 2020
Topics Covered:
With more than a month until Thanksgiving and traditional promotional shopping holidays, the shopping season feels like it's just around the corner. But like the majority of 2020, this October is looking quite different, and the shopping season has officially started. 
Amazon's Prime Day is typically Christmas in July, but with fulfillment and logistics management issues due to this year's public health and economic crisis plus a desire to make the most of the holiday shopping season, the giant pushed the two-day event back to October 13th and 14th. To combat Amazon's play to capture as much of the holiday shopping market share as possible, big-box retailers Walmart, Best Buy, and Target are switching things up this year, too, by running Black Friday in October. 
It's not just the big dogs' market. According to Salesforce research, with a projected 30% increase in online sales from last year, the world will see its largest online holiday shopping season ever. Direct-to-consumer (D2C) e-commerce brands who prioritize owning their customer relationships, experiences, and data can win big in 2020 by focusing on these three key goals for the rest of October. 
Goal 1: Grow Customer Relationships 🤝
From your followers on organic social and your email subscription list to reaching new potential customers with targeted advertising -- now is the time to deeply connect with your audience, strengthen customer relationships, and foster new ones. After all, your brand's strong and direct relationship with its customers is your biggest asset and is your brand's top advantage over Amazon and other big boxed retailers. 
People are looking to create unique and meaningful experiences for their loved ones and themselves this year (self gift-giving is on the rise), and since getting together in real life poses a significant risk, gift-giving is going to be a key way people do that this year. Come up with creative emails designed to up excitement for the holiday season and increase shopper's motivation to buy. Create personalized shopping experiences, and carry your messages across channels and devices. 
Here's an example of a marketing email I received from Wayfair letting me know that an item I was interested in went on sale: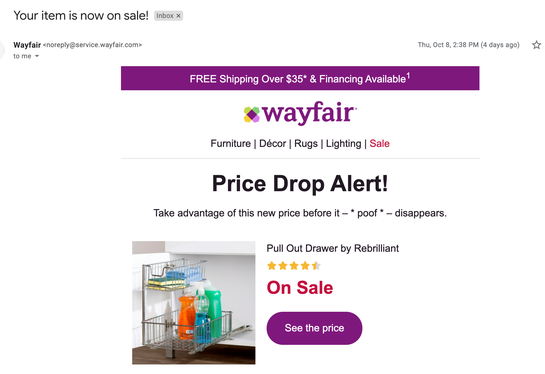 And you bet that I bought it! That "See the price" button was extremely effective at getting me to click through back to the core site and checkout. 
Goal 2: Prepare Your Online Store 🏬
Last year, one of the biggest complaints (and missed revenue opportunities) online shoppers had was website quality issues. Namely, not being able to complete checkout flows due to site outages. 
Be ready for heavy site traffic through this month and next by properly quality testing your online store. Prioritize critical revenue flows on the site and do plenty of load testing. Though it's a few years old, Ashley Dotterweich's article on the key to e-commerce testing success is more relevant today than ever before. 
Beyond quality testing, create user pathways on your site that will increase people's engagement with your brand's offerings as they're shopping. I like how fitness brand, The Girlfriend Collective, made it easy to add the matching sweatpants to the sweatshirt I had just added to my cart: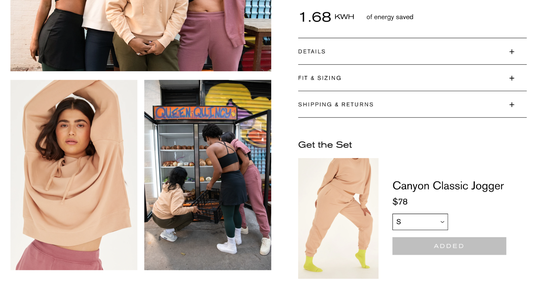 Goal 3: Motivate Customers to Shop Small and Shop Now 🛍
It goes without saying that this year has brought up a lot for people. In the face of economic uncertainty, many have increased their awareness around how much they're spending and where they are spending. Research shows that 71% of consumers prefer buying from businesses that align with their values. As the saying goes: 
"We vote with our dollar." 
Encouraging your customers to shop small this holiday season in your marketing communications can go a long way. Local businesses in my city have started spreading the message, "Every dollar spent in Oakland stays in Oakland," and it really resonates. 
Double down on motivating your customers to shop small and to shop now with appealing seasonal promotional offers, limited release items, and special packaging. Design a series of offers to run from now through the end of November to drive customers to your site. 
While my pup didn't get this because he's already too spoiled, I was very tempted by this personalized seasonal promotional offer from BarkBox: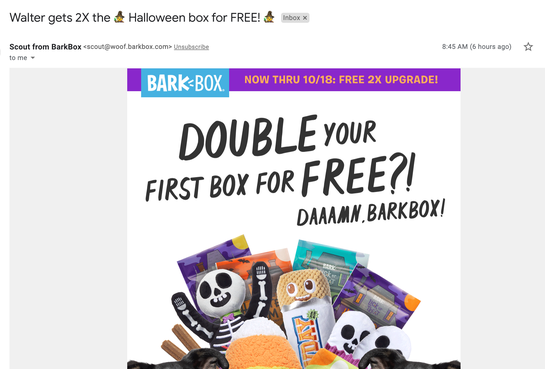 Check Out the Small Business Shopping List Powered by AdRoll
At AdRoll, our mission is to level the playing field for D2C brands. From our growth marketing platform to our free resource library, we've got your back. This year, we're putting resources behind driving awareness of and traffic to this Small Business Shopping List. If you would like to get your small business added, please let us know by filling out the Google form on the page. 
Last updated on September 16th, 2022.