Ready, Set, Checkout: The Ultimate Guide to Optimizing Your Shopify Store for Conversions 
Topics Covered:
It's one of the most frustrating realities of ecommerce: experiencing significant store traffic without a single conversion. Or worse, a rush of site visitors who add products to their carts and then… exit the page! Never to return again. Gah! 
At first glance, optimizing your store can seem simple: feature your best products on your homepage and let shoppers browse until they find something they like. But the truth is, that's not how ecommerce works — and it's definitely not how modern shoppers move down the funnel before they hit the coveted "place order" button. 
There are numerous factors that can affect your ability to capture someone's attention, convert browsers into buyers, and convince customers to return again and again. However, this level of optimization requires experience and insight. We like to think of it as both an art and science — not only are there certain creative elements that can help boost conversions, you also need to know where and how to implement them. 
If you're struggling with conversions, there's no need to shake your fist at these fickle shoppers. We're here with the inside scoop on what's working in ecommerce right now, plus tips and exercises to help transform your Shopify store into a conversion machine. 
Level Up Your Product Photos and Descriptions 📷
Put yourself in customers' shoes: When you decide to purchase a product online, you don't always know what to expect. (Ever been burned by a product that bore little resemblance to their advertised photo? 🙋‍♀️ You're not alone.)
That's why a major element of optimizing an ecommerce store for conversions revolves around building trust and easing shoppers' concerns. And the first step to that? Taking accurate product photos and videos, along with writing more informative product descriptions. 
Getting started with 👍-worthy product photos
The rise of visual social platforms like Pinterest and Instagram inundates browsers with gorgeous photos everywhere they click. That's why it's critical to prioritize product photography. Use this checklist for every product photo series you take:
The product is in focus.

You're taking shots with multiple angles (and zooming in on pertinent details).

The photo isn't oversaturated or overexposed.

If you're using background props to make the image more interesting, they don't steal attention from the product.

The colors and photography style are on-brand.

The photo is an accurate representation of your product (and not overly edited or retouched).
Crafting persuasive product descriptions that ✨
Product descriptions are an important piece of marketing real estate, so it's important to convey essential details that'll help shoppers make an informed decision. What you don't want to do is cram sales-y content and fluffy adjectives into a description that, well, basically says nothing. Consider adding these elements to your product descriptions:
Value proposition: Why do shoppers need this product? How will it improve their lives?

Features: Does the product have any unique qualities?

Social proof: Is this your best-selling or top-rated product? Has it won any awards? 

Materials/ingredients: What is the product made out of?

Size: How large or small is your product?

Care: Does the product require special care?

How to use: What are the instructions for using the product?

Technical specs: What technical details do shoppers need to know when they're considering purchasing the product?
Free Shipping Is King 👑
Here's a harsh truth we're sure you've realized by now: Nobody wants to pay for shipping. This "surprise fee" that pops up in shopping carts at the very last moment can sour even the happiest shopper, turning them into a cart abandoner. 
There's a silver lining, though: Studies have found that free shipping persuades nearly 80% of U.S. shoppers to purchase online. But there's a catch — a whopping 75% of shoppers expect shipping to be free (even on small orders), and this number is projected only to grow.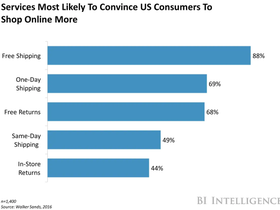 Not all Shopify stores can afford to cover the shipping and delivery costs for every order. Instead, there are some strategies to keep shoppers satisfied while also ensuring expenses stay low:
Fold shipping costs into products' retail prices.

Set a free shipping threshold. (e.g., "Free shipping for orders over $50!")

Offer occasional free shipping promotions. 

Use retargeting ads that offer free shipping on cart abandoners. 
Review Your Checkout Pages 🛒
When was the last time you experienced your checkout process as a shopper? Unless you recently launched your Shopify store, it's probably been quite some time. Take a moment to review your checkout pages by asking yourself...
| | |
| --- | --- |
| Ask yourself…  | Why it matters |
| Can shoppers check out as guests or are they forced to set up an account? | Although there are benefits to shoppers setting up an account with your brand, it can add unnecessary friction and time to the checkout process.  |
| How many payment options am I offering? | Offering Visa, Mastercard, or American Express payment options is no longer enough. Today's shoppers expect everything from Apple Pay to "buy now pay later" programs like Klarna.  |
| Are there trust badges and security seals on my checkout pages? | Once again, add-ons like trust badges can go a long way in boosting shoppers' confidence that you won't mishandle their personal details.  |
| Do I have an autocomplete address field? | Minimize the chances that people make typos in the address field (and have their packages go missing) by adding an autocomplete address field. It's a UX feature that has become more popular in recent years — and we can't live without it. |
| Are there distracting elements that can be removed? | Focus shoppers' attention on the goal: completing the purchase. If possible, we recommend removing all additional elements on the checkout page, including the header, footer, and menu buttons. |
| Are the fields as simplified as possible? | E.g., ditch the "First Name" and "Last Name" fields, and opt for a more straightforward "Full Name" field instead.  |
Make Your Deals Irresistible 💸
Fantastic deals are hard to resist, and the more enticing your deals, freebies, and promotions, the more likely you'll convert a shopper. Studies have shown that nearly 75% of American shoppers say offers and deals are primary factors for deciding where and what to purchase online. 
But slashing your prices isn't the only way to go. Even something as simple as free shipping and returns, a money-back guarantee, or loyalty points for purchases can go a long way in encouraging someone to convert. For more ideas, check out this post. 
Say Hello to FOMO and Other Urgency Tactics ⌛
When it comes to turning your visitors into paying customers, one word reigns supreme: FOMO (AKA fear of missing out). 
As we mentioned previously, people are innately driven by fear and loss aversion — and this is especially true when it comes to online shopping. Urgency Is a powerful way to persuade shoppers to take action. Messaging and visuals that play on these instincts by triggering a sense of scarcity can massively encourage shoppers to take action before they miss out on a great deal.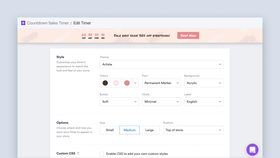 Here are some ideas to get started:
When you have a limited-time sale, add a global header with a countdown timer. Similarly, make sure you promote the end date of every sale period. 

Include copy in your homepage that reminds shoppers why they need your product now.

Use words like "low stock" or "selling fast" in product pages for popular items.
Use Social Proof… Everywhere! 💬
The stats don't lie: 88% of shoppers trust user reviews and personal recommendations equally, and on average, shoppers read 10 online reviews before deciding to make a purchase. Not only that, shoppers also need at least 40 online reviews before they believe a brand's rating is genuine. 
Case in point: Social proof is more important than ever, and instilling confidence in customers is one of the most prominent factors in increasing conversions. 
Despite the importance of featuring your top reviews and testimonials throughout your site and digital ads, it can be difficult to know where to start. How can you take advantage of social validation (in other words, when customers see that other people are already shopping with you)?
To get started, take a look at your reviews and find…
One for your most popular product

One for your highest-rated product

One that tells a story

One that's funny

One that outlines the benefits and value propositions of the product

One that includes a photo of the product in action

One that praises not just the product but also other parts of your brand (e.g., your customer service, shipping and delivery times, or your company's mission)
Lend a Helping Hand 🤝
Every online shopper has experienced the pain of reaching out to a company's customer service line to no avail. Whether you've stayed on hold for hours or sent email after email into a digital void, failing to receive help is a frustrating experience. The consequence? You probably won't shop with that company ever again. 
Don't let this happen to your Shopify store. Instead, use this checklist to make sure that your customer support is the best that it can be. (Trust us, it'll help with conversions):
Do you have a comprehensive FAQ page?

Do you offer a 24/7 help channel, such as a chatbot?

Is it easy for shoppers to reach a live customer service agent? Are you able to respond within 48 hours?

Can shoppers receive help by reaching out to your page via your social media channels?

Are your customer support channels easy to find across your site? 
If you answered "no" to any of these questions, it's time to work on improving your customer service experience ASAP.
Don't Forget Your Mobile Users 📱
Prioritizing mobile users is key. In recent years, the share of ecommerce traffic has slowly drifted away from desktop and toward mobile. And as of last year, mobile devices accounted for over 50% of all online traffic — and this number is only expected to grow. 
Although many of the themes available in Shopify's Theme Marketplace adjust according to a browser's screen size, it's worth the effort to double-check that your back end is working correctly. Specifically:
Are shoppers able to instant scroll back to the top of the page?

Is there a clickable logo that takes them to the homepage? 

Are all buttons a clickable size?

Is all text readable? 

Is there enough space between different layout blocks, or does it feel too cramped? 

Is the shopping cart and search feature available on every page?

Is the search feature mobile friendly? 

Is the checkout form mobile friendly? 

Are completed fields automatically shifted up the screen?

Are photo sizes optimized so they don't take too long to load? 

Can shoppers easily zoom into an image by pinching and double-tapping?

Can shoppers easily see their selected product attributes (e.g., color and size) in the cart? 
Strapped for time? Check out Google's Mobile-Friendly Test. 
Ready, Set, Checkout!
And just like that, your store is optimized for conversions. But conversions are just one part of the equation — without traffic, even the most perfectly designed Shopify store will struggle to see growing sales. 
Good thing we're also here to turbocharge your traffic. Check out the AdRoll app for Shopify, and see how our marketing solution can help you across all your channels. 
Last updated on December 9th, 2021.