Payton Jewelry: 4 Crafty Strategies for Handmade Sellers
Topics Covered:
The handmade goods industry is booming: Etsy, the largest e-commerce site for independent sellers, boasts 2.5 million sellers alone. But as a small boutique owner, shifting from a creative production mindset to a business-centric one may be challenging. After all, the strategies used to market one-of-a-kind handcrafted items should drastically differ from those of mass-produced products. 
Sean and Kristi Payton, the founders of Payton Jewelry, would agree. They launched their handcrafted jewelry brand as a pet project ten years ago, never expecting the business to grow to four retail locations — with one of them in the King of Prussia Mall, the biggest mall in America! After witnessing the success of their brick-and-mortar stores, they turned their attention to trialing new digital marketing ideas and boosting their e-commerce presence. In the last 12 months, they have managed to increase their total business revenue from both offline and online sales by over 650%.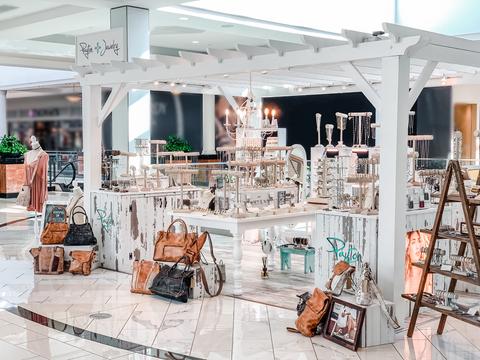 Memorable and Authentic Branding
Handmade items — from furniture to accessories to art — are synonymous with quality, craftsmanship, and beauty that mass-produced goods simply cannot replicate. At least that's what its creators hope to convey to potential customers. But it's not easy to have handcrafted work be recognized as valuable labors of love, rather than casual hobby items. 
Payton Jewelry recognized this challenge: To command a high price point, the brand needed to look professional and polished. They had to search for a way to sell the unique story of how their pieces were true works of art. 

The first step was telling shoppers where to find Payton Jewelry accessories, especially since the brand sold its pieces wholesale to other stores. The founders started tagging each piece with their company name to emphasize it was a different brand from the store where the shopper made the purchase. In addition to promoting who they were, the Paytons wanted potential shoppers to know they weren't some fly-by-night pop-up shop. So, they experimented with branding using printed bags that displayed their website URL and logo at craft shows. As they began amassing more customers and more revenue, that branding came to include signage and professional photos. 
With their brand presence and identity evolving, it was important for Payton Jewelry's scrappy, grassroots origins to remain at the forefront. During the pandemic, they've had more time to reflect on who they are, where they came from, and what they stand for. Eventually, they decided to re-introduce some of the original pieces that embodied the brand story — unsurprisingly, these pieces were a huge hit among their loyal customers. 
Pro Tip: Don't be afraid to elevate your brand. Even though you may be crafting a limited number of products in your dining room, it doesn't mean you can't market your crafts like premium products. Shoot high-quality product images and price in a way that doesn't undervalue your time, talent, and effort. 
Content Creation = A Peek Under The Hood
Content creation was an efficient way for Payton Jewelry to connect with their audience on a personal level. For example, to celebrate their 10-year anniversary, the founders have shared behind-the-scenes footage of their limited edition pieces being handcrafted with love and care, explaining the production process from start to finish. 
Of course, you'll want to steer clear of giving away any valuable trade secrets, but giving your customers an evergreen, behind-the-scenes sneak peek into the time and effort put into each piece can be entertaining and educational. And this type of content is easy to create — instead of having to design graphics or write blog articles, just pick up your phone and start documenting your day. 
Pro Tip: As people stay home, instructional content has become more relevant — you can teach your customers how to do their own craft projects. It's a great opportunity to introduce potential customers to the maker movement, as well as have them personally experience the labor required to complete a piece. 
Investing in Digital
Before 2020, Payton Jewelry relied so heavily on their brick-and-mortar presence — online sales accounted for only 5% of their overall revenue. As shops closed due to COVID-19, its founders — who had great foresight — decided to redirect their marketing dollars to online efforts immediately.
With e-commerce, you target people located in different cities, states, or even countries, who otherwise wouldn't have walked into your physical shop. But simply creating an online storefront is not enough. Not only did they improve their brand's digital shopping experience, but Payton Jewelry also invested heavily in a multichannel marketing strategy. They started running web and social dynamic retargeting campaigns. The founders also took a more analytical look at their customers and the digital customer journey, ensuring all touchpoints across the funnel were effective in driving conversions. 
And it worked: Now, online sales account for 15% of their total revenue, and they are steadily growing as the founders continue uncovering new avenues of web traffic. In fact, their online store is on track to surpass their best-performing brick-and-mortar retail location. 
Pro Tip: Investing in a digital presence can be costly and may not come easily to all small businesses. After all, you're competing with behemoths that not only offer products at low prices but have also primed shoppers to look for the best deals. But there are many cheap or free options that small businesses can utilize — organic social media, low-cost emails, or even a word-of-mouth campaign driven by friends and family can be invaluable if planned correctly. 
Targeting Each Unique Shopper 
Since its launch, Payton Jewelry had managed to cultivate a pool of loyal and enthusiastic return customers. But after years of sticking to what they knew and what worked — social media and the occasional email — they hit their ceiling and struggled to acquire new shoppers. They had successfully honed their brand voice and messaging, but hadn't diversified their marketing approach.
So, after internal discussion, they decided to expand upon their existing formula by fleshing out the sales funnel and implementing a robust segmentation strategy. Instead of a general email blast to their whole database, they started sending different emails to reach low intent, medium intent, and high intent groups. They also began attacking cart abandonment with abandoned cart recovery sequences, as well as taking advantage of a product recommendation carousel. 
For all small businesses, it's worth mapping out each stage of the shopping pipeline and noting exactly what efforts are in place to help customers progress through each stage. Instead of striving for immediate conversions, pay attention to your customers' emotional and informational needs when they are still in the awareness or consideration stages. 
Pro Tip: When it comes to targeting potential customers, social media is key. But unlike stores selling mass-made goods, you'll want to diversify your efforts beyond Facebook and Twitter. The two social media platforms essential for makers are Instagram and Pinterest, where users are actively seeking aesthetic inspiration, and visuals are rewarded by the algorithm. 
Be an Entrepreneur, Not Just a Hobbyist
When it comes to handicraft businesses, there are two types of founders: the hobbyist and the entrepreneur. The former loves the creation process and views selling as simply a secondary way to share their work with others. Comparatively, the entrepreneur transforms their passion into a strategic vision, complete with a long-term marketing plan. They want to expand their artisanship into a full-fledged brand. 
To launch your handcrafted boutique into the future, start investing in your online presence now. Nurture your customer base through content, social media, and other digital marketing campaigns, and don't be afraid to aim big. 
Last updated on September 16th, 2022.