Online Grocers: Massive Demand During the Coronavirus
Topics Covered:
There's an old myth that the word "crisis" and the word "opportunity" are the same in written Chinese. This isn't exactly true, but it's close enough that it's taken off in popular culture, becoming a go-to for motivational speakers, corporate consultants, counselors, and CEOs. Aside from the linguistic misconception, there's a reason that this concept has stuck around: crises precipitate change, and brands that are ready and able to meet that change have a lot of opportunity for growth. Case in point are online grocers and grocery delivery companies.
As people continue to shelter in place, delivery companies of every kind have been seeing a huge boom. This obviously helps long-established companies like Uber Eats and Postmates. Less obvious are the new class of online direct-to-consumer (D2C) grocers and grocery delivery companies that have come to the forefront.
The idea of buying your groceries online isn't new. Publix, the venerable grocery institution from Florida, first tried online orders way back in 2001. The service sputtered out shortly — people simply weren't ready to buy groceries online. Since then, stores from Whole Foods to Costco have tried to jump on the online grocery game. Services like Instacart, along with hundreds of local competitors, have sprung up to smooth out the process. Even Amazon, the 800-pound gorilla of e-commerce, entered the fray in 2017 with the launch of Amazon Fresh.
But over the last several years, a new kind of service sprouted to compete with traditional grocery stores in the grocery delivery space. These digital native, online-only brands took the best of existing business models and modified them to the new economy. 
Some, like Brandless, flared brightly and then burned out before they could take advantage of the current crisis/opportunity. Others are going strong by leveraging a combination of innovation and cherry-picking of existing technologies and processes. Companies like Public Goods and Thrive Market are thriving (pun intended) in the age of COVID-19. 
In this article:
Brandless Traps Itself
Thrive Market Reinvents Conventions, and Adds a Dash of Transparency
Public Goods Learns From Others
The Future Looks Bright for Online Grocers
Brandless Traps Itself
One of the biggest advantages digital native brands have over their more established counterparts is flexibility. Many startups pivot multiple times before finally hitting on something that allows them to maintain a sustainable business model. Even Instagram started out as something completely different: a check-in app for bars. When that advantage is taken away, when brands are pigeon-holed into a category, things can get bad. When a brand gives up its own ability to innovate, though, things get even worse.
Brandless began as an e-commerce brand that was distinct for manufacturing their own household goods products. The company made a big deal of their big differentiators: eschewing splashy brand names and logos, focusing on cruelty-free and ethically-sourced products, and keeping prices low.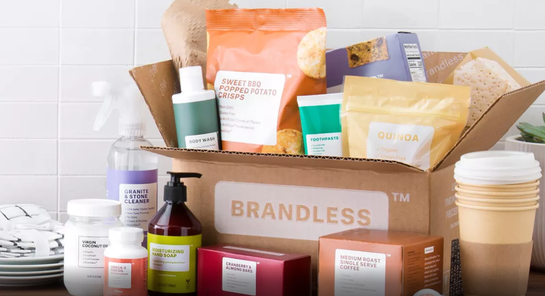 That last point proved to be the brand's undoing. Initially, Brandless sold everything for $3 or less — more expensive products would be $3 each, less expensive ones would get you two or three for $3. It was a bold pricing strategy that helped to further distinguish the new brand. It also made it increasingly difficult for the company to maintain margins as it grew, and ultimately became unsustainable. By 2019, the company relented and began selling higher-priced products, tarnishing its reputation and losing their major point of differentiation from other startups in the space.
In February of 2020, Brandless announced it was shutting down. Citing increasing competition, the company may have made it long enough to see the explosion in online grocery and household goods orders, had they not tied themselves down from the beginning into an inflexible pricing model.
Lesson #1: Startups and D2C companies need flexibility. That flexibility is the key to growth, sustainability, and the ability to weather adversity. Any decision that limits a brand's ability to stay agile and pivot in response to market conditions should be considered very carefully.
Thrive Market Reinvents Conventions, and Adds a Dash of Transparency
Visitors to Thrive Market wouldn't be remiss if they found the process familiar. The company has made a name for itself not by doing something revolutionary, but by picking and choosing the best of established models and adapting them for a digital audience. 
In Thrive Market's case, the company has combined the wholesale shopping club model of Costco with the wellness focus of Whole Foods. The result isn't anything ground-breaking, but instead is a smoother, easier customer experience in a format that many are already familiar with. This kind of startup model demonstrates one of the reasons why D2C brands have exploded over the last few years: customers don't always want a revolution. Sometimes, all they want is for the companies they're used to to work better.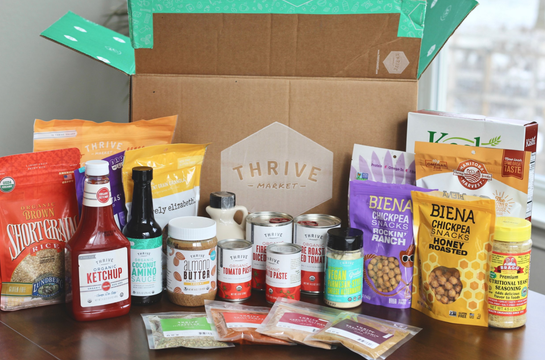 Thrive Market's "familiar plus" approach was a key part of their strategy going into the novel coronavirus pandemic. Giving customers something they were used to but with a strong focus and differentiation gave them the room to successfully ride the lift in online grocery orders.
What really set Thrive Market apart, however, was their commitment to transparency and clear communication with customers. Using their blog, Instagram TV, and other social media platforms, the company has hosted a series of frank and open Q&A sessions with senior executives, virtual tours of their facilities, and general updates about how they were reacting to the COVID-19 pandemic. For companies that build their reputations on the ideas of health and wellness, that kind of transparency is paramount — after all, one of the guiding principles in health and wellness is transparency about ingredients, and that translates out to the entire brand.
Lesson #2: Customers aren't always looking for something completely new and different. Often, the biggest selling point of digitally native brands is removing friction in existing business models. This is especially true during a crisis, where stability and familiarity can be prized more highly than innovation. Brands that anchor themselves to the familiar can be better positioned to survive and thrive during turmoil, so long as they make the familiar better than it was before.
Lesson #3: It's impossible to overstate the importance of transparency and open communication with customers, especially for digitally native brands that are looking for a way to stand out from conventional large corporations. Being honest, upfront and authentic allows challengers to do something that large companies struggle with: connect with their customers on an intimate, personal level.
Public Goods Learns From Others
A casual look at Public Goods can feel like playing a game of "spot the difference" with Brandless. Both companies feature in-house products with minimal branding. Both call out cruelty-free, ethically sourced, organic, and otherwise healthy products. Both offer a minimalist, millennial aesthetic and "store brand" staples at relatively low prices.
But while the two services seem superficially similar, the differences are large and important. Public Goods operates on a membership club basis, like Costco or BJ's Wholesale or competitor Thrive Market. That means that in order to start buying, shoppers need to sign up and pay a $59 annual membership fee (though there is a free two-week trial available). And while the prices offered are low (lower than Thrive Market, thanks to the use of in-house brands), they aren't "everything $3 or less" low — a conscious decision by the Public Goods founders.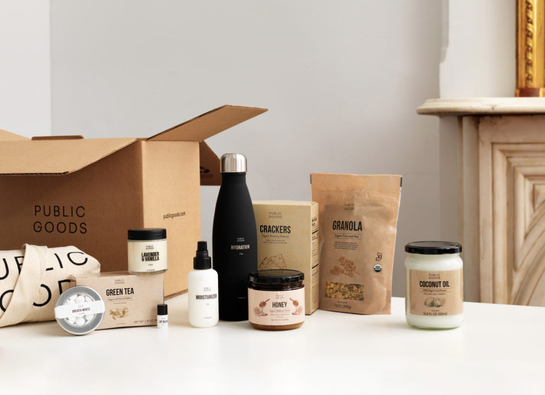 These decisions have paid off — not only has Public Goods managed to outlast Brandless, but it has also done a fantastic job of attracting new customers during the COVID-19 pandemic. To support their "public good" wellness mission, the company has added personal, curated posts on their blog about dealing with quarantines. These posts come off as heartfelt, authentic, and meaningful, and support the brand's mission without seeming overly sales-y. 
Lesson #4: There is no right approach to building a challenger brand, but a good place to start is to look at successful competitors and adapt their best qualities into a hybrid approach. Companies looking for ways to survive the COVID-19 pandemic would do well to see how they can adjust their models to more closely align with their most successful competitors without giving away their differentiators.
The Future Looks Bright for Online Grocers
Online grocery brands have had an uphill battle to catch on. Even just a year ago, only about one-third of consumers had ordered groceries online. Something about purchasing food over the internet just wasn't jiving with consumers. That all changed this year. With quarantines and social distancing and fear over catching the novel coronavirus, consumer behavior shifted in an unprecedented way. By March of 2020, that same research found that over half of all consumers had ordered groceries over the net. 
Online grocers that manage to carve out a niche for themselves — whether it be in their transparency, or in the kinds of products they sell, or in their pricing model — are poised to take significant mind- and market-share from established competitors. After years of pushing online grocery sales, decades in the case of Publix, consumers are finally ready to make the switch. Whether they remain committed once the pandemic is past is entirely up to how well these companies meet their needs now. Consumers are ready, and it's up to brands to be there for them.
Lesson #5: Sharp changes in consumer behavior can ebb as quickly as they flow. Online grocers are experiencing a bonanza right now, spurred on by outside factors. But that doesn't mean that consumers will continue buying household essentials and food over the internet. To ensure that this isn't a one-time windfall, online grocers need to go above and beyond, really demonstrating why this business model is the future, and why customers should continue shopping with them after conventional grocery stores reopen completely.
Read more about how health and wellness brands are crushing it during COVID-19. 
Last updated on September 16th, 2022.