Is Your Brand Ready for Shopify Plus? [CHECKLIST]
Topics Covered:
Ecommerce growth calls for the right tools and platforms. If you've been crushing your revenue goals, building up your team, and eyeing global expansion, you've come to the right place — it might be time to upgrade from the base Shopify plan to Shopify Plus. 
For those who need a refresher on the platform, Shopify Plus offers:
More automation tools to help manage promotions, inventory, and fulfillment

The ability to add custom code and scripts to enhance all parts of the customer journey, from checkout pages to reorder payment gateways.

Wholesale and international selling tools that are fully integrated with your existing customer, inventory, and sales data

Access to new resources, such as a Facebook group exclusive to Shopify Plus brands and a dedicated Launch Support manager 

Slightly lower transaction fees

More traffic bandwidth for spikes in site visitors — super useful for high sales dates such as Black Friday and Cyber Monday

And more! For a more in-depth explanation of Shopify Plus's features, check out this guide.
It's clear: if you're an ecommerce brand with high-volume sales and traffic, Shopify Plus can take your store to the next level. 
However, these compelling features aren't cheap — brands should expect to pay a minimum of $2,000 per month. (The price scales according to a company's revenue numbers.) 
Are you ready for Shopify Plus? We created a quick checklist to help you find out. If you tick off more than five items on this list, it's time to head over to the Shopify Plus site to learn more about its features and pricing. 
If you're not quite there yet, we recommend focusing on growing your business with the help of a powerful marketing platform like AdRoll, plus other apps and integrations available with basic Shopify plans.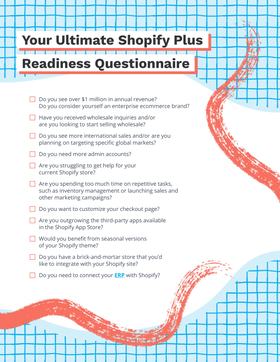 Last updated on March 10th, 2022.