How to Repurpose Social Media Content
Topics Covered:
Let's be honest: Content creation is no easy feat. Besides brainstorming a topic — which, ideally, is timely, captivating, and brand-aligned — you also need to create visuals, publish, and more! It's easy to see why it can quickly become overwhelming.
There's no need to panic just yet. Repurposing content is one of the best tricks for developing an A+ social media presence — without spending hours on content creation every day (or hiring an expensive agency). Here's everything you need to know about getting started.
What Does It Mean to Repurpose Content?
Repurposing content involves taking a post, blog, or video you've already created, then using it as a template for new content. For example, you might take an existing YouTube video and a) slice it up into a series of 20-second TikToks, b) turn key moments into GIFs for Twitter, c) design an infographic for Pinterest based on your main talking points, or d) take an image from the video and post it on Facebook. The options are endless!
Repurposing content lets you generate more value from the work you've already done, saving you tremendous amounts of time researching and producing. Beyond that, distributing posts via new channels means reaching a far wider audience and boosting engagement.
How to Find Content to Repurpose
The first step in repurposing content? Using tools like Google Analytics or social media platform analytics to identify relevant pieces that are worth transforming into something new.
Here are some questions to narrow the content criteria you can use:
What are your most popular pieces of social media content? (They clearly resonated with your audience for some reason or another!)

​​Which have the most engagement (likes, shares, or comments)?

Which have the highest conversion or click-through rates?

Do they share similarities (social media platform or content format)?

Are there pieces of content that aren't getting much attention but deserve more clicks and shares?

Did they get unique distribution efforts?

Did they have a paid budget?

Are there information-heavy blogs or ebooks you can easily slice into digestible infographics or shorter posts?

Are there entertaining long-form videos that would make sense on a short-form platform?

Are there snackable quotes from podcasts or thought leader interviews you can turn into graphics?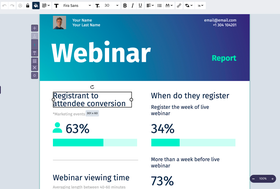 How to Get Started Repurposing
Once you've filtered through all the content in your library and identified the ones worth repurposing, the next step is to get your hands dirty. The trick here, however, is to work through the repurposing process systematically:
Keep each platform's best practices in mind. While a detailed infographic would be perfect for Pinterest, you'll want to chunk it into something simpler for Instagram.

Stay organized with a content calendar. The key to social media success is consistency — using a content calendar to schedule posts in advance helps ensure you cover all your channels. Pro tip: check out scheduling tools like Hootsuite or Later.

Design a tracking system. Whether a spreadsheet or a Google Doc, have clear documentation to track the content you've repurposed and where you posted it.

Save time with the right tools. Piktochart, Canva, Animoto, Visme, and Designrr are popular tools you can use to repurpose existing content into infographics, static visuals, videos, GIFs, and more. 
Social Media Content Creation is a Solid Foundation
If you're not repurposing your social media content, you're leaving money on the table. Organic social media isn't where the opportunities to repurpose stop — try it on your paid social media efforts too! Try turning a top performing organic post into an ad or vice versa.

If you thought repurposing made your life easier, we've got another tip to save time and money. AdRoll makes it easy to manage all your social media campaigns in one place. Not only can you manage and optimize your social media ads on Facebook, Instagram, TikTok, and Pinterest, but you'll also be able to create, measure, and analyze ads across the web too — say hello to better results and less work! Learn more about our automation builder.

Build your organic and paid social media strategy using our resources + guides below!
Last updated on May 10th, 2023.