How to Measure the Success of Video Content
Topics Covered:
With digital video ad spend projected to increase by 62% — from $36.01 to $58.39 billion by 2023 — it's important to optimize video content investments. The only problem? Videos tend to be more effective when they're used as an upper-funnel or brand awareness strategy, which leads to difficulty linking their outcomes to your overall goals. Measuring video strictly by ROI or direct conversions can create the assumption that using videos in your campaigns is somehow less effective than using display or text ads. This is simply not true. Consider the following:
Nearly 50% of internet users look for videos related to a product or service before visiting a store.
64% of consumers say watching a marketing video on Facebook has influenced a purchasing decision in the last month.
43% of people want to see more video content from marketers.
There are three key ways that you can reap all of the benefits of video marketing while measuring and optimizing for long-term success. By paying attention to these video-specific metrics, you'll be ensuring that you are investing your money in the right places and strategizing for future video campaigns effectively.
Here are the metrics we recommend you track and why:
1. Video Content Views
This tracks the number of times your video was viewed. While this may seem fairly basic, it's an important number to keep in mind because it tells you: a) if you have enough data to make decisions on the success of your campaign and b) if people are initially interested in your video long enough to watch it for a significant amount of time.
The important thing to realize here is that each platform has a slightly different take on what it means to be considered a view. For instance, Facebook counts a video view after 3 seconds of viewing and Google, including YouTube, counts a view when someone engages with or watches 30 seconds of a video. If your video is less than 30 seconds, a view would be counted when someone engages with it or watches the entire thing.
Even better, take it one step further and show you how much of your video people are completing; 25%, 50%, 75% or 100%. This gives you insights into what information your audience is actually getting and allows you to make changes to your video and future campaigns accordingly.
2. Cost per Thousand Impressions (CPM)
This is the average cost you're charged for a thousand impressions on your video. The cost will vary by what parameters you're using to target your video, if you're using video to target people who have never visited your site or if you're retargeting people who have, and where your videos are currently running.
This is an important metric to keep in mind when you're looking at the long-term ROI your CPM advertising campaigns are generating. If you know your CPM, and you know how many conversions you received, you can get a rough estimate of what a conversion directly from your video campaign costs.
To take it one step further, keep reading to #3.
3. Full-Funnel Attribution
We started this article off by telling you that, while videos can drive direct conversions, they're most successful when you expect them to drive awareness of your brand. We also acknowledged that using videos in that way, while more effective, can be harder to measure against your business objectives. Good news — there are solutions that give you a way to see clearly how each campaign and creative asset is affecting your entire customer lifecycle.
When you view your marketing from a full-funnel perspective, it's easier to see how video campaigns contribute to conversions, even if they're not directly driving them.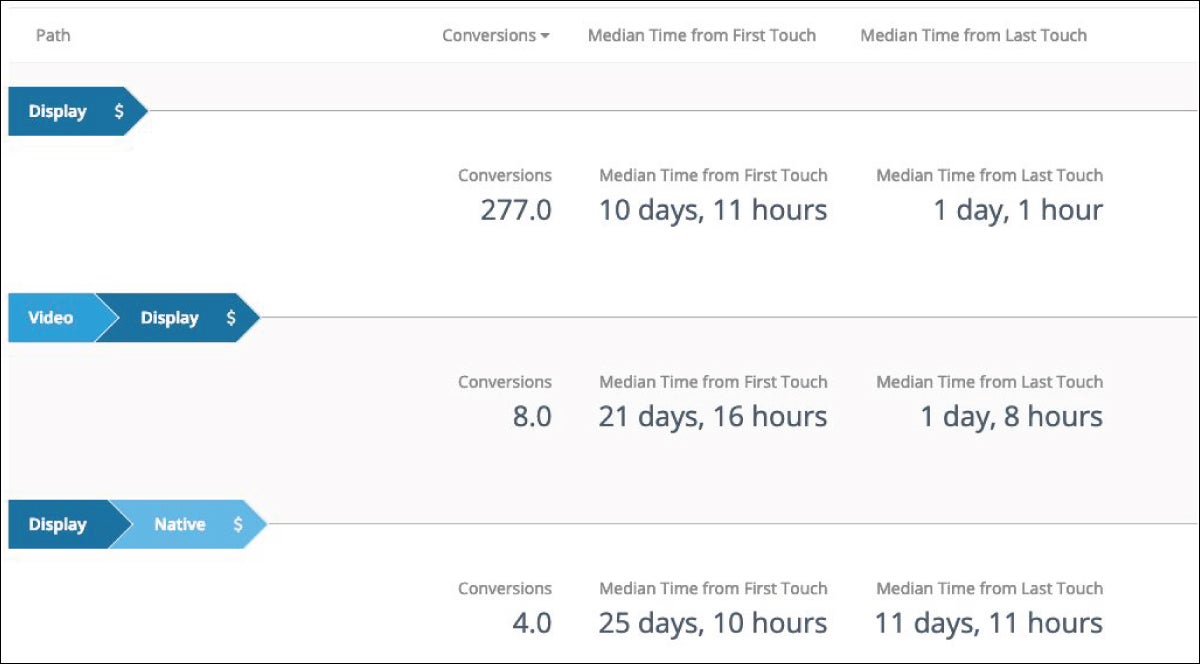 This screenshot shows what this looks like with the AdRoll Growth Platform. It helps identify where in the sales funnel videos are being consumed and how they contribute to conversions. You can use this information to create more videos for various places in the funnel and articulate to your team and other stakeholders why video is worthwhile.
Measuring your video campaigns is an important part of your success, and just as important as following best practices when you are creating and setting up your campaign.
Ready to get started but not sure how? Here are some best practices to keep in mind:
With these tips and the solutions found on our platform, you're on your way to video marketing success.
Are you interested in learning how to leverage video content for your holiday marketing campaign? Check out some of our other pieces of holiday-related content.
Last updated on December 6th, 2022.