How to Holiday-ify Your Ecommerce Store: A Checklist
Topics Covered:
Though the weather outside isn't frightful (yet) and bells haven't quite started jingling, it's high time to start thinking about the holiday season. And no, we don't mean whether you're making apple or pecan pie this year. (But to that we say, why not both?!)
We're talking about how you're going to transform your ecommerce store into a winter wonderland. After all, holiday shoppers are retailers' favorite type of consumer — they actively splurge on gifts for themselves and their loved ones, they're more susceptible to urgency and FOMO (fear of missing out) tactics, and they're ready to spread cheer. 
Sounds great, doesn't it? The numbers don't lie either: The 2020 holiday season saw a whopping two years' worth of growth (that's 32%!), with sales reaching a total of $188.2 billion. 
But to capture the attention of these avid shoppers, you'll have to appeal to their needs, wants, and desires. This means channeling all things holiday-related, from festive colors and design elements to winter-themed product photography and the merriest of messaging. Don't forget that these to-dos are in addition to all of the behind-the-scenes work you have to do, too — figuring out contingency shipping and delivery plans, crunching your holiday sales numbers, and upping your customer service resources.
If you're someone who builds gingerbread houses and dutifully pops out the Elf on the Shelf every year, updating your store's customer-facing elements for the holidays should come as second nature. But for the rest of us who begrudgingly stuff ourselves with turkey and eggnog to make time spent awkwardly with distant relatives pass faster? Well, evoking this festivity is no walk in the park. 
That's why we've got you (holiday lover or cynic) covered. Cue up those holiday tunes (or not), put on an ugly sweater, and let's get started — here's a checklist on everything you have to do to holiday-ify your ecommerce site's front-end.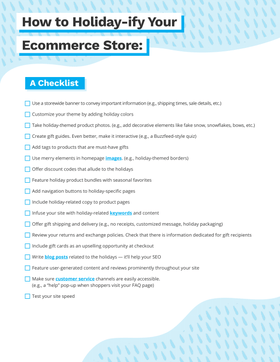 Last updated on January 5th, 2022.