How to Build an Effective SMS Marketing Strategy
Topics Covered:
The time to go mobile is now: Experts predict that by 2022, mobile ad spend will surpass a whopping $240 billion! With more and more brands and consumers jumping on the "mobile-first" bandwagon, we're more likely to respond to and engage with mobile experiences than ever before, whether they're related to socializing, working, shopping, finding entertainment, or staying informed. In other words, there's never been a better time to develop a mobile marketing strategy to get your business in front of new customers. But for brands who haven't dabbled in the SMS (or short message service) marketing space before, getting started can feel incredibly daunting.
Luckily, we're here to lend you a hand — here are all the tips and tricks you need to know about building your SMS marketing strategy.
Grow Your List
Your SMS marketing strategy won't work if you don't have any text recipients. One huge mistake we often see marketing newbies commit is not dedicating enough time, resources, and brainpower to growing their subscriber lists. (It often happens with email marketing as well.)
The best way to organically build your list is to provide an offer via a keyword and short code that encourages people to sign up. This looks something like "Text 'SUMMERSALE' to 12345 to get 25% off your next purchase!" In this example, SUMMERSALE is the keyword (which you can customize when developing your campaign), while 12345 is the short code (which your SMS marketing platform will supply you with.) Make sure you choose keywords that don't trigger autocorrect from popular smartphone models — testing is crucial here.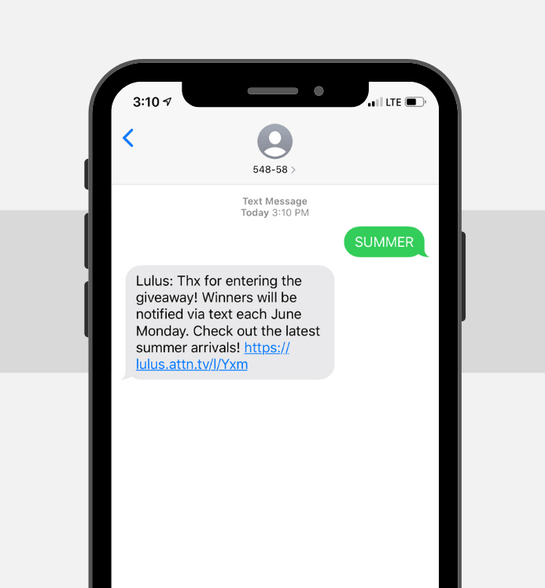 Once you've set your short code and keyword, it's time to promote the offer. Include it in your digital ads, email newsletters, website banners, social media posts, and any other channel where your brand has a presence.
Stay Compliant
Just because you have someone's number doesn't mean you can start bombarding them with marketing messages. Over the last few years, an increasing number of countries have introduced laws that limit how brands can use technology like SMS and other forms of mobile marketing (such as apps, push notifications, and location-based marketing) to communicate with shoppers. Today, SMS marketing is a permission-based activity; sending shoppers texts without obtaining permission first can mean hefty fines for your brand. Be sure to include the necessary disclaimer language wherever you promote your SMS list sign-ups.
For more on consumer privacy, check out this post. 
Determine Your Audience
If you haven't realized this by now, much of what determines your marketing's success — whether an ad, SMS message, or email — is how well you understand your audience. Therefore, when it comes to your SMS marketing strategy, you want to conduct thorough research into things like
Which mobile devices does your target audience use? iPhones or Androids? What are the most common screen sizes? 
What activities do they conduct on their phones?
How much time do they usually spend on their phones?
When do they usually use their phones? In the mornings or at night? Weekdays or weekends?
Which apps do they spend the most time on?
Pro Tip: Google Analytics can be a good starting point for these questions, especially when it comes to device details.
Keep It Simple
One of the main reasons SMS marketing works is how direct it is — in fact, studies have found that 90% of all SMS messages are read within three minutes of someone receiving them. Ever since smartphones came on the scene nearly 15 years ago, our brains have been conditioned to react to every vibration and sound alert.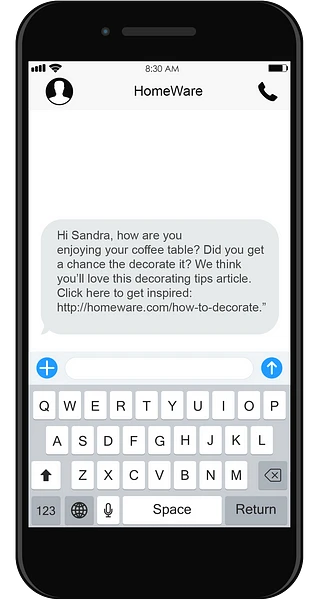 Because of the instant nature of SMS marketing, you want to make sure every message you send is simple and straightforward. Ultimately, the goal is to encourage your audience to take action immediately. This means
Crafting compelling CTAs that tell your audience exactly what to do and how to do it. For example, it can be "Reply <CODE> to enter the giveaway" or "Visit <LINK> to shop the sale."
Using link shorteners, such as Bitly, to make hyperlinks concise and trackable so you can easily measure engagement.
Send Them at the Right Time
One major factor to success will be sending the right messages at the right time; nobody wants to be woken up in the middle of the night by a promotional text message. This involves researching and testing to find trends as to when your target audience is most active — are engagement rates higher for texts sent at certain times of the day, week, or month?
Once you identify the best time to send your SMS messages, you can use your SMS marketing platform to schedule them.
Don't Spam
While it can be highly tempting to text shoppers multiple times a day to remind them of all the best-selling goodies they may be missing out on, you're just fast-tracking the likelihood that they unsubscribe. One of the biggest mistakes you can make in your SMS marketing strategy is to overload subscribers with too many messages. Remember: You're here to build long-term relationships with customers, not alienate them.
Ultimately, testing will reveal the ideal texting cadence, but it's generally good practice to
Choose a texting rate you can adhere to — if you switch to daily texts after starting with monthly ones, you'll see your subscriber list dwindle.
Add a disclaimer that lays out exactly how often you'll text subscribers. It's always better to set expectations early on.
Stick to messages that are most relevant and valuable. If it's not urgent, you can convey it via email or social media posts instead.
Testing Makes Perfect
Today, marketing is less of an art and more of a science. The most successful campaigns don't come from the gut but are a result of tremendous behind-the-scenes testing. There are a ton of ways to test your creative assets, but the easiest is to send them out to people in your team or network and ask for their feedback. If you want to go one step further, we highly recommend going through the A/B testing process.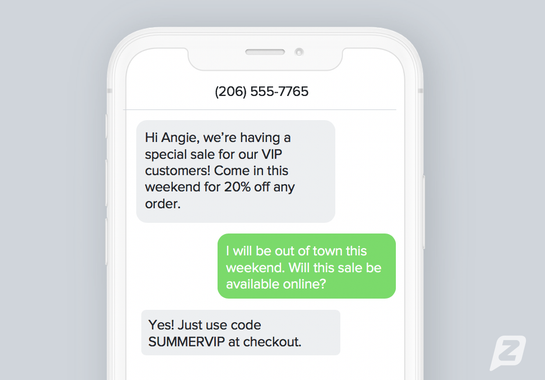 Then, once you start sending out text messages regularly, you'll need to monitor the data rolling in continuously. Choose a text marketing platform with robust reports and analytics tools that inform you of big trends and provide recommendations. When reviewing your data, try to spot patterns when it comes to responses and engagement rates based on time of day, demographics, purchase history, etc. All these observations can play a huge role when you optimize future campaigns.
So Call Text Me Maybe
With significantly higher engagement rates compared to other channels, SMS marketing is one tactic you don't want to ignore. So, whether you need to reach out to your customers for a promotion or a new product launch, make sure you keep these tips in mind as you begin developing your SMS marketing strategy.
Need more tips on ways to turn your marketing into an amazing conversion machine? We've got more ideas, tips, and tricks for you over at the AdRoll Marketing Resource Library. Check it out now!
Last updated on November 3rd, 2021.