How Home Appliance and Electronics Brands Are Winning
Topics Covered:
With #StayHome being the main message during COVID-19, consumers worldwide have no choice but to hang out in their living rooms and kitchens. In the U.S., 57% of people surveyed said they were cooking more because of the pandemic. For direct-to-consumer (D2C) cookware and home appliance brands, this period of increased interest in home cooking is the ideal time to disrupt the market and attract customers. With 88% of organizations in the U.S. encouraging or requiring employees to work from home, and people confined to their homes for leisure and entertainment, consumers are relying more and more on tech brands to see them through.
With the just-right approach to branding and marketing, challenger brands can grab some of the market share being lost by big retailers and reap solid rewards. Here are five D2Cs in the home appliance and electronics space who are doing just that.
In this article:
Great Jones — The Magic Is in the Details
Flare Audio — Ride the Wave
SVS Sound Revolution — Customer-First (Always)
Nonda — Jump Into Crisis Mode
Brava — Live and Breathe Communication
A Game-Changing Year — At Home
Great Jones — The Magic Is in the Details 
D2C cookware company Great Jones is an excellent example of a brand that knows how to get their message across and be present for customers in an effective way. A quick glance at their website showcases a strong branding identity, communicating a sense of home, warmth, and nostalgia with a signature retro style that harkens back to the "good old days."
A deeper look sheds light on some of the niche services the company provides that set it apart from other brands. Late last year, they launched "Potline", a personal SMS service where customers can ask questions and get advice about cooking. Given that SMS marketing is highly effective, with 98% open rates, this is a truly smart move. 
There is also a cookware engraving service so customers can have their pots and pans personalized with a name or message. And during COVID-19, the brand presented a special discount offer around their "Family Style" collection, a promotion perfectly attuned to the current situation of families hunkering down at home.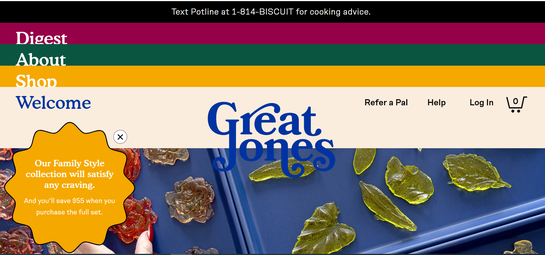 Lesson #1: Sometimes to go big, D2C brands have to think small (as in, the smaller details). Great Jones is succeeding in a massive and competitive market by being there for customers in what may seem like the smallest ways, such as providing a cookware recycling directory, so customers can locate the nearest facility to give away old pots and pans. In D2C marketing, the trick is to differentiate the brand, and this doesn't necessarily require big-league moves.
Flare Audio — Ride the Wave
According to a recent poll, 53% of American adults say they're feeling somewhat scared or very scared that they will catch the coronavirus. Fear and uncertainty are never good for consumer sentiment and sales. This presents a dilemma for brands, particularly D2C brands who have a direct communication line with customers. Should brands talk openly about COVID-19? Should they lay out their supply chain difficulties so customers know what's going on? Or should they tread lightly and skirt around the topic? When 90% of consumers say that authenticity is important when choosing a brand, it seems honesty and transparency is the best way to go. 
Flare Audio, a D2C company producing home audio earphone solutions, is a fantastic example of the power of no-holds-barred communication between a brand and its customers. This D2C isn't fudging through the crisis — rather, they're riding the wave and spelling it all out for customers, and the results are incredibly reassuring. Check out their COVID-19 announcement page, which says this (among other things): 
We have no retail stores and so currently we are able to carry on as normal in serving you as best we can and keeping everyone we work with safe...There are a lot of unknowns for us all, but some things remain constant: Good music, good listening, and good friends. Our mantra is Long Live Ears and that couldn't be more relevant at the moment…
Plus, the company went on to say that in response to the pandemic, they've established a Facebook group where customers can come together as a community and share their music and listening experiences. This was also promoted in a blog post. 
At a time when work from home levels are skyrocketing and people are in the market for affordable high-quality earphones, Flare Audio shows why honesty is definitely the best policy, also in marketing.

Lesson #2: Be flexible and open during a time of crisis. This reassures consumers who are feeling the fear and enables D2C companies to react quickly with positive measures that build customer confidence. Invest time and energy in low-cost ways to boost brand integrity, such as community groups on social media, interviews, and blog posts that speak directly to the customer base.
SVS Sound Revolution — Customer-First (Always)
One of the reasons why D2C brands are so popular among consumers is the way that they relate eye-to-eye with customers. There are no middlemen to pad out pricing and raise costs, nor the elitist airs of traditional luxury labels. Just a level playing field and customer-first approach. 
There's no better example of this than D2C brand SVS, which is dedicated to offering high-quality home audio products at affordable prices. The company website showcases its "Customer Bill of Rights" that describes an excellent set of terms and conditions presented in an empowering customer-focused way. It even offers a "Direct Line to the President," with the email address of SVS president Gary Yacoubian, so customers can contact him personally. There's also a Glossary covering the tech-y jargon found on the website and a Documents section where all product user manuals and spec sheets are available in an organized way. SVS gives its customer base a lot of opportunities to access the brand and its leadership, with live, friendly Facebook events featuring Yacoubian and other staff members.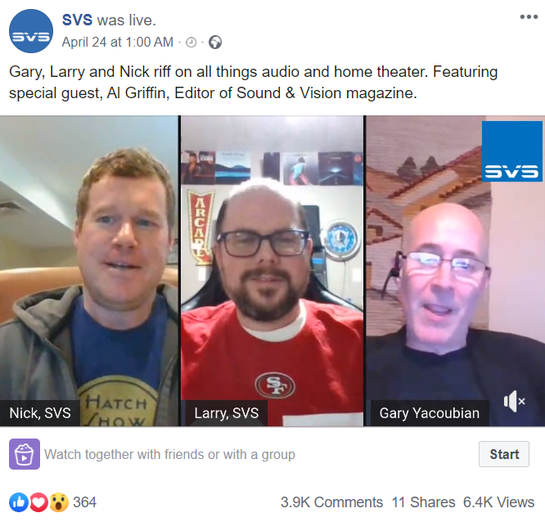 Lesson #3: "The customer is always right" is much more than a catchphrase — it should animate every aspect of the D2C brand. Give customers access to the brand values in a real way, whether by providing excellent support or offering live Q&As with experts and staff. Live up to the brand promise, every day and in every way. 
Nonda — Jump Into Crisis Mode
D2C brands are anything but big, faceless organizations. Building and supporting the customer community is an important part of being a D2C. So when a crisis like COVID-19 hits, D2C brands are among the first to respond and help.
Nonda is a connected car tech D2C company that offers a range of smart vehicle products, like car health monitors, car chargers, and dash cams. When the coronavirus panic took hold, the company jumped into crisis mode and began securing stocks of face masks and PPE for its customer base. Calling the initiative "Zero-Margin", the company's main focus is supporting its customers with hard-to-get equipment that they really need with no markup. Plus, the brand keeps everyone informed with constant updates about the program, including difficulties and delays in shipping. And the customers definitely appreciate the crisis-ready program, as is evident in the community feedback section.

Lesson #4: A shift in focus can be a very good thing for D2C brands. When faced with unexpected circumstances or even a crisis, it pays to shift the brand's attention to new directions and find ways to support consumers with the tools at hand — even if that means using the existing supply chain to deliver a product that's not part of the company's usual repertoire.
Brava — Live and Breathe Communication
A D2C might have the most amazing, revolutionary product in the world, but if it can't communicate that fact to customers, it won't get very far. Especially for brands that are developing a new niche, or offering a product unlike anything that's been seen before, explaining the value proposition in a few sound bytes can be a challenge.
The Brava oven, based on smart lightwave technology, wasn't developed to be just another home appliance gadget. Rather, it offers consumers a new culinary lifestyle concept. According to PopSci magazine, the Brava "feels like an assistant or sous chef more than a home appliance." 
Brava tackles the challenge of how to communicate this novel "Pure Light Cooking" concept to consumers in several clever ways. First, they provide a live onboarding tutorial for every customer who purchases the oven. Plus, the brand is extremely active on social media, with a busy calendar of chef videos and demonstrations, user-generated content about recent cooking attempts, and fast, informative responses to customer comments and questions. In short, Brava is constantly looking for ways to communicate its brand story to customers, both potential and existing ones.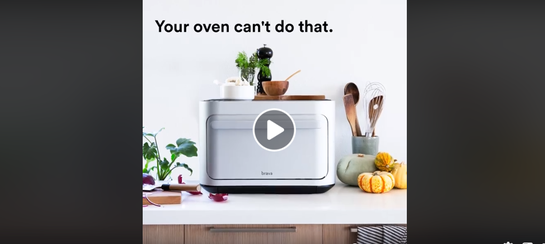 Lesson #5: D2C brands must always be telling their story, at every opportunity and customer touchpoint. The brand story defines and differentiates the company and product from all others. Particularly when the brand benefits are complex or new to the market, it's worth investing a lot of effort to get the message across in an effective way. 
A Game-Changing Year — At Home
As online demand surges and consumers turn to more direct brand experiences, there's a real opening for D2Cs to compete in areas that would have until now been unthinkable. This includes the home appliance and electronics segment, where agile D2Cs have a definite edge over the bloated multinational brands and big traditional retailers. With a focus on flexible innovation, strong storytelling, and open customer communications, challenger brands in the home appliance and electronics vertical can make their way into consumer homes (and hearts) like never before. 
Last updated on September 16th, 2022.