5 Dropshipping Strategies for Success
Topics Covered:
Here's everything you need to know about the benefits of dropshipping, how it works, and how to build a dropshipping strategy to help you grow your business.
(Pro tip: Read 'til the end for a handy checklist to get you started.)
In this article:
What Is Dropshipping?
Perks of Dropshipping
Five Strategies for Success
The Ultimate Checklist
Everything You Need to Boost Your Sales
What is Dropshipping?
Dropshipping is a fulfillment model where an ecommerce brand sells products via a third-party supplier. Once a customer clicks "checkout," the ecommerce brand (also known as the dropshipper) passes on the order details to the supplier (typically a manufacturer or wholesaler), which will then ship products directly to customers.
In other words, the customer-facing dropshipper doesn't need to stock any physical products in their own warehouse. Instead, with the supplier handling fulfillment, the dropshipper simply focuses on attracting new customers and satisfying existing ones via marketing, promotions, and customer service.
Benefits of Dropshipping
As a relevant business model for today's age of fast shipping, high-quality products, and top-notch customer experiences, dropshipping is the chosen fulfillment model of nearly 23% of growing ecommerce stores. Here's why it's such a powerful tactic:
Testing new products
Looking to expand your product catalog but not sure which new items will be popular with your customers? The truth is: Not all products fly off the shelf, and stocking the perfect combination of products is all about trial and error, even for big-box retailers.
For smaller ecommerce brands, inventory expansion and product testing can be challenging without huge investments. But with dropshipping, you don't need to purchase a ton of new inventory or allocate valuable warehouse space to a new product you're not sure about. Instead, you can offer a variety of new products to customers with minimal monetary risk. If the new product you're testing proves to be a hit, you can incorporate it into your merchandising strategy later.
More cost-efficient order fulfillment
The traditional retail model means it's usually mayhem in the fulfillment department during major sales or the holiday season. More orders mean more products that need to be packaged, shipped, and delivered — which requires extra manpower and resources. Failure to prepare your team for success could mean a high employee churn rate or a poor customer experience.
With dropshipping, this doesn't need to happen. If you're a growing business that doesn't have the resources required for additional hires during the busy season, you can use dropshipping to bridge the operational gap.
Easily sell seasonal items
Depending on what industry you're in, seasonal items play a massive role in holiday sales. Although these products typically sell in lower volumes, they're still popular in a way where not stocking up means you'll lose out. Yet, it's never easy to estimate the exact inventory you'll need each year.
Dropshipping your seasonal stock keeps your customers happy and your warehouse optimized. Rather than storing seasonal items year-round and grappling with the headache of predicting how many seasonal products you'll sell in a given year, you're off the hook for anything that didn't sell.
Five Dropshipping Strategies for Success
Ready to kickstart your journey toward a successful dropshipping model? Here are five strategies to keep in mind.
1. Don't skimp on the research
Much like everything else in ecommerce, the level of investment you put into research can make or break your dropshipping experience. No matter what, make sure you look into the following:
Potential products: If you want to sell a product that is actively in demand, we recommend using Google Trends to check out what's buzzing. Make sure it's in a niche that you're actually interested in or familiar with. Pro tip: You can use filters to limit the trends in countries you're not targeting.

Your competitors: How are they pricing their products?
Your suppliers: Are they trustworthy? Do they have good reviews? Before you put in an order, be sure to ask for samples.
Your target market: What do they need and want? What are their shopping budgets? What and where are they currently purchasing?
Automation platforms: There are so many apps and platforms that can automate the dropshipping process. Take the time to compare them and see which one is most appropriate for your needs and current ecommerce operations.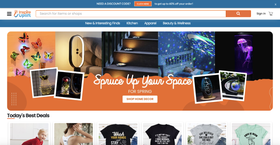 Since 2015, Inspire Uplift has been one of Shopify's top-performing dropshippers that sells cool and useful gadgets. By conducting deep research in its female target market, the company dropships highly relevant and niche products such as the "ponytail beanie" and fondue mugs.
2. Create memorable branding
Before launching your site, writing your marketing copy, or even selling your first product, ask yourself: What makes my store special? When it comes to dropshipping, you're competing against dozens, if not hundreds, of other ecommerce stores that may be selling the exact same product. It's hugely important to differentiate your brand to potential shoppers by:
Designing an attractive, eye-catching logo

Creating your own Shopify theme rather than using a template

Using your own photography rather than the supplier's

Having consistent brand visuals and a unique voice and tone across platforms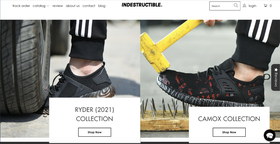 Indestructible Shoes is a military-grade work shoe dropshipping company.
Ultimately, the most successful dropshippers have stores that are indistinguishable from non-dropshippers. A great example is Indestructible Shoes, a company that sells military-grade, puncture-resistant, unbreakable work shoes.
By shooting their own images and videos (where they set their shoes on fire, run 'em over with a car, and do other catchy stunts), their clean and professional site resembles that of a traditional apparel retailer.
3. Prioritize SEO
SEO plays a huge role in whether or not your ecommerce store gets clicks. To rank highly on Google for the keywords that shoppers are searching for, you should:
Develop a content strategy. Whether you're interested in launching a blog, creating videos for Youtube, or designing cool infographics, content plays a huge role in helping you boost traffic and conversions.
Add keywords to everything. Your URLs, meta descriptions, and product descriptions should all include target keywords.
Install an SEO plugin. Shopify offers a huge app store filled with SEO plugins that you can add to your site. They'll provide suggestions on ways to optimize your SEO too.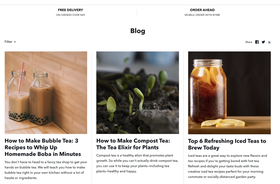 Cup & Leaf is a tea dropshipping company.
One dropshipper doing a great job at optimizing its SEO is Cup & Leaf, a U.S.-based tea seller. Their blog, which touches on topics such as "the best tea kettle for brewing loose tea" and "white vs. black vs. green tea," has a section at the bottom of each article suggesting tea products the reader might be interested in trying.
4. Offer a great store design
Ever clicked to open an online store, only to close the tab immediately because it was so poorly designed? Whether you like it or not, store design can play a massive part in whether or not a shopper will actually spend the time browsing through your products and checking out. (After all, attention spans nowadays are tinier than ever.) Keep these pro tips in mind when designing your store:
Have a clear and simple layout. Rather than cramming as much information as possible in your homepage, keep it clean, so shoppers aren't overwhelmed.

Make your shopping journey as easy as possible. Add filters, sorting options, and a search box to help shoppers narrow things down. This includes simplifying your checkout process, so customers don't have to make an account before they can pay, for example.

Optimize your images. You don't want them to be blurry, nor do you want them to be so high-res that it slows down the entire page's loading speed.

Go easy on the pop-ups. While pop-ups can be useful, don't inundate site visitors with banners and widgets in every corner.

Break up large pieces of text. Trust us, it will make it easier on the eyes.

Optimize your site for all devices. Desktop, mobile, tablet are musts.

Don't forget the CTA! CTAs need to be prominently displayed and easily clickable.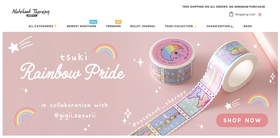 A dropshipper with a store design we love is Notebook Therapy, which sells Japanese and Korean stationery. The site is user-friendly and aesthetically pleasing with a beautiful pastel palette, rounded corners, and a custom sans serif font. It's a look that's perfect for the cute-loving audience they're targeting.
5. Build trust with your customers
As the customer-facing entity of a business, a dropshipper's priority is attracting new audiences, engaging shoppers, and nurturing its existing customer base. Simply put, the work doesn't end once your supplier ships the product.
As a result, after-sales customer service is critical in building trust and encouraging existing customers to return for more. This includes:
Offering easy returns, refunds, and exchanges

Providing timely and helpful customer service

Building a community of fans via social media or other marketing channels

Listening to customer feedback

Engaging with both positive and negative customer reviews on third-party platforms, such as Yelp, Facebook, or Google My Business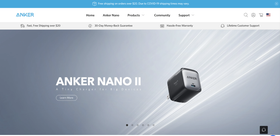 Consider a dropshipper that built so much trust with their customers, they managed to expand out of the dropshipping business model altogether: Anker, an electronics company.
After becoming a significant player in the phone charging and accessories space, they started producing original products. To further build trust with customers, the company offers a 30-day, money-back guarantee for all purchases, as well as a hassle-free warranty, lifetime customer support, and a student discount. They even have a community space on their website with message boards that anyone can participate in.
The Ultimate Checklist
If you're ready to start your dropshipping journey but don't know where to start, we got you covered. Check out our ultimate dropshipping checklist for new ecommerce entrepreneurs: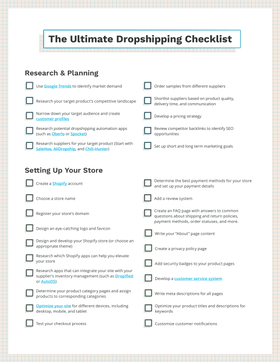 If there's one tip we can't reiterate enough, it's this: Dropshipping takes time and effort. To successfully make the most out of this fulfillment model, you need to conduct thorough research, remain patient, and trust the marketing process (which takes time!).
If you're looking for more ways to optimize your ecommerce business, check out our resources below!
Last updated on December 2nd, 2022.