Optimize Your Ecommerce Sales Funnel With Shopify Plus
Topics Covered:
The way we shop has changed dramatically, even in the last year.With the explosion of customer touchpoints — from mobile apps to social media to digital marketing — retailers can no longer rely on a one-stop-shop model. We have officially entered the omnichannel world, where shoppers expect a unified offline and online experience from the brands they love.Unfortunately, it's not always easy to compete in today's channel-agnostic selling and buying space, where customers drive their own decisions on where and when to purchase. Good thing we're here to help:Here are ways to optimize your ecommerce sales funnel for an omnichannel world using Shopify Plus.
Understand the Customer Journey
The first step to optimizing anything is understanding what you're working with. When it comes to the customer journey and ecommerce sales funnel, ask yourself:
How do my marketing efforts translate to the various stages of the ecommerce sales funnel?

How does my messaging encourage shoppers to move down the sales funnel?

Based on customer journeys, can I group shoppers into different audience segments?

How do shoppers enter the funnel?

What are their top conversion paths? On average, how many touchpoints does it take before they convert?
Shopify Plus, in conjunction with integrations like Glew, provides powerful insights into customer paths, conversions, and return on investments (ROI), so marketers can quickly spot trends that'll inform their next steps — no data analytics degree needed!
Create Shoppable Social Media Posts
The key to optimizing your funnel in an omnichannel world is enabling sales everywhere, including social channels. While you'll still see the occasional "link in bio" post description when scrolling through Instagram, the platform (alongside others) has introduced integrations so shoppers can purchase directly from posts. This means the entire sales process — from product discovery to checkout — can be completed within the app.
Shopify Plus makes it simple to get started with native selling within social platforms and their messaging apps. For instance, you can allow customers to sync Facebook Messenger, so order updates, limited-time deals, and abandoned cart reminders can be sent straight to their inboxes.

Don't Forget Your International Shoppers
Another important step to optimizing your ecommerce sales funnel is via international market expansion. While global ecommerce is a massive opportunity for Shopify store owners, it involves much more than attracting shoppers from other countries to your existing store.
Although localization can pose a challenge, Shopify Plus makes it easier to get started. You can clone your store for up to ten other markets, with each offering a tailored experience (with relevant languages, currencies, and payment options) for different countries. For more, check out this post.
Retarget, Retarget, Retarget
It's natural for some shoppers to get stuck in the funnel, never moving past the consideration stage. Here's where retargeting (and AdRoll!) comes in handy. You can:
Encourage shoppers to place an order online and pick it up in person at your physical store

Engage existing customers

Send personalized messages to shoppers at different stages of the funnel
Prioritize the Mobile Experience
Over 53% of all ecommerce retail sales in the U.S. are conducted using mobile devices — and that number will continue to increase. Unsurprisingly, sites that aren't mobile-optimized (in other words, slow load times, tiny buttons, and unresponsive pages) are missing out big time.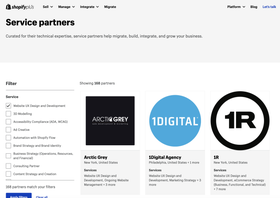 Another great perk of Shopify Plus is how easy the platform makes it for brands to convert customers across devices. You can enjoy numerous responsive Shopify themes only available to Shopify Plus stores, plus access to 250+ Shopify Plus Partners who can help design the theme of your dreams and implement Shopify Pay for faster mobile checkout.
Review Your Marketing Sequence
In today's omnichannel world, one major marketing goal for brands should be to design campaigns and touchpoints that seamlessly blend together, delivering a cohesive customer experience that unites the offline and online.
That's why it's key not to ask for the sale right away. Instead, introduce your brand (and its value propositions) in a friendly way, so shoppers slowly familiarize themselves with what you offer. Then, use a combination of ads, emails, and other marketing tactics (here are some ideas!) to nudge them down the funnel toward consideration, purchase, loyalty, and, eventually, advocacy.
Leverage Your Brick-and-Mortar Store
Although it may sound counterintuitive, running a brick-and-mortar store can do wonders for your ecommerce sales funnel — especially when armed with Shopify Plus, which:
Has its point of sale (POS) and ecommerce infrastructure under one umbrella. In other words, it'll manage all of your inventory, customer data, anddigital sales channels

Makes click-and-collect easy, and vice versa — browse in-store, buy online

Allows shoppers to buy in-store, but have products shipped to their homes — a fantastic option when in-store inventory is low

Supports online and offline returns and exchanges
Find the Right Partners
Trust us: Omnichannel ecommerce selling will only become more popular in the future. Your best ticket to success? Optimizing your processes now by finding the right partners that'll help you deliver what your shoppers desire, plus where they want it and whenever they need it. That's one of the many reasons why high-growth ecommerce brands use Shopify Plus and its AdRoll integration — check it out!
Last updated on February 10th, 2022.