D2C Brand Spotlight: BBQ Galore
Topics Covered:
Picture this: You're in your patio surrounded by sunny, blue skies. Your friends are mingling with each other — everybody is excited for the culinary creations you're about to whip up with your new grill. To some people, this isn't just a one-off event; it's a way of life. BBQ Galore — the nation's largest specialty retailer of outdoor grilling products for 40 years — offers more than just a curated selection of grilling and kitchen supplies. They also sell a lifestyle for those who love to cook, entertain friends and family, and enjoy the outdoors. 
Diving Into Digital 
"We're selling a lifestyle," says Joe Acosta, BBQ Galore's Digital Marketing Manager. "Of course we have competitors — Home Depot, Lowes, and Walmart, to name a few — but in our specific industry of grills and kitchenware, there are only a couple other big guys. It's a niche. We stand out by pushing a vision of how you can transform your home life by the way you hold gatherings at home. We want to transform the way you cook and live." 

Despite the brand's popularity with grilling enthusiasts and kitchen makeover aficionados, BBQ Galore never had a strong e-commerce presence — until Joe joined in 2019.
"When I came in, they had no digital marketing team, no strategy," he says. "They were working with a bunch of vendors but didn't automate anything — things weren't as simple as they could've been."
In addition to laying the foundation for SEO to drive traffic to their website, Joe also trained customer service representatives to boost their online reputation by proactively asking for customer reviews, responding to comments on all of their videos, etc. To ramp up quickly, he outsourced some talent, and since then, the BBQ Galore team has seen tremendous improvements on their bottom line. 
Now, there's a digital marketing strategy to maintain engagement throughout the slower months like September and October and help prepare for their busiest time of year, spring. All in all, since prioritizing the e-commerce side of the business, BBQ Galore is in the best position they've ever been in their 40 years of business. 
When he's not driving traffic or leads to stores, Joe spends time searching for other areas of improvement. "If I see a huge opportunity, I can't just look the other way," says Joe. "If I can influence it, I'm going to try to help. One of my tasks is increasing the amount of lead gen at the store level through the website and going after those who identified the need or want to update their backyard and increase customer acquisition. I do all of this by maintaining and collecting data, which was another thing BBQ Galore wasn't big on before. Now, we have centralized locations for data, and we have spreadsheets all over the place, it's crazy."
Social Proof Is Everything 
Joe wears many different hats, so when asked about the biggest challenge he's faced since transitioning to digital, the answer came as somewhat of a surprise: getting buy-in from store directors and managers on the importance of reviews. 
"Whenever there were negative reviews, they were swept under the rug and ignored," says Joe. That's 100% the wrong thing to do — you want to be proactive in your aggregation and solicitation of positive reviews. So, we've focused on educating and training with all of the store managers about the importance of reviews and how it affects their pockets at the end of the month. For example, if one store has three reviews and another has ten, who will people choose? The number of reviews, the quality, how evenly dispersed they are amongst platforms like Yelp and Google My Business — that all matters." 
Whether shopping online or in-person, consumers typically like to see what other people are saying about the products before making their decision to buy. Reviews are the only thing that people have to base their decisions on when they're not yet a customer and have no friends or family who've used the product or service. "Especially with our pricier products, people will want to do their research first or see it in person."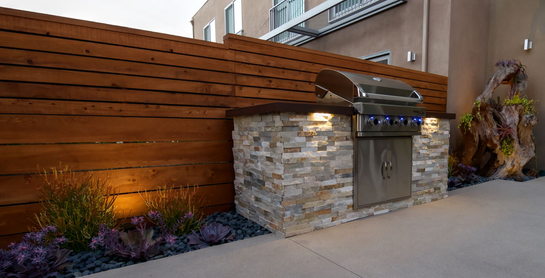 A Smokin' Hot Future
While COVID-19 has dimmed the growth of many D2C brands, BBQ Galore's sales have been on fire. Since more people are staying at home, it's become more important than ever to enhance their living spaces. BBQ Galore is now receiving more business on a regular month than the holiday months last year. 
"The only roadblocks are product shipping and long lead times," says Joe.  "But we're working with our vendors to get through it."
Meanwhile, Joe also has his eye on affiliate and influencer marketing opportunities. "Now, people recognize us and are like, 'Hey, these guys aren't just brick and mortar!' The more we strengthen our online presence, the more people reach out to work with us."
Advice for D2C Marketers
When asked what advice he'd give to D2C marketers, Joe didn't hesitate to list his top three:
Get your branding in order. "I study Jungian psychology," says Joe. "And there's a lot of talk about archetypes and how it's critical to know who you are. It's critical to get your branding situated as fast as you can. People think it's fluff, but it motivates those around you. A well-crafted vision statement shows your passion for the craft and gets you buy-in from your audience because they know you're invested." 
Allocate where you can. "A lot of people try to do everything, and they end up doing the bare minimum. When you have tunnel vision, you can't see all of the opportunities. Find out where you can outsource, and allocate some time to research who can do the work you can't do."
Have a backlog of ideas. "Remember — every idea is a valuable idea. Have a backlog of ideas so that you never forget them. We might not implement an idea now, but maybe we'll do it during our next sprint. It's always good to be prepared."  
Last updated on September 16th, 2022.