Top 5 Email Marketing Alternatives to Contact Customers
Topics Covered:
As a growing ecommerce brand, you've probably invested in building your email list and perfecting your email deployment strategy. But what if we told you there are alternatives to email marketing that'll allow you to communicate directly with customers?
As a marketer, you've likely realized that while emails are a powerful marketing tactic, it's gotten increasingly difficult for your messages to rise above the noise. Today, shoppers' inboxes are crowded with promotional newsletters, sales alerts, and cart abandonment reminders — with the worst brand offenders spamming people multiple times a day. 
Luckily, both consumer behavior and marketing technology have evolved in recent years — and now, multi-channel shopping across devices is the norm, not the exception. It makes sense that brands looking to reach customers far and wide should adapt to this new customer journey (read: a topsy turvy one with dozens of touchpoints). 
Ready to get started? Here are five ways brands can incorporate other channels for contacting customers and offering omnichannel support. 
In this article:
The Importance of Two-Way Conversations
5 Customer Contact Alternatives
Offering Omnichannel Support
Let's Start Chatting
The Importance of Two-Way Conversations
Ever had a friend who just yaks at you nonstop, not letting you get a word in? It's pretty unbearable and not conducive to a meaningful friendship. 
Similarly, in today's digital age, the relationship that brands have with their customers should no longer be a one-way broadcast where customers can't join the conversation. Their expectations are too high for that, thanks to the abundance of retailers they can otherwise shop from. 
Therefore, it shouldn't be surprising that seven out of 10 consumers want to be able to message a brand, and those that reduce barriers to customer engagement can decrease customer service costs by a whopping 30%. Shoppers also report feeling more satisfied with their experience. 
Case in point: Customer contact alternatives make it easier for companies to connect with customers. And at the end of the day, implementing one (or a few) is simply good business. Here's where to start:
5 Customer Contact Alternatives
Technology has improved dramatically in recent years, especially when it comes to marketing, sales, and customer service support. For growing ecommerce brands that can't afford a full customer support team, automation tools powered by bots and AI can help fill the gap. 
1) SMS
With Americans spending roughly five hours a day on their phones, SMS has notoriously high open rates — close to 99% — making them one of the powerful customer contact alternatives to email. 
Today's SMS marketing landscape is not quite as busy and competitive as search ads, social media, or video marketing. Brands that leverage SMS to contact customers typically stick to basic interactions: one-off messages about limited-time promotions, "your package is on its way" notifications, and links to support and FAQ pages as a form of customer support.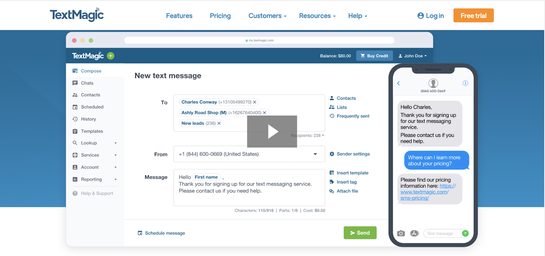 That's why there are huge opportunities for growing brands to leave their mark in the SMS space, especially when taking into account the possibilities that SMS marketing providers offer. Here are some popular choices:
TextMagic helps brands send notifications, alerts, reminders, confirmations, and marketing messages. 
Textedly offers mass group texting, text scheduling, and auto-replies that brands can easily customize. 
Pony Express HQ has the most competitive messaging rates (starting at one cent per text!). You can also segment your audience based on keywords. 
These platforms promise "smarter" SMS strategies, including the option to run fully functioning marketing sequences and lead nurturing campaigns. Rather than send identical messages to everyone on your list, you can customize your texts based on audience segments at different points of the customer journey. 
Pro tip: SMS marketing is an opportunity for you to go above and beyond with your customers. Rather than only using SMS for promotional or customer support (e.g., responding to a question about the status of an order), use it to nurture existing customers. For example, you can follow up with those who haven't shopped with you in a while, maybe even offer a personalized discount to sweeten the deal. Or, you can check in with shoppers who have just received their packages, asking if there's anything else you can help them with. 
2) Website live chat
With the advent of chatbots trained with AI and machine learning, live chat has completely transformed in recent years — gone are the days where a customer service rep has to answer every single request manually. In fact, it's the preferred support channel for shoppers, with 79% choosing it over email or support hotlines because of how immediate and easy it is. (No more waiting on hold!) One study found that chatbots can resolve shoppers' concerns or problems in an average of 42 seconds. 
But live chat can be used in so many more ways than just help and support. Chat solutions such as Drift and Intercom have allowed brands to transform their live chat widgets into fully-fledged communication channels — in fact, Drift promotes the statistic that their customers can start conversations with approximately 20% of site visitors. These tools work by blending lead generation (grabbing visitors' attention and interacting with them), marketing automation (offering different responses based on each unique visitor), and customer service (answering any questions visitors may have.) Yup, you read that right — you can now tailor live chat messages and conversations based on visitor behavior, including:
Pages viewed
Location
Language
Previous interactions with the chatbot
Visit frequency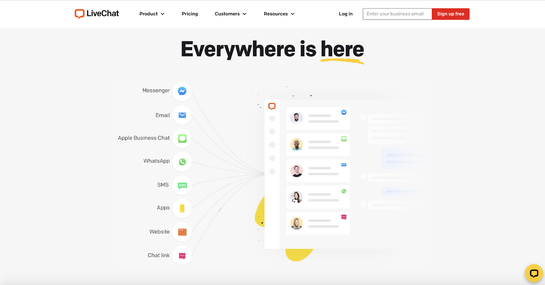 These live chat widgets can even be integrated with your ecommerce site, meaning that you can follow up specific live chat interactions with a particular email or SMS series. 
Some of the most popular live chat widgets include:
LiveChat, the industry leader that offers optimized live chat support apps which you can connect with other platforms such as MailChimp and Google Analytics.
ChatBot comes with an easy-to-use, drag-and-drop interface that lets you build your own chatbot. 
LiveAgent is a great option for small businesses that don't already have a support desk system in place. 
Pro tip: When developing your chatbot's language and conversation style, you'll want to give it some pizazz while still keeping things easily understandable. Break down complex paragraphs into short, user-friendly chunks. Make sure its voice and personality match that of your brand — make it mirror the words and sentence structures of your other marketing materials.
3) App push notifications
Have a branded app? You've got yourself a marketing goldmine! With your app's push notifications, you can quickly grab people's attention and encourage them to interact with your brand. These push notifications can serve various purposes, including informing shoppers of new sales and deals, igniting FOMO, recovering abandoned carts, sending order updates, and more. 
Pro tip: Less is more when it comes to push notifications. Although it can be tempting to send a barrage of notifications to your customers' phones that prompt them to take action, Apple has made it all too easy for iPhone users to opt out of receiving notifications altogether. Be strategic about your notifications — for example, you can leverage personalization so that every message you send is in line with unique shoppers' interests, needs, and preferences. 
4) Direct mail
While you may associate direct mail with physical junk that clutters up your mailbox, a study found that 60% of direct mail recipients will visit the corresponding brands' websites. Not bad for an "old school" marketing tactic!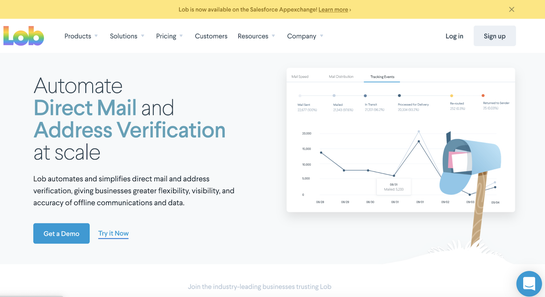 When done right, direct mail can be a powerful way to stand out from the noisy marketing landscape. Automated solutions such as Lob can help you create, coordinate, and deliver pieces of direct mail that correspond to shoppers' online activities — browsing your product page, for example, could trigger direct mail that includes a 20% off coupon. 
Pro tip: Direct mail should work hand in hand with your digital marketing strategy. Rather than treating it as a separate component, it should have a clear place as a touchpoint in the customer journey. From headlines to visuals to CTAs, you want to keep everything consistent even as it spans the online to offline. 
5) Social media DMs
Social media DMs as a way to contact customers work for a reason — people already spend so much of their time on the platforms.
When brands provide customer support via social channels, such as Facebook, Twitter, and Instagram, they offer speed and efficiency. After all, more than 60% of customers agree that solving an issue quickly is the most important part of good customer support.
But there's a catch: If you can't do customer communication well on social media, don't bother. One study found that not answering customer complaints on social media in a timely way can lower customer loyalty by a massive 50%.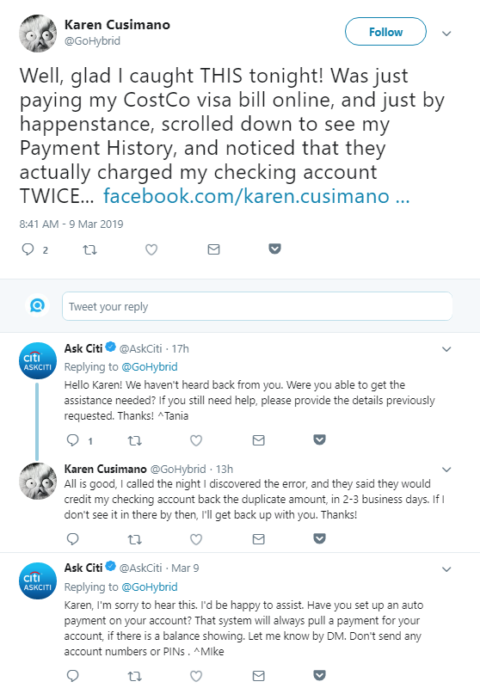 No matter which platform you choose to contact customers on, just remember that your replies should:
Exude empathy. A survey found that 33% of customers use social media to communicate complaints to companies. A public social media chain is not the time to be defensive or accusatory — instead, treat it as an opportunity to transform a negative experience into a better one. 
Provide a solution, such as offering links to site pages containing additional information. 
Take the conversation offline when sensitive data is required or if your response is complex. If you successfully resolve the problem offline, return to the public thread and thank the customer for contacting you — it's a way to show other customers that you care. 
Acknowledge critical feedback. Even better, follow up if you do implement the feedback to demonstrate that you're hearing your customers. 
Thank your biggest fans. Appreciate those who are taking the time to give you a shoutout online. 
Have a consistent tone and voice, even if different customer service agents use the same account to contact customers. 
Pro tip: Don't just use social media as a way to reply to customer questions, complaints, or concerns. Instead, go one step further and use it as a means for social listening. While you should definitely jump in on conversations where your brand account is directly tagged, don't hesitate to chime in on public comments or threads where your brand is mentioned, especially if there's a negative sentiment you could address and hopefully fix. 
Offering Omnichannel Support
The best part of these customer contact alternatives to email? Some of these tools and chatbot programs can manage multiple platforms and offer omnichannel support. It's perfect for smaller ecommerce brands that lack the manpower to address every customer request. 
The data speaks for itself: Sustained omnichannel customer engagement sees 89% of their existing customers coming back for more, compared to only 33% for brands that do so poorly.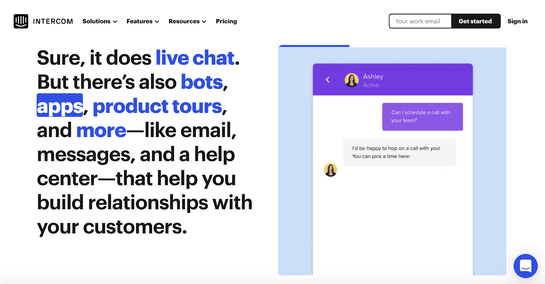 Here are some solutions to check out:
Intercom provides conversational support, engagement, and marketing, with easy integrations between the rest of your marketing stack (such as Shopify, Stripe, and Marketo).
Zendesk is a customer service software company that can help you go all-in on messaging across your web, mobile and social apps.
Drift delivers personalized customer experiences via AI chatbots that you don't have to build out manually. 
Birdeye is an all-in-one marketing solution that dabbles in customer interactions via texting, live chat, Google My Business, and Facebook messages.
Let's Start Chatting
With the ecommerce landscape busier than ever, consumers have become savvier and (unfortunately) warier. Simply put, the days of converting customers via a single email no longer exist. Instead, marketers must use a multifaceted customer contact strategy that addresses dozens of touchpoints across your website, app, and other platforms that customers land on every day. 
While some customers still enjoy communications delivered directly to their inboxes, these customer contact alternatives to email can be used to reach those who prefer other channels. Even better, an omnichannel automated solution can integrate all your interactions in a hassle-free way, allowing you to focus on sales, branding, and operations. 
Want more ideas on how to attract new customers and nurture existing ones? We've got a ton of useful tips and best practices in our Marketing Resource Library. 
Last updated on December 2nd, 2022.