4 Tips for Creating an Effective Direct Mail Campaign
Topics Covered:
Do you know what Away, Quip, and Glossier have in common? Sure, they're all hip, D2C companies targeting millennials and Gen Zers, but there's a surprising fact you may be unfamiliar with — all of them rely heavily on direct mail marketing. 
Yes, direct mail is no longer associated with antiquated power washing service flyers or supermarket coupons. Instead, with all the focus on social media, influencers, and other forms of digital marketing, the old trusted medium is having a quiet resurrection. That's not surprising, considering the emotional value consumers have with their offline mailboxes compared to their online ones. While our email inboxes overflow with newsletters, receipts, order updates, news roundups, social media alerts, brand promotions, and Nigerian prince scams, our physical mailboxes are neat and orderly. 
As a result, research suggests that 76% of people trust ads they receive in the mail. Although direct mail's response rate has reduced over time, it's still a valuable channel for businesses to grab attention without facing fierce online competition. Here are four tips for how you can capitalize on the sense of anticipation and excitement that consumers associate with checking the mail:
Your Existing Customers Are Your Friends
If your direct mail pops up in a random person's mailbox out of the blue, it will likely end up in the trash can — a survey found that 68% of consumers immediately toss away marketing materials from retailers they haven't heard of. 
So instead of wasting your marketing dollars, start your direct mail campaign by targeting your existing customers. Whether it's a simple "thank you" postcard to show appreciation for their business or a VIP-only catalogue with a coupon code, direct mail can be an opportunity to help build brand loyalty and prompt them to come back for more. 
Direct mail can also attract shoppers who have expressed an interest either in your company or vertical. Once you've identified these potential customers, you can then create lookalike audiences. Some services allow you to purchase mailing lists based on target customer demographics, including USPS Every Door Direct Mail program and InfoUSA or DirectMail.com. 
Pro Tip: Maintaining an updated address list will be the most crucial part of your direct mail campaign. Don't waste those precious ad resources by sending direct mail to incorrect addresses. 
Offline + Online = A Winning Formula
As a standalone, direct mail will rarely lead to conversions. But three-quarters of shoppers whose purchasing decisions are influenced by direct mail will then go online to search for more information. As a result, you'll want to make sure that the customer journey you're envisioning is seamless. Use direct mail to drive them where you want them to go, whether it's a special landing page for a specific offer or to a social media site where they can check out reviews. 
Even better, pair your direct mail with a digital campaign, and you've got yourself a winning formula. A recent study found that combining email with direct mail led to purchases six times more than email alone. If you're struggling with customers ignoring your branded emails, even after you've crafted the most ingenious subject line, consider implementing a direct mail campaign to prime them and help drive conversions.
Pro Tip: Double check that the design elements and messaging of your direct mail are consistent with your other advertising efforts. You'll want the transition between the customer's online and offline experiences to be as friendly and intuitive as possible. 
Clear, Creative, and Oh-So Catchy
Though consumers will spend more time investigating a piece of direct mail than, say, a Facebook ad or display banner, be sure to review your creative for an explicit and easily understood call-to-action. 
With more D2C companies doing direct mail marketing, it'll take extra creativity for your brand to stand out visually. Gone are the days of cramming as many product shots and slashed prices as possible — if you're targeting younger shoppers, you'll want to treat direct mail pieces as you would any eye-catching digital ad, albeit in a physical form. The layout should be clean, the text clever and emotion-driven, and the imagery hi-res and attractive. Ultimately, like any type of marketing, direct mail is about storytelling. 
Of course, the format you choose matters too, whether it's a postcard, catalogue, or booklet. The thickness and weight of the paper, as well as finishings and print quality, will also affect whether recipients will keep or toss your mailer. On a budget? You can explore group mailer companies, such as Share Local Media, that neatly bundle up promotional ads from different companies' into one thick, colorful envelope. 
Pro Tip: If you're looking to truly wow your potential customers, think outside the box and consider including something interesting that is keepsake-worthy and conveys value. For example, Land Rover mailed their customers tiny car models that replaced the "Escape" key on their computers as part of a campaign to promote how their latest car model could help office workers escape their mundane routines. It was a roaring success.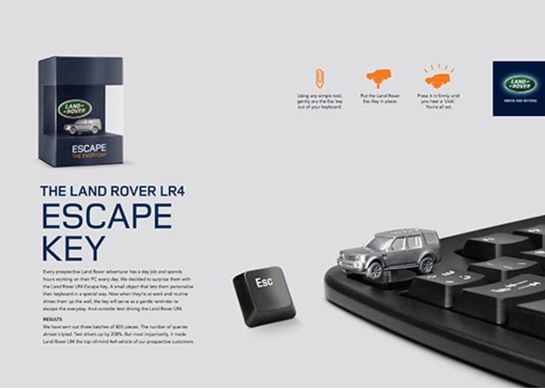 Image: Inspiration Room
More Discounts, Please!
Digital offers, discounts, and sales are a dime a dozen, especially this year, as retailers struggle with excess stock. So, if you are using direct mail to promote a deal, make sure that your value proposition is worthwhile, competitive, and compelling enough that a shopper will take action. 
Pro Tip: It's exciting to launch a direct mail campaign and enter the homes of thousands. But remember: Less is more. Don't overload your mailing list. Direct mail works because it's rare, and the line between "an interesting mailer" and "spam" is a thin one. The last thing you want is to take advantage of a recipient's trust and cause them to turn them away from your brand. Instead, use direct mail in sparing campaigns, whether it's a Thanksgiving gratitude message or a customized birthday offering. 
A Worthwhile Opportunity
In the past, direct mail had a reputation for being spammy — but in recent years, its popularity with D2C brands has proven that it is a marketing channel that can be creative, engaging, and strategic. Direct mail can be used as an opportunity to deliver unexpected joy and delight to your existing customers and prospects.
If you're excited to add direct mail to your marketing mix as brands like Rover, Wayfair, Modcloth, Casper, and Harry's have, here are some award-winning campaigns that can help get your creative juices flowing. Have fun! 
Last updated on September 16th, 2022.