Celebrity Endorsements: 3 Brand Campaigns We Love
Topics Covered:
Awards season is here, ladies and gentlemen. As the Oscars take over television screens everywhere, let's be honest: How many of us tune in for the glitz, glamor, and celebrities, rather than the actual awards? 🙋‍♀️ 
If you know the ins and outs of marketing, there's no denying the power and influence of a famous face — brands looking to add pizzazz to their campaigns have long relied on star power in the form of celebrity endorsements. 
While snagging a ticket to the most anticipated Hollywood event of the year may not be in your cards, there's no reason not to celebrate: We're awarding virtual golden statuettes to the top three celebrity-driven brand campaigns in recent years. 
Most Ambitious Campaign 🏆: McDonald's x BTS
How to sell more chicken nuggets? With the help of the world's biggest boy band (and limited-edition packaging for said chicken nuggets.) 
To understand the sheer scale of the McDonald's and BTS collaboration, you first have to grasp the mind-blowing star power of the K-pop global phenomenon:
McDonald's announcement of its international partnership with BTS threw the band's fans (who refer to themselves as the BTS ARMY) into a frenzy.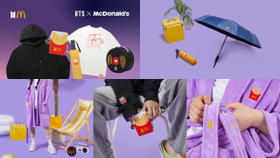 To get the BTS ARMY even more excited than they already were, McDonald's:
Savvily teased the collaboration for weeks prior to the official launch. 

Designed unique limited-edition packaging for "The BTS Meal" (in the band's signature purple color). 

Launched limited-time sauces picked by BTS members (including Cajun and sweet chili). 

Created two merch drops with t-shirts, keychains, mini bags, photo cards, and more. 

Offered exclusive BTS-related dynamic content on the McDonald's app. 
The results were staggering. In South Korea alone, the sales of its Chicken McNuggets increased by 250%. In the U.S., restaurant visits to McDonald's rose by 12% over the first seven days of the campaign (which is higher than the equally hyped Travis Scott meal in 2020.) 
For this, we are awarding McDonald's and BTS with "The Most Ambitious Campaign." 🏆
Key takeaway: To make the most out of your celebrity endorsement opportunity, make sure to drive hype through their fans. Design activations they can easily get excited about, whether that's buying limited-edition merchandise or partaking in a challenge to uncover secret details about a campaign launch date. 
Most Timely Campaign 🏆: Aviation Gin x Peloton Woman
Okay, we're cheating a little for this award because the star of this campaign isn't really a celebrity. 
Let's backtrack: Remember that Peloton holiday ad in 2019? The one with the terrified-looking woman who was gifted a Peloton bike and started vlogging the experience? 
That ad went viral for all the wrong reasons. Some made fun of how scared "Peloton Woman" looked. Others criticized Peloton's unhealthy portrayal of body image and marriage. Some marketers complained about how cringe-worthy the concept was. Others simply mocked the brand for the sake of it. 
It didn't end there. Days after the commercial initially aired, Aviation Gin (owned by Ryan Reynolds) capitalized on the conversation by casting Peloton Woman (actress Monica Ruiz) in a tongue-in-cheek sequel — Peloton Woman was now downing Aviation Gin in a bar, sans wedding ring, with with a deadpan stare while her friends tell her she's "safe here."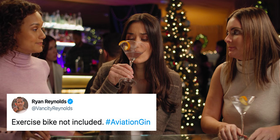 The campaign was a hit — it was timely, celebrated meme culture, and had a straightforward product message. Talk about capitalizing on another brand's moment of infamy. That's why we're awarding Aviation Gin x Peloton Woman x Ryan Reynolds with "The Most Timely Campaign." 🏆
Key takeaway: When you think of celebrity endorsements, there's no need to only consider expensive A-listers — influencer marketing is a relevant and powerful tactic for growing brands, too. You can tap into the connection they've nurtured with their audience over time. Plus, they're typically a lot more relatable to your average shopper.  
Most Daring Campaign 🏆: Nike x Colin Kaepernick
If you're not a follower of the NFL, you likely had not heard the name Colin Kaepernick until 2016, when he began to kneel during the national anthem to protest police brutality and racial inequality, triggering a nationwide cultural conversation. 
It's no wonder Nike's decision to make the football player a key ambassador for its 2018 "Just Do It" campaign made massive waves. With the headline "Believe in something. Even if it means sacrificing everything," the two-minute commercial (which featured other inspirational sports stars such as Serena Williams and Lebron James) encouraged viewers to question authority and take a stance on social justice issues.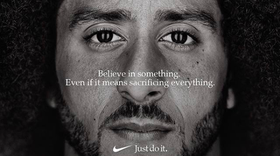 By leveraging Kaepernick's celebrity endorsement, Nike's campaign attracted an immediate backlash. Some customers filmed and posted videos of themselves burning their Nike products on social media. Others declared that they were boycotting the company. Politicians got involved. The company's stock tanked. 
While this seemed like a disastrous miscalculation for Nike, the company's confidence in its campaign never wavered — they didn't apologize for the campaign or its message. And soon after, the gamble paid off: Amid the over-amplified outrage, the company's subset of young, diverse customers came through. In the end, the company's sales increased by over 30% in the immediate days following the campaign launch. 
More consumers, especially Gen Zers, are "belief-driven buyers" who choose to support brands based on their mission and practices. Nike's campaign and willingness to alienate a small part of its customer base gave its brand a massive social boost. 
The company is a great example of how to do mission-driven marketing right. And for that, we award Nike and Colin Kaepernick with "The Most Daring Campaign." 🏆
Key takeaway: When building your celebrity endorsement strategy, choosing a divisive or controversial figure can be a risky gamble — unless you have a powerful mission you believe in and know your mission resonates strongly with the majority of your target audience. 
It's a Wrap! 
For more tips, tricks, and tactics to level up your marketing, head over to the AdRoll Marketing Resource Library.
Last updated on March 23rd, 2022.