At-Home Fitness: 5 Lessons From Brands
Topics Covered:
As the COVID-19 lockdowns continue and social distancing becomes the "new normal," people worldwide are compelled to drastically alter their approach to health and well-being. Mass closures of gyms and health clubs and restrictions on outdoor movement mean that customers want at-home fitness solutions, delivered straight to their living rooms.
And the proof is in the...internet. Online consumer behavior signals for resistance bands? Up 347%. And dumbells? There's an incredible increase of 725%. 
This trend extends far beyond online purchases. The global fitness industry, estimated to be worth $100 billion, has turned completely virtual in a matter of weeks. This unprecedented phenomenon has forced fitness brands to think strategically and develop original ways to retain customers and maintain cash flow even when they can no longer connect with their customers in the usual ways.
Here are five companies that have found success with the at-home fitness trend, and the lessons that marketers can learn from them.
In this article:
Peloton — Pivot the Strategy
Boho Beautiful — Enrich the Brand Experience
Orangetheory Fitness — Stretch the Brand's Limits
Athleta — Live Up to the Brand's Promise
Karl Lagerfeld — Be Unexpected
Peloton — Pivot the Strategy
Peloton, the trendy workout equipment and streaming brand, seems a natural fit for the COVID-19 reality — their smart connected products are already built for at-home use. However, the situation isn't so cut-and-dried, and this was reflected in a recent article discussing the brand's struggle. Limitations on home delivery have made it difficult for customers to properly receive their workout equipment, dampening orders and sales, while the brand's signature live at-home fitness class broadcasts were canceled in light of tightening restrictions on non-essential workers. Despite these ominous signs, less than two weeks later, analysts were predicting that Peloton will emerge much stronger after COVID-19.
What caused this about-face in Peloton's brand image? It was all thanks to a pivot made by the company when it opened its app for a 90-day free trial (three times longer than the usual trial period) and provided a range of workouts that can be done at home without needing to purchase a Peloton exercise bike. While other gyms have closed down, Peloton opened its virtual doors to non-customers and the result was a surge in app downloads — five times more in March 2020 than the previous months.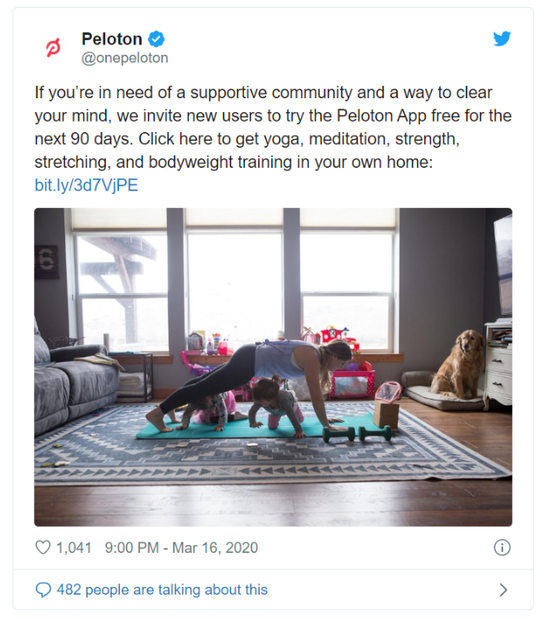 Lesson #1: Marketers don't need to rebuild strategies from scratch. Even seemingly simple pivots (ie. extending a free trial) can have an enormous impact. Also, don't be afraid to welcome new customers on a free or discounted basis during a crisis. When the dust settles, they'll remember the brand's goodwill and may be more likely to convert in the future.
Boho Beautiful — Enrich the Brand Experience
Boho Beautiful is a Canadian wellness brand, offering a range of free and member-only video classes and courses from exotic locations all over the world. The focus on yoga, meditation, nutrition, and conscious living is the perfect fit for the coronavirus period, when people are naturally concerned with health and well-being while isolated at home. This is clearly reflected in the brand's YouTube statistics exponential-growth, with 278,303 video views on March 19, compared to 416,144 on April 1. 
But it's not just the fact that the Boho Beautiful product is so suitable for the times. It's also attributable to the rich and authentic experience that the brand offers, which is being successfully leveraged during the coronavirus crisis.
Take a look at the video pinned on the brand's YouTube channel page. It's over 10 minutes long (compared to 56% of videos in the last year that were under two minutes) and features the two stars of Boho Beautiful talking directly to their audience in a really open, vulnerable way — not at all how brand marketing videos are expected to be. And it works. 
In the video, Boho Beautiful invites the viewer to share in the common human experience of fear and lack of control, but also optimism and caring that are the hallmarks of the global crisis. The brand backs up its desire to support its community with various special offers, such as a free 14-day yoga package, aptly titled "Return Home," and a limited offer of 30% off the members-only video library. While most brands don't necessarily have the constant, intimate contact with customers as does Boho Beautiful, all brands can learn a thing or two about how to enrich the experience they provide with an authentic, no-holds-barred personal approach. 
Lesson #2: Crushing it during a crisis will involve getting real with customers, and sometimes leaving the usual marketing tactics behind. During times of vulnerability, customers want to hear from the real people behind the brands. This can create a richer, more memorable brand experience that will last even after the crisis has passed.
Orangetheory Fitness — Stretch the Brand's Limits
A leading global fitness studio chain, with 1,300 franchise studios in 24 countries and 400% growth since 2015, Orangetheory Fitness is a typical example of a brand that had to completely shut its doors because of COVID-19. While this might be the death knell of many brands, Orangetheory is fighting back in an impressive way with one of life's time-proven tactics — improvisation.
The COVID-19 situation on the ground changes rapidly, and businesses and consumers alike are learning to adjust every day to shifting rules and restrictions. Orangetheory is a brand that knows how to improvise on the fly and adjust tactics in a rapid-fire way to stay ahead of the game. 
When health restrictions locked down its gyms, the brand team planned to offer downloadable PDF workouts that members could do at home. But this didn't reflect the energetic, coach-led vibe of the brand. So, the fitness team filmed a bunch of exercises that customers could do at home, using everyday objects lying around the house, rather than high-end fitness equipment they typically use in the gym. Customers jumped in with enthusiasm, posting themselves working out with the brand's app using everything from 25kg sacks of peat moss, small pets, and little kids in lieu of barbells. As the brand's global director of content and digital marketing put it, it's about understanding "on a very fundamental level what mattered most to our members."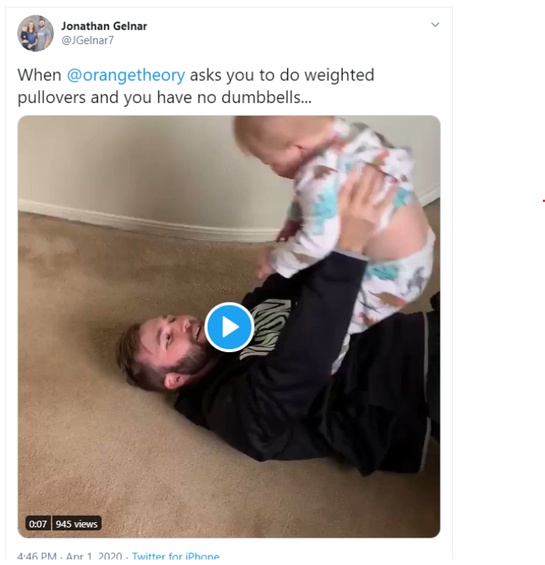 Lesson #3: A flexible brand culture creates a space for out-of-the-box thinking that will help it thrive during a crisis. When this is combined with a true understanding of the customers' mindset, it can bring truly exceptional results.
Athleta — Live Up to the Brand's Promise
For companies that don't have the infrastructure or expertise to offer an alternative product during a crisis, there are other ways to engage customers that can bring a payoff in the longer term, even if short term losses are inevitable. Like thousands of other brands, Athleta, which sells activewear for women and girls, had to close its retail stores and send home its employees due to social distancing rules. The company is finding other ways to build its reputation and also connect with customers during the hiatus.
First, the company came out with a statement on social media explaining the temporary shutdown and letting customers know that employees will be receiving full pay and benefits during this time. This isn't just a humanitarian act, but also an important move for a brand, as it shows customers by its actions exactly what its values are. 
Athleta also got to work keeping in touch with customers by encouraging them to share their home workouts with the #HomeBodies hashtag. The brand's commitment to community is evident in its tactics, even during a time when there can be no face to face brand interactions.
Lesson #4: Step up social media activities during a crisis. It's the most effective way to connect directly and quickly with customers when other methods are unavailable. Make sure to use social media to demonstrate how the brand is committed to and aligned with its brand promise. After all, brand consistency can boost revenue by 23%, and every bit helps during a crisis.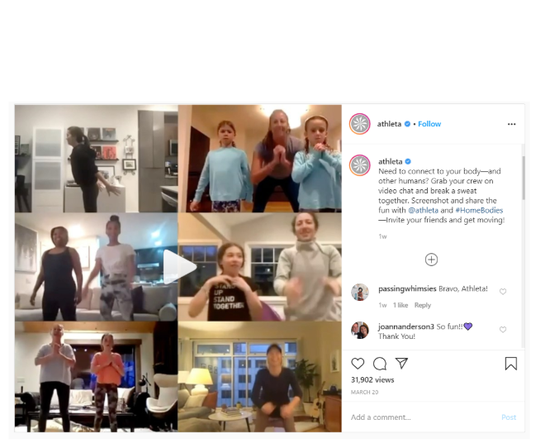 Karl Lagerfeld — Be Unexpected
It's not just fitness companies that are turning to at-home fitness workouts to engage customers. Fashion brand Karl Lagerfeld is rolling out a host of online activities for its customers and fans, including at-home fitness workouts by influencer Sébastien Jondeau, a long-time employee who started in 1997 as Karl Lagerfeld's bodyguard. Today, Jondeau is a brand ambassador for Lagerfeld, and his weekly workout program "Together with Team Karl" is featured on the brand's social media platforms.
During an unprecedented crisis, brands can follow Lagerfeld's lead and use the power of influencers and brand personalities to engage customers in unexpected ways. Activities such as "Together with Team Karl," which are designed to surprise and delight customers, can be extremely effective when done correctly, as they add immense value to the brand experience. During COVID-19, when people are isolated in their homes, the "pleasant and unexpected" is a truly powerful way to engage, entertain, and support customers. 
Lesson #5: Brands that don't fall into the fitness vertical can still find ways to engage customers with wellness campaigns and activities outside of their niche. Unexpected brand experiences can be just the right "medicine" for customers looking for added value during a crisis. Plus, influencers and key brand personalities can bring a human touch to the experience, which makes it even more powerful.
To Recap
At a time of great uncertainty, consumer habits change. However, the basic human need that dictates that behavior remains the same — and sometimes even increases. During the COVID-19 lockdowns, there's been a surge in consumer demand for at-home fitness products and experiences, a natural and even expected response to people being confined to their homes. It's up to brands — like the five listed above — to get creative and develop tactics that can help them succeed during the consumer focus shift to "at-home" fitness. And it's up to all marketers to learn from the most successful tactics and create their own marketing momentum. 
Last updated on September 16th, 2022.