7 Tips for Copywriting for Fashion Retailers
Topics Covered:
Think about your favorite outfit. What does it look like? How does it make you feel? Why did you buy it in the first place? This is, in effect, the basics of fashion copywriting.
There was perhaps a time when fashion brands could get away with letting their clothes do the talking. However, as more fashion brands flood the online market, it's imperative they nail their copywriting to set themselves apart in this increasingly competitive landscape.
But the benefits don't end there. Fashion copywriting helps bring a brand to life even when consumers can't see or feel its products in person. It helps convince prospective customers to take the plunge to boot. 
So if you're looking for ways to elevate your fashion copywriting, try these seven tips:
In this article:
Polish Your Branding First
Focus on Your Target Demographic
Sell a Feeling
Help Consumers See the Future — With Your Brand in It
Communicate Brand Values
Make It Mobile-Friendly
Use the Right Imagery as a Complement
New Fashion Trends
Polish Your Branding First
Before you write anything, you'll want to lay the groundwork with solid branding. That requires a thorough understanding of who your fashion brand is, what it stands for, and who it's trying to reach.
Remember: You're not just selling clothes — the products under your brand umbrella are part of a cohesive whole. That's why having a clear-cut understanding of what makes your fashion brand unique can help not only connect with consumers but eventually increase overall spend. That's because brands that clearly communicate a firm sense of self attract customers who share a similar ethos. And, from there, it's easier to guide shoppers to the products they will want next.
Think about some of the most iconic fashion brands for inspiration — Versace, Burberry, and Ralph Lauren are a good few to start with given instantly recognizable symbols like Medusa, the tartan, and the polo player they use respectively to wordlessly communicate their identity. In the case of Versace, Medusa represents "strong and fearless designs." For Burberry, the tartan reflects a 165-year-old guiding principle that "clothing should be designed to protect people from the British weather." And for Ralph Lauren, the polo player is inspiring the dream of "a better life through authenticity and style." Each brand produces endless lines of fashion copy, but virtually every sentence can be tied back to these central principles.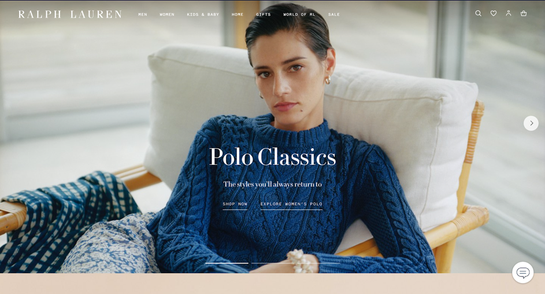 As a result, think about what makes your brand and your clothing distinctive and what value you provide to customers. This will pay great dividends later when you sit down to produce branded fashion content.
A related pro tip: It's a smart idea to create a brand content guide to ensure everyone who works for your company is creating on-brand content with the right tone and style.
For more information on scaling your ecommerce fashion brand:
Focus on Your Target Demographic
One of the cardinal sins of fashion is trying to be everything to everyone. The most successful brands don't speak to a mass audience — they use relatable or aspirational content to speak to a consumer niche with an affinity for the brand. And this is why it's essential to nail branding before moving on to other elements of fashion copywriting.
Other reasons one-size-fits-all messaging fails: Fashion is inherently tied to self-expression, and the industry includes wildly divergent price points. So to succeed in fashion copywriting, you need to zero in on the consumers looking for products in your price range and who share your values. Speak directly to them with language, sentiment, and imagery they can relate to — and maybe even champion themselves.
Keep in mind this may even mean offending consumers outside your core target demographic. And that's okay. This is what Nike has done repeatedly in its fashion copywriting, such as in its controversial campaign with NFL star turned activist Colin Kaepernick. Released to coincide with the 30th anniversary of the brand's "Just Do It" slogan, the 2018 ad divided consumers, spurring the hashtag #BoycottNike and videos of burning shoes. But it also reportedly added $6 billion to Nike's market value. The takeaway: The ad didn't resonate with all consumers, but it hit the right notes with the customers who buy Nike products, helping further cement a wildly loyal fan base.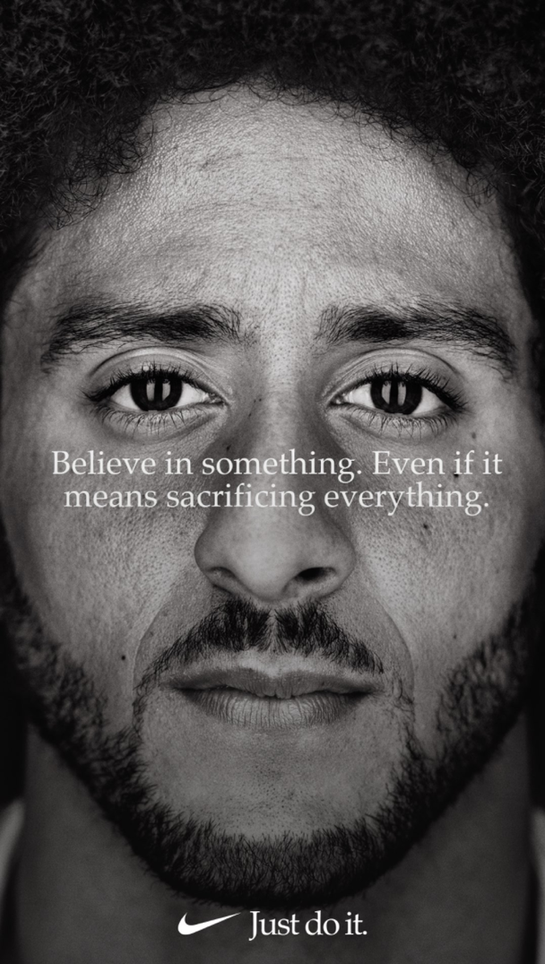 Sell a Feeling
You can't have fashion without self-expression, so fashion copywriting should focus on how a brand and its products make consumers feel. This is another example of why mastering the branding before anything else is so important.
Depending on the brand, the feeling generated may be confident and powerful — or cozy and comfortable. In any case, the feeling your brand generates should ideally be as distinct as the brand itself. The more specific you can get, the better. This also helps hammer home your brand values to prospective customers.
Don't forget that different collections — and different seasons — may generate different sentiments, so the feeling you're selling in your fashion copywriting may not always be exactly the same. But the point is you're appealing to consumers by helping them envision their futures with your clothes.
Think about a brand like actor Reese Witherspoon's Draper James, which is "classic American style, steeped in Southern charm, feminine, and pretty." The brand content speaks as if it is from Witherspoon herself, who "nods to the promise and optimism of spring just ahead" in the copy for the brand's latest collection. It certainly doesn't hurt that Witherspoon is a well-known entity, but the content doesn't rely on her celebrity. Instead, it focuses on the attributes Witherspoon shares with Draper James customers, which creates an atmosphere of congeniality.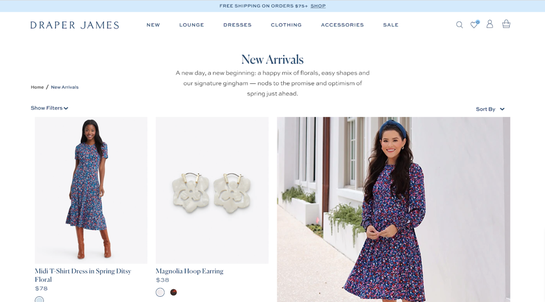 Help Consumers See the Future — With Your Brand in It
An extension of selling a feeling is helping customers foresee a better future. It may be the perfect dress to impress during a job interview or a date. It could also be activewear for an upcoming trip — or matching family pajamas for a holiday card photo shoot. Fashion copywriting can help consumers see themselves in the future — and in a brand's clothes. That leads to a sense of warmth and happiness for the good things yet to come — and, most importantly, it pushes consumers to convert. 
 To pull this off, avoid generic adjectives in your copy. Instead, find just the right words to help customers visualize their idyllic futures with your clothes. This is especially important online, where consumers can't feel or try on products first. 
Consider men's fashion brand Bonobos. The company exists because "we couldn't find pants that fit." So, Bonobos says, "We fixed it." The secret? A curved waistband. The brand also appeals directly to guys who are "not big fans of shopping" with "the best online shopping experience in the world." Bonobos' copy is incredibly relatable, which quickly invites young men into the brand ecosystem as they envision a happy future with hassle-free shopping and curved waistbands.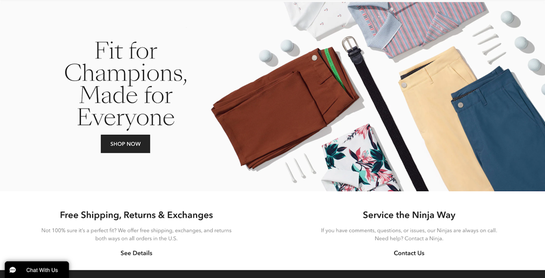 Communicate Brand Values
Fashion copywriting should make a brand's value proposition clear. You've already helped consumers see their futures — seal the deal by reminding them of what your brand brings to the table. 
Take direct-to-consumer brand Bombas — not only do customers feel comfortable in their socks and underwear, but they also walk away fulfilled, as the brand donates to homeless shelters after every item sold. Bombas clearly notes this mission in the middle of its homepage with its "One Purchased = One Donated" mission statement, along with a dedicated page detailing its commitment to giving back. It also includes a running tally of the number of products Bombas has donated to date, which, as of late February, was around 46 million items. That figure alone is powerful copy.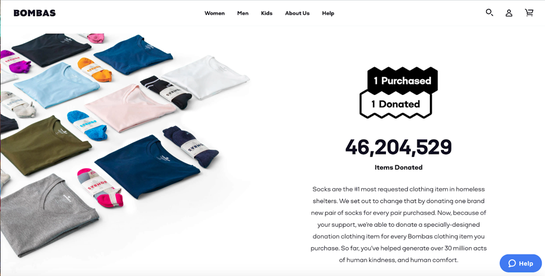 In your company's case, the value may be a new material or production process that's not available anywhere else. It could also be a commitment to sustainability. Whatever it is, this is the time to make those distinctions crystal-clear to further inspire customers to add items to their carts before they miss out. 
Make It Mobile-Friendly
Fashion copywriting should also consider the increasing number of consumers who browse on mobile devices. As attention spans dwindle, no one wants to scroll through endless descriptive copy anyway — and this is especially true on mobile. That challenges copywriters to convey feelings and value propositions as quickly as possible. 
An easy way to accomplish this is by breaking up paragraphs with subheads or bullet points to help make content more digestible. Fashion brand Everlane is a good example of this as each product description is broken up into sections with not only bullet points, but also icons, tight copy, and lots of photos.
Use the Right Imagery as a Complement
Another element of fashion copywriting is imagery — the right imagery enhances the words on the page and hammers home the message you are trying to get across.
It's a visual representation of what your clothes look like, which is extra important online. But it also helps further contextualize your brand's products — and the brand itself. That's why you should use imagery to illustrate some of the non-verbal elements of your brand, like boldness or whimsy. After all, a picture is worth a thousand words, right?
For information on converting browsers into buyers:
https://www.adroll.com/blog/e-commerce-how-to-convert-visitors-into-customers
Zara, which has been ranked among the top fashion websites in the world, is a master of using powerful imagery — both black and white and in color — to display its collections in real-world environments and to generate emotion and connections. The fast fashion brand also makes a point to call out each individual item in a given photo below, so consumers can visualize the clothing both on a model and on the rack.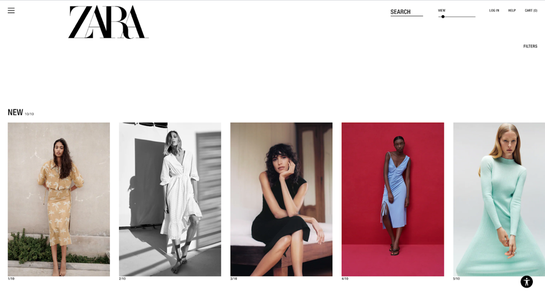 New Fashion Trends
 The growing opportunity for fashion brands online has been well-documented as studies project ecommerce will account for more than one-third of sales in the coming years. Like fashion trends change over time, so do industry best practices. It's no longer enough to simply have a stylish collection of clothes or a roster of celebrity clientele. 
It's just as vital for fashion brands to complement their collections with top-notch copywriting. This helps capture the attention of shoppers who can't actually touch the products before buying — and, when done correctly, helps convince them they're making the right decision as they click "add to cart" and check out.
If you're looking for help establishing these meaningful connections online — and encouraging site visitors to convert — AdRoll is here.
Last updated on October 28th, 2022.