6 Must-Haves for Abandoned Cart Recovery Ads
Topics Covered:
No matter how fantastic your products or how optimized your marketing efforts are, abandoned carts happen — and they happen often. In fact, 88% of online shopping carts get left behind before checkout.
Luckily, there's no reason to leave all this potential revenue on the table — abandoned cart recovery ads are one of the best ways to re-attract these shoppers, recoup lost dollars, and triumph over all the other brands not leveraging them.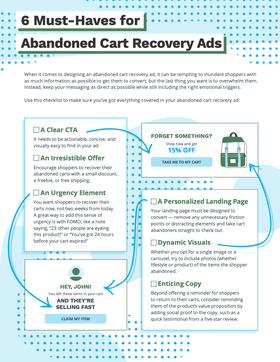 To rise above the competition, abandoned cart recovery ads are no longer good-to-haves, but must-haves. Looking for a tried and true retargeting strategy? Learn more about our Abandoned Cart Recipe here.
Last updated on October 7th, 2022.