6 Free Hacks on How to Increase Social Media Engagement Organically
Topics Covered:
Organic reach sometimes gets a bad rap. The constant changes to social media algorithms have made it much harder to get good results from organic campaigns. On Facebook, organic campaigns have a reach of just 5.5%, meaning that the majority of followers will never see a brand's organic post. While this is disheartening, it doesn't mean that brands can't achieve substantial growth via organic tactics on social media. 
What is required is strategic planning and smart tips to get more people engaged with the brand, because that is what leads to exponential growth. Imagine a social media post as a snowball. It needs more than a good shove to get it rolling and growing bigger and bigger, but it can be done. Here are 6 free hacks to grow your social media following organically — at low or even no cost.
In this article:
Post Content That Gets Audiences Excited
Use the Right Hashtags
Visual Content Is King
Create a Content Series
Run Live Events
Watch the Data
Make Organic Growth a Reality
Post Content That Gets Audiences Excited
One of the first rules for social media marketing — or any form of digital marketing — is to provide the target audience with content that adds value to their lives. This could be in the form of educational content (like e-books, blog posts, how-to videos), entertaining content (amusing memes or GIFs, video stories or clips, behind the scenes), or shareable content (emotional videos, social or community awareness, anything that has viral potential). 
Content must be impactful, in one way or another, for customers to take notice of it on social and interact with it. This has a ripple effect that can lead to organic growth — 71% of consumers who have a positive brand experience on social media are likely to recommend the brand to family and friends. A "positive experience" doesn't necessarily have to be a direct interaction with a customer service rep or a 50% discounted bargain. It can also be watching a hilarious video, reading an article that made a strong impression, or seeing how a brand is supporting a local cause. 
Start by following customer interactions on social media in the relevant niche, including competitors' social media pages. What kind of content does the target audience get excited about? How can it address the customers' pain points? Creating value-added content that sets a brand apart as an authority or friend is not an easy task, but it is vital to getting the shares and interactions that will lead to organic growth.
For more on how to build your social media strategy:
Use the Right Hashtags
It is estimated that, to date, Facebook users have uploaded 2.5 trillion posts. Social media is a world of information overload, and the algorithmic quirks of the various platforms make it difficult for individual posts to get seen. Unless a post goes viral, the metrics that can be achieved by organic reach alone are modest at best. That's where hashtags come into play.
Hashtags have been around since 2007, and they are designed to organize social media posts into groups according to topics. Hashtags help brands boost organic reach by enabling customers to search for and identify posts that are interesting or relevant to them. When used effectively, hashtags can strengthen brand image and encourage social sharing by creating positive associations or building momentum around an event. For example, Kentucky Fried Chicken jumped on the bandwagon when the hashtag #NationalFriedChickenDay started trending, creating an annual promotional campaign around it.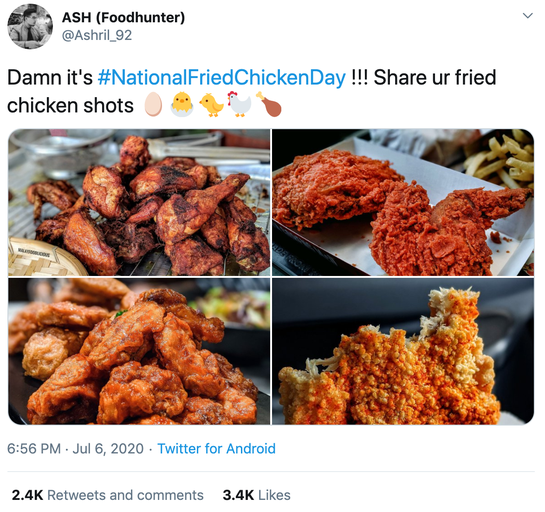 As social media channels have become more and more saturated, hashtagging has become a more sophisticated practice. It's important to choose the right hashtags that will work most effectively, and that requires research. There are various social media analytics tools — several of which are even free —  to help marketers do this. Because social media is so dynamic, hashtag trends should be monitored and analyzed continuously so brands can keep up and stay relevant. 
Visual Content Is King
There are plenty of stats available to support the idea that people are visual creatures. People process and retain visual information far better than text alone, and they perform 323% better when following instructions that have text and illustrations rather than text only. There's a lot more where that came from, but the point is pretty clear. Visual content — especially on social media — wins almost every time. 
It's no surprise then that visual content is the most common and popular type on social media. 80% of marketers use visual assets for social media marketing, with 63% using video (compared to just 60% who use blogging as a social media asset). Brands today have to be seen (literally) on social media, or risk being lost in the haystack of more visually exciting posts. 
There are loads of tools to help brands create visual content, such as videos, infographics, and more, and without breaking the bank. On the contrary, brands have proven time and again that there is no need for a professional production crew to achieve incredible organic reach and growth. The Welsh hardware store Haford Hardware went viral with a 2019 Christmas video that cost just £100 to make. In an interview with The Guardian, owner Thomas Lewis Jones said about the viral video, which has garnered over 2.5 million YouTube views to date, "I think it has struck a chord because it's such a simple message. It's real and it's not saying: 'Spend, spend, spend.' I think you can tell it's made by people who care about this business."
Create a Content Series
While there are differing opinions about the right frequency for social media posting, everyone agrees that it is essential to provide a continual flow of content to brand fans and followers. After all, social media engagement can only be achieved when there is something out there for followers to engage with.
However, just posting isn't enough to increase social following. In addition to the use of compelling content and visual assets, brands can create a following and even a community by posting a series of content — whether blog posts, videos, live events, and more. 
Consumers are hungry for helpful content — searches for "How-to" videos on YouTube increase by 70% every year. A content series leaves the audience waiting for something more, which generates an ongoing buildup of interest and anticipation. It is important to go for a topic that is relevant to the target audience and ties in somehow to the brand itself. A content series could take the form of a weekly blog post on a specialized topic, installments in a branded story, or tutorial videos that build knowledge or skill.
With an informative content series, brands can strengthen their reputation as an authority on a particular subject, generate online discussion and customer interactions in the comments section, and entice customers to share the content with their network. All these are vital to organic growth on social media. 
For a list of different types of content: 
Run Live Events
Events have always been a crucial component of marketing. 80% of marketers say that live events are critical to their company's success. In an ever more digitized world — and especially in the era of COVID-19, when live events are more difficult if not impossible — running live events on social media is a powerful way to boost organic reach and engagement.
Live streaming is a popular tactic to connect with social media followers in real-time. In fact, over 80% of Facebook users prefer to watch live video over branded video on social media. When consumers are wanting more authenticity from brands, live streaming on social media is a low-cost way to provide followers with an experience that is uncut, real, and honest. Furthermore, any time-sensitive activity on social media will attract engaged customers in the moment. If the content is exciting and compelling, the live interactions around the event, such as tweeting, comments, live chats, emojis, and more, help to build momentum and drive engagement on the spot. 
For example, Experian, the consumer reporting agency, runs weekly live chats on Twitter, where consumers can find out all about managing their financial health and credit ratings. The campaign combines several tactics to boost organic growth — it is a live chat that offers an interactive brand experience, it runs as a series, so it is consistent and building up a community over time, and it uses a powerful #CreditChat hashtag strategy to increase reach and strengthen the brand's authority on the subject.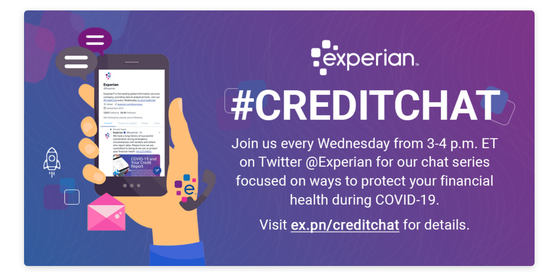 Watch the Data
While organic growth is a free or low-cost marketing tactic, it still requires a strategy, no less than paid marketing efforts. And the key to building a strategy is data.
It is vital to keep an eye on the data behind organic growth, as this is in the only way to know what works, what doesn't, what to focus on, and what to discard. For example, a social media post that is performing very well can be rehashed or reposted to gain even more engagement. A topic that proved very popular in a video can be expanded to a video series. Marketers must invest time and energy in analyzing social media traffic and engagement, and there are a variety of tools available to help do that.
Social media platforms offer built-in analytics functions, and Google Analytics also supports social media tracking, so these are a great starting point to monitor organic metrics. More advanced insights can be gained from several types of social media analytics tools, like listening and mention trackers, cross-platform trackers that monitor several social media channels at once, and content performance trackers to monitor which content gets the best engagement on social media. 
Some tools offer free plans, however, any business that wants to get serious about growing a social media audience organically will need to invest in a good quality analytics tool, sooner or later.
For more on why data-driven marketing is important:
Make Organic Growth a Reality
Boosting organic growth on social media can be tricky. Unlike the sharper focus of paid campaigns, organic campaigns do not target a specific audience with a specific message. Rather, the brand has to put itself out there with authentic, top quality content and try to sweep more people into its net. At times, it may feel like a swipe in the dark, but just like paid social ads, organic growth can and should be backed up by a solid strategy. Combined with smart tactics and hacks, brands can indeed grow their social following organically, all without having to let go of large chunks of their marketing budget.
Looking to streamline and consolidate your paid social media efforts? Learn more about AdRoll's automation builder!
Last updated on May 22nd, 2023.