Why Change Management Is the Top Marketing Skill
Topics Covered:
The only thing we can be sure of in life is that nothing is certain and that change is inevitable. As we continue to confront the world's biggest public health challenge of this generation and subsequent changes to the economy, one thing has become crystal clear. Change management is the number one marketing skill — especially when it comes to maintaining and growing direct-to-consumer (D2C) brands.
If you haven't already, check out these post-coronavirus trends to prepare for:
What Is Marketing Change Management?
Marketing change management is the strategic and agile approach marketers take when preparing for, or reacting to, changes in markets and consumers' behaviors.
All types of shifts in markets and consumers' behaviors come with some challenges for marketers. Those who can both quickly identify those changes, and agilely adapt their marketing programs to manage them, are the marketers who will thrive by maintaining and growing the business. 
It's important to acknowledge that there are significant differences in managing marketing changes when societies and economies are healthy, compared to when they're not — and it goes without saying that the former is easier to manage than the latter. Yet, it's in challenging times like these when we are most reminded of how critical it is to be an agile and adaptable marketer. 
Why Is Marketing Change Management the Top Marketing Skill? 
When it comes to managing a business through challenging economic times, marketing is the lever that makes or breaks a business's success. After all, long-lasting brands aren't the ones that only bloom in sunny weather; they're the ones that can also weather the storms.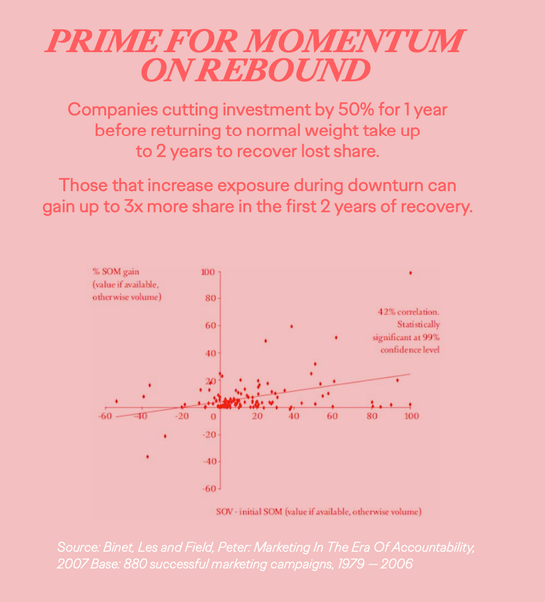 According to Les Binet and Peter Field: 
Companies cutting investment by 50% for one year before returning to normal weight take up to 2 years to recover lost share. Those that increase exposure during a downturn can gain up to 3X more share in the first two years of recovery.
As strategic marketers, we typically plan our campaigns and activities on quarterly cadences, set key milestones half-year over half-year, and wrap those up all into key year-end goals. While an element of our jobs is to test and make some big bets, we typically have recent historical performance data, industry standards, and market predictions we can go off of. 
Yet, as with this reality of COVID-19, we live in an unpredictable (and sometimes fast-changing), world where what we knew yesterday is no longer relevant today, and our strategic year-end program plans fly out the window. This, my friends, is why marketing change management is the top marketing skill. 
How Do I Develop Marketing Change Management Skills? 
So, how do you go about developing change management skills?
Start by genuinely getting to know your customers. The best way to be an effective marketing change manager is to know your customers. During their customer journey, you have already collected their contact details, purchase habits, browsing preferences, product reviews, social media interactions, and more. With the right software, communications touches, and genuine care for your customers, you can truly get to know them and understand how your brand helps them. 
Pay attention to world and industry news. In order to quickly get ahead of changes in the market, it's essential to stay on top of world-wide, economic, and industry-related news. You need to use up-to-date information on current world events and societal happenings to most-accurately predict consumer behaviors. A few (and certainly not all) excellent email newsletters I like are Morning Brew, Retail Brew, MarketWatch, and The Drum.  
Double down on your effective internal and external communication skills. Communication skills play a massive part in driving effective marketing change management, and you need to master this skill with both your internal team and external customers. Without a doubt, stellar communication is the backbone of well-done change management. Get the whole team aware of changes to consumer demands and behaviors then work together to help your customers. 
Be agile — "Done is better than perfect.": Especially when time is of the essence, done is much better than perfect. If you really think about it, perfectionism is never possible, but especially so when you're navigating unknown territories like COVID-19. So long as you're designing your marketing programs with customer's best-interests in-mind, ditch perfect and embrace speed.
How to Implement Effective Strategies for Change
When initiating a change with your marketing strategies, it's important to:
Secure team buy-in. First, ensure your team is educated about the shifts to market and consumer demands then get everyone in agreement with the changes you're about to move forward with. After all, teamwork makes the dream work.
Involve everyone needed. As change efforts may involve everything from defining a strategy to design and implementation, they can affect several team members. This means that you need to bring your teammates in early and often to motivate everyone to execute.
Evaluate and accommodate your change initiatives. Continuously evaluate and make adjustments as your organization nears transition goals. 
You're Already On Track 
Luckily, D2C and e-commerce marketers are agile by nature, as change to markets and consumer behaviors are frequent even during normal times. After all, we live in a world where consumers have endless options and new brands are continually entering the market. With a customer-centric mindset when it comes to your marketing efforts and agile adaptation, D2C marketers can and are driving business success through uncertain times. 
For more on why D2C brands have a leg up over big retailers:
What do Q1 earnings tell us about the future of small business? Find out here. 
Last updated on September 16th, 2022.