What Is Brand Transparency?
Topics Covered:
"Brand transparency" is much more than a buzzword; these days, brands need to be transparent in everything they do. Although it may seem like a simple idea, maintaining transparent operations doesn't necessarily come naturally, particularly in larger companies where there are more people, layers, and complexities involved in the business.
But before delving into those complexities and how to harness the superpower abilities of brand transparency, let's take a look at what it is and what it does.
What Does Brand Transparency Mean?
Transparency in business is when a brand maintains open, honest, and accessible communications and relationships with internal and external stakeholders. When a company is transparent, it discloses important information about business operations, goals, values, and even data that could be considered sensitive, like pricing, sourcing, sales figures, and more.
Sometimes, transparency can be simple to execute, like when a company provides a detailed price sheet upfront and doesn't require customers to book an appointment with a sales rep to get a quote. Or, transparency can be more complex and require advanced technologies to support. For example, the diamond industry has long struggled with transparency and trust among consumers. The journey of a rough diamond from the source mine all the way to the jewelry store is highly complex, involving multiple third-parties around the world, and is therefore fraught with opportunities for fraud. That's why major diamond companies such as DeBeers are investing in diamond traceability platforms that use technologies like blockchain to document and secure a diamond's provenance and increase transparency along the pipeline.
Why Is Transparency in Business Important? 
1. Trust
Brand trust is more important than ever at a time when only 34% of consumers say they trust most of the brands they use. On the other hand, once trust is won, 62% of consumers will stay loyal. Brand transparency creates trust. This is also true internally among employees, partners, and suppliers. Having clear and easy to follow dispute resolution or return policies, for example, give customers the confidence to buy from brands without worry — Amazon has managed to gain a huge foothold in the apparel business specifically because of their no-hassle return policy that's communicated clearly and simply.
2. Growth
When consumer trust and loyalty are strong, business growth and success naturally follow. Customers are more likely to make repeat purchases, they're more likely to leave a positive review or refer a friend, and brand perception is enhanced — which drives further goodwill and engagement. However, there's another way that brand transparency fosters company growth and that's by giving employees and other partners reasons to feel engaged, committed, and accountable to the company.
3. Employee engagement
A staff that has a true stake in the business and brand will be more likely to innovate, think and act outside of the box, and invest more of their talent and time.
Brand transparency can encourage employee engagement by including staff in decision-making processes, clearly communicating changes and the reasons for those changes, and providing transparent performance review processes that genuinely support personal and professional development. An effective way to do this is by encouraging face-to-face meetings where non-verbal communication has a strong impact and personal connections are most easily cultivated. Another method is cross-department mentoring, which gives employees exposure to other departments and processes of the company.
4. Authenticity
Honesty is always the best policy. According to research, 89% of consumers want companies to act with integrity at all times. However, a company can't be authentic without being transparent first. A company that's transparent has laid down its own ground rules, values, processes, and policies, and demonstrated that it has nothing to hide. But it's not just about talking the talk — a brand has to follow through on its values and promises to really prove its authenticity.
5. Ownership and control
One of the most important benefits of brand transparency is that it places total ownership and accountability in the hands of the business itself. When a brand is transparent about its values, processes, products, and goals, no one else can dictate to the company who it is or what it should be. In instances of crisis management or in the face of bad feedback, the brand can fall back on transparency to make its position and messaging clear. In fact, 85% of customers say a brand's history of transparency will make it more likely they will return after a bad experience. This is because people trust companies that are honest about mistakes and transparent in the processes they take to rectify them. Transparency as a core value is critical during difficult times, as well as during periods of growth and success.
How to Build Brand Transparency
Transparency is a value and a commitment, but it's also the culmination of various practical activities. Here are some simple steps that brands can take to be more transparent in their day-to-day operations:
1. Be honest in communications
Whether it's through an internal memo, blog post, or product description, transparency is created when every piece of communication is honest, authentic, and straightforward. For example, don't use stock images of happy workers on the team page of the website; use shots of real employees. Make sure to provide accurate product information, including sourcing, materials, sizing, and more. 
Everlane, an online shopping site that talks about "radical transparency," is a great example of how brands can effectively implement transparency. Every product description includes the name of the factory where it was produced and a link to a page displaying information and images from the factory itself. This access to supply chain and sourcing information is an incredibly powerful way to combat consumer perception of unethical manufacturing practices.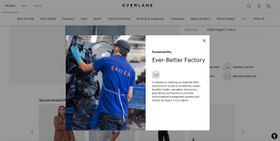 2. Use social to talk directly to customers
Social media is possibly the most transparent channel today since it facilitates direct communication between brands and their customers, with no middleman or third party skewing the message. A full 81% of consumers believe that social media has increased accountability among businesses. The best business pages on social media are proactive about talking to consumers, offering relevant, useful information, and responding to queries and feedback, even when it's negative.
Delta Airlines' Facebook page is a great example. Among weather warnings and videos about how the airline works behind the scenes, almost every post draws comments and complaints from customers, and the airline takes care to respond to each one. Not only does this provide a good level of customer support, but the fact that the interactions are open and transparent demonstrates to everyone who sees the page just how much the company is willing to face its customers and attend to their needs.

3. Promote honest feedback 
Businesses and brands already know that in order to grow, they need to be honest with customers. This means providing platforms for customers to give raw, unfiltered feedback about products and services. Long gone are the days of fake reviews and star ratings. Companies like Amazon have processes to determine whether a review is verified, while the feedback and rating function of social media business pages means that brands can't hide behind anonymous reviews. Customers can put their name and face to their statement, which makes it that much more real and authentic. Brands shouldn't shy away from providing platforms for honest customer feedback. Even bad reviews can have a positive impact if the company is transparent about what they are doing to fix the problem or compensate the customer.
4. Keep pricing open and straightforward
Sometimes, a business tends to hide its pricing structure for fear that it'll scare off potential customers. But, this can often be counterintuitive. Studies show that disclosing prices at an earlier stage is actually reassuring to customers because it encourages them to let down their guard and relax into the sales process. It's even been shown to encourage consumers to spend more than they would if they hadn't been exposed to pricing. 
When a product is priced attractively, transparency makes sense. However, even in cases where pricing is tiered or complex, it is better to be upfront with customers and provide them with accurate and complete pricing information when they request it. Detailed pricing information leads to more transparency since it opens up a conversation about sourcing, the supply process, and extra features and services that may be included in the price. Pricing is not just an opportunity for transparency; it can create upsell and cross-sell opportunities as well.
Brand Transparency Takes Continuous Effort
True transparency in business is not a one-off activity; it is a continuous effort. It should be a company value that informs all aspects of the operations and brand identity, and it must be practiced regularly and consistently for it to be fully effective.
With that being said, here are an additional 8 strategies on how to build brand equity:
And for additional ways to boost your brand awareness by targeting the right audience and more, AdRoll's got you covered.
Last updated on November 3rd, 2022.