Virtual Events: How Betabrand Is Pivoting
Topics Covered:
During these uncertain times, when businesses all over the world are pivoting their marketing plans, Betabrand stands out as one of the most creative when it comes to their customer engagement efforts. 
Since late last year, they began hosting a virtual event called "Live Interactive Shopping," where the design team would launch new products every Friday. Throughout the live show, customers would chat with Betabrand employees, as well as each other. They would ask questions about the products, trade styling tips, and bond over their mutual love of fashion. It's become a great community that's spawned some genuine friendships.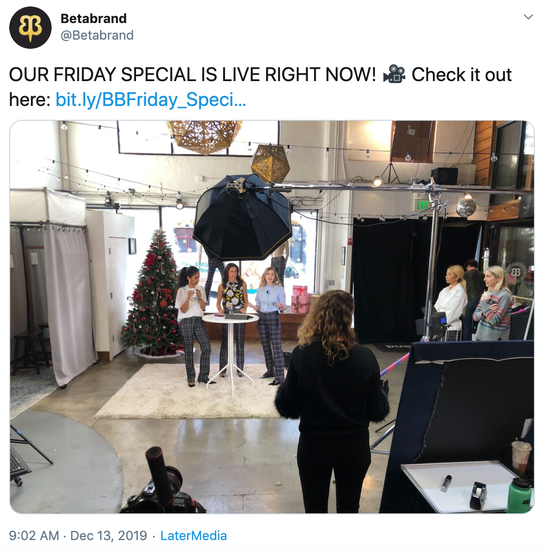 When social distancing rules were put in place, the Betabrand team couldn't host their weekly show at their usual location. However, that didn't stop the show from going on — their lead designer and social media specialist hopped on a live stream and introduced new items as usual. 
Based on the success of their WFH live videos, and to lift peoples' spirits, they recently unveiled a new event: On Wednesday, April 15th, 5:30 pm (PDT), Betabrand is hosting the world's first work from home (WFH) fashion show.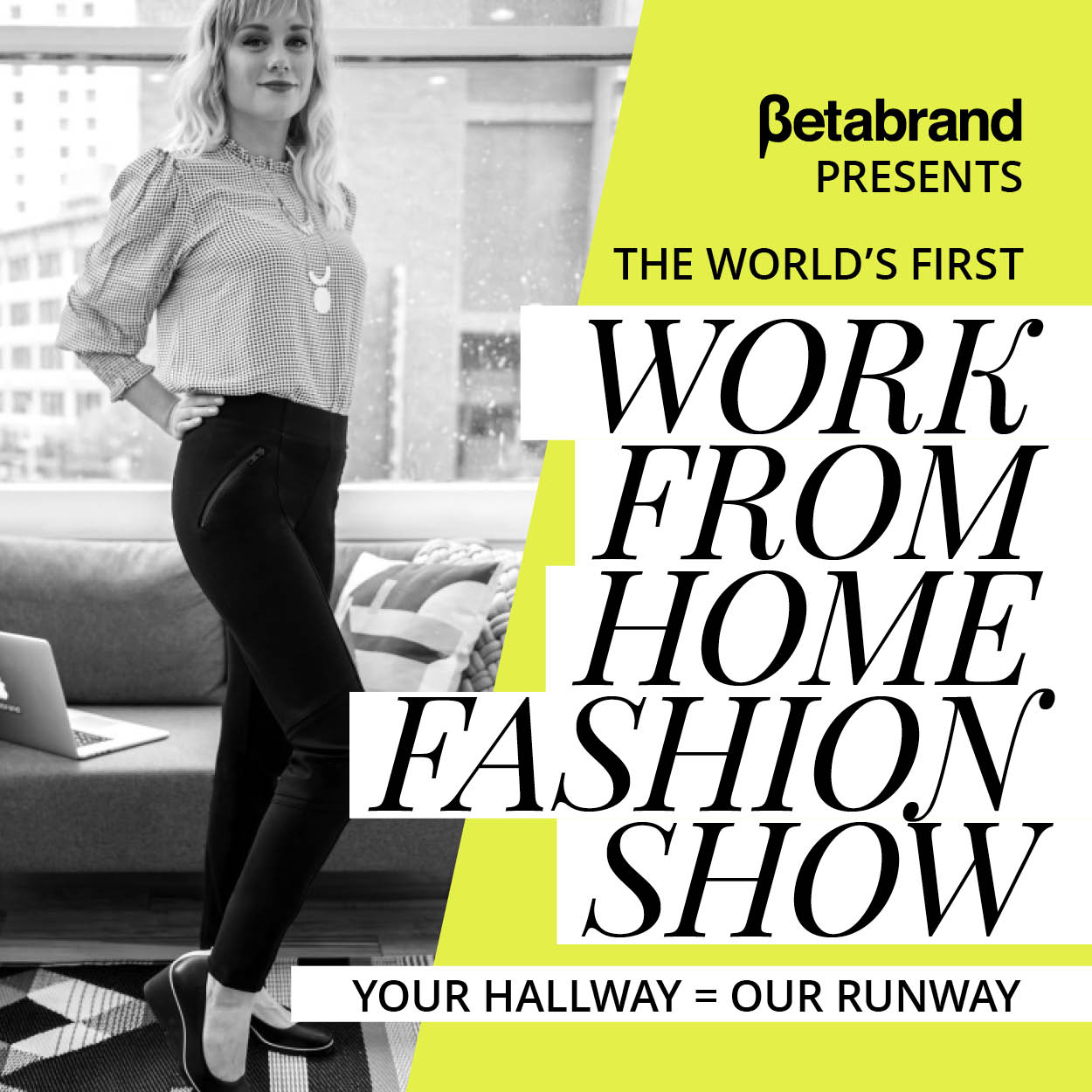 It's basically a one-of-a-kind runway show that's fueled by warm fuzzies and professional women from around the world. If you own a pair of yoga pants (bonus if you have their famous Dress Pant Yoga Pants!), we want to see you strut down your hallway and strike a fierce pose. 
If you're interested in participating in Betabrand's first-ever WFH fashion show, please send a 5-15 second video of you doing your thing down the "runway" and send it to jared@betabrand.com by Monday, April 13th.
Put Your Community First
"It was a quick pivot on our end," says Stephanie Freidman, the Performance Marketing Manager at Betabrand, "We asked ourselves: How can we bring people together? So we decided on a fashion show where our messaging is, 'your hallway equals our runway.' It's the first fashion show that's open to women around the world."
And this isn't the first time Betabrand has emphasized virtual get-togethers. "Last year, we launched a closed Facebook group for our customers. It was another way to connect our customers with each other," says Caroline Culbertson, Betabrand's former Director of Marketing. "We wanted to provide a place where they can ask questions, post pictures, and get feedback for styling. All kinds of content can be found within those types of groups, and it's especially important for these to be offered in an environment where everyone is virtual."
Virtual Events for the Win
So, what exactly are the benefits of virtual events? In many cases, they offer a lot of opportunities over offline and in-person meetups: 
They serve as an excellent lead-generating tool because people can easily participate in the event, no matter where they're located.
They can reduce your cost per lead (CPL) and maximize your ROI. It's often more expensive to arrange traditional in-person events.
They complement existing marketing strategies. Most in-person marketing tools are restricted by geography and behavior.
They're an effective way to keep the consumer buying cycle alive because customers aren't restricted to a time or date — they can watch recorded footage at their convenience if they weren't able to make it. 
Enhance the Virtual Event Experience
Here are some tips to ensure that your virtual experience can rival any offline event:
Be transparent and communicate plans early. As soon as you make plans to shift from a physical experience to a virtual one, communicate this plan to your customers ASAP. Use this as an opportunity to gather feedback from customers on what they'd like to see in a virtual format.
Set up a Slack channel where attendees can connect virtually both before and after your event. In the place of in-person interactions, it's essential to keep the connection flowing with consistent communication.
Streamline your virtual agenda by condensing your virtual event into only the most important sessions.
Incorporate interactive activities into the agenda, such as roulette-style meet-and-greets, polls, chat boxes, and supplementary content pieces.
For further reading on virtual events: 
Get Creative (and Scrappy)
As you can see from Betabrand's brilliant pivot, now is an opportune moment to boost engagement rates by hosting virtually. Maybe even create a community via a dedicated Slack channel to host events with your followers. Don't hesitate to think outside the box — one of the biggest perks of virtual events is that they aren't restricted by costs for decor or food. For instance, an apparel shop might host a virtual sip-and-shop where 21+ audience members meet online to enjoy a shared happy hour while viewing the season's newest trends. Before the event, they could run a series of promos to encourage potential attendees to visit the website.
Last updated on September 16th, 2022.