UnRolling the Warriors Brand: How an Obscure Team Became a Global Brand
Topics Covered:
Most wins in a season. Best postseason run. Two greatest backcourts of all time. Third most NBA championships. The second most valuable NBA franchise. The sixth most valued sports team globally. That's right, we're celebrating the Golden State Warriors today!
Despite their seemingly never-ending domination on the court, the Warriors didn't achieve its many accolades overnight — in fact, any fan will tell you it's been a long, long journey. So, what gives? How did a team basketball lovers overlooked for decades manage to build a brand with an estimated value of $5.6 billion? How did they create one of the most devoted fan bases in the league? And most importantly — how can other brands leverage their own Steph Currys and Klay Thompsons to shoot three-pointers and clinch the win?
With the NBA Finals right around the corner, the pressure's on. Grab your blue and gold jerseys as we dive into the Warriors' wins on and off the court.
Strength in Numbers
Unless you're a diehard member of the Dub Nation (aka the Warriors fan community) or a long-time follower of the NBA, you might not know this fun fact: The Golden State Warriors was founded in 1946 as the Philadelphia Warriors. (In the 16 years the team spent in the City of Brotherly Love, they won two championships — not too shabby!)
The Warriors moved to the Bay Area in 1962. Then, in 1971, they officially became the Golden State Warriors. Despite winning their third championship shortly after thanks to a roster of all-star players, the team entered a tumultuous era spanning decades where they failed to win a single championship.
The turning point came in the early 2010s with the ushering in of new owners, the drafting of top players, and the hiring of current head coach Steve Kerr. But the Warriors didn't simply build momentum on the court. The team also invigorated its fanbase with powerful social and digital marketing strategies and cemented its popularity with the opening of the Chase Center, the organization's 18,000-seat stadium.
The rest, you can say, is history: After a 30-year dry spell, the Warriors finally claimed the championship in 2015… and again in 2017… then again in 2018.
But what goes up must come down. After years of excellence, the Warriors had a disappointing season in 2020 mired by retirement and injuries. In fact, they had the worst record in the league (after making the finals for five consecutive years!). At Stanford's Health Matters 2021, an annual community health symposium, Steve Kerr said that despite the challenges of 2020, the team "maintained [its] dignity and [its] values and [its] work ethic."


And that's precisely what they did. Fast forward to 2022: Having made it to the NBA Finals after defying all expectations, it'll be a tense face-off with the Boston Celtics.
The pressure may be on, but off the court over the years, the team has completely destroyed its opponents. Here's how they did it.
A Team Above All
We can't talk about the Warriors brand without first answering this question: Why are they so good? (People are inclined to root for the winning team, and a massive part of the Warriors' success when it comes to building such a memorable and powerful brand and fanbase has to do with precisely that — they keep winning.)
We're not getting into the nitty-gritty details of the strategy behind the Warriors' winning streak, but we will offer this piece of insight: Their dominance is not due to the sole skill of Steph Curry, two-time NBA MVP and most recognizable player on the team. Sure, he's excellent at throwing three-pointers, but his true prowess comes from the fact that he is a team player.
"We got an unselfish team who just wants to win," said Klay Thompson. "They don't care who gets the stats or the accolades." He's not wrong: The Warriors play incredible team ball — from a purely points perspective, they boast the number one offense in the league and fifth-most efficient defense strategy. They have a fantastic roster of team players who can step up on any given night, with each of them playing their role perfectly for the entire team to win — no ball hogs here!
"Teamwork makes the dream work" may be a cliche, but hey, it's true.
Game On
Like any professional sports team, the Warriors community includes passionate Dub Nation diehards with season tickets as well as fans who occasionally tune in at sports bars and Bay Area residents who casually root for their team. With origins in Philadelphia, to the move to the Bay, Warriors fans represent the rich diversity of the United States, and it hasn't gone unnoticed.
The Warriors have designed unique strategies and activations catering to each of these fan profiles. To identify opportunities for even more memorable fan experiences that widen their following, they conduct annual market research and pulse surveys to collect comprehensive data on brand awareness, affinity, and overall perceptions. Similarly, to help more people see themselves as a Warriors fan, they've prioritized diversity, equity, and inclusion across the organization, including day-to-day operations and long-term strategies.
"Know thy target audience" is one of the central tenets of any successful brand, and it's clearly one of the cornerstones of the Warriors' strategy. "It's not just about the fan experience, although that's very core to how we think about things, but understanding from the market landscape where we can fit in and how we can enhance what's going on and compete for the discretionary dollar," said Executive Vice President of Ticket Sales and Services John Beaven. "Our fans have a lot of opportunities for both wallet share and mindshare. And if we are not constantly evaluating where and how we resonate most, we're going to lose out quickly."
Go Big or Go Home
Those diehard fans we were just talking about? The Warriors have made serious investments in amplifying their experience far beyond basketball.
"There are a lot of things that we do that not all teams do," said Warriors Senior Manager of Business Strategy and Analytics Charles Gao. "And in order to enter these new arenas, it really helps to understand what the market is expecting, what the community that you're selling to is expecting, what they're looking for."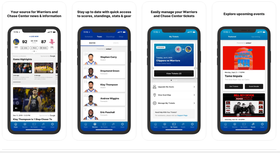 These expansions to channels and experiences beyond basketball have been massive opportunities for the team to nurture its core group of devoted followers and enhance the fan experience. Fans can
Purchase limited-edition NFTs that unlock special prizes tied to the Warriors' postseason performance. (The Warriors' first NFT collection yielded over $2 million in total sales.)

Follow the Warriors' e-sports league, aptly named the Golden Guardians.

Download the Warriors & Chase Center mobile app to:

Get live access to game scores, pre- and post-game coverage, video highlights, and more.

Explore local experiences that amplify your game day in San Francisco — you can even send messages to local restaurants, retailers, businesses, and more.

Purchase and manage your tickets.

Plan your trip to the Chase Center (with real-time transit options integrated with Uber and Google Maps). Precision location beacons will also easily direct you to your seats.
The best part? The Warriors app personalizes all your content and recommendations based on your preferences and usage behavior.
"We're not in the business of basketball," explains Warriors President and COO Rick Welts. "We're in the business of creating lifetime memories."
Pivot and Shoot
How much does a logo impact your business? (Or, in this case, your performance on the field)? For the Warriors, it's a lot — which is unsurprising, considering numerous studies have found sports logos profoundly affect teams.
The Warriors' move from Philadelphia to San Francisco was marked with a change in the team's name and, naturally, its logo. Gone were the caricatures of Native Americans; a simple outline of the Bay Bridge took its place: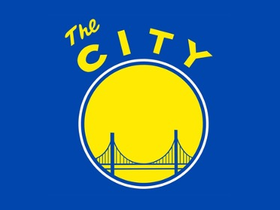 However, these years were also characterized by the team's struggle with finding its identity as it shuffled from San Francisco to Oakland. During this time, they experimented with several different logos, including this Western-themed one featuring its new name: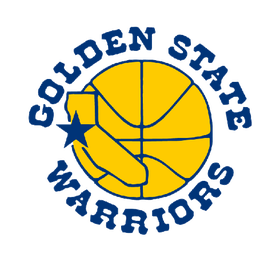 More uncertainty, more logos, and more poor performance marked the next few decades. Then, came the shift in 2010 — enter Steve Kerr, Steph Curry, and yet another refreshed logo: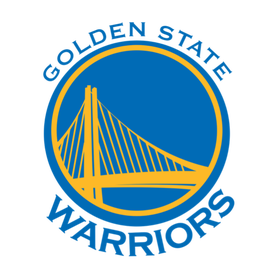 This time, it stuck. Hip, sleek, bright, clean, and easily recognizable, the logo was a hit. (It helped that the team's rebranding coincided with its stellar on-the-court performance.) While the Warriors' jersey sales have slowed in recent years (after snagging the top spot in merchandise sales for two straight seasons), you'll still find fans sporting them all around the Bay Area.
It's clear: Similar to how a new coach or stadium is a massive signal of change or growth in a franchise, a revamped logo also offers a culture shift, breathing new life into a team.
Actions Speak Louder Than Coaches
If you're a regular reader of the AdRoll blog, you've probably seen us preach about the importance of championing a mission, your brand values, or something else your target audience can root for.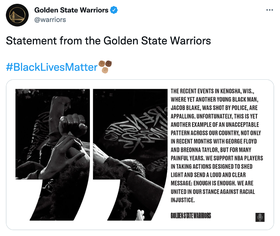 It's no different when it comes to professional sports teams. Head coach Steve Kerr recently went viral for delivering an impassioned plea about gun control. He's also used his platform to discuss racial inequality and other social injustices as well as speak up about building a team culture revolving around values such as mindfulness and compassion.
"I think it's really important to maintain your values and your moral code, whatever it is that guides you," said Kerr. "It's especially important in times of crisis."
The Roll-Up
It might not be game day, but it is time to build anticipation and get your fans hyped about your brand. The Warriors offer an A+ case study — not just for professional sports teams but also brands far and wide — in attracting new audiences and experimenting with novel fan experiences.

If you're ready to push your brand to new heights, here's what to keep in mind:
Get creative with mobile, social, and other digital offerings. By creating more unique and memorable experiences, you'll be able to better close the gap between your brand and your target audience — and who doesn't want deeper levels of engagement and investment?

Embrace the journey and stay hungry. The path toward success will be rocky. Stay humble and always be on the lookout for new learning opportunities to improve your business, even if you're on a winning streak. It's all about keeping your eyes on the prize despite the odds.

Change it up. If your branding feels a little outdated, don't be afraid to kick off a refresh. When done right, a change in brand identity can be a powerful way to inspire your team and customers.

Help your audience get invested. When your customers feel like they have a stake in your business, they'll be more likely to root for your success. First up? Understanding what resonates with them. This might be as simple as asking for their feedback, then using that as an opportunity to invite them to champion your aligned goals.
Cultivate an authentic culture. It's easy to plaster slogans on a wall, but they ultimately won't mean anything if they're not infused in everything you do. This means defining them upfront, hiring the right people who embody those values and using them as guiding principles for your marketing and business decisions.
Last updated on June 13th, 2022.