Unrolling the Ted Lasso Series: How Niceness Won Us Over
Topics Covered:
October is the month of spooks, pumpkin spice lattes, and a beloved Emmy award-winning show concluding its second season. That's right: We're talking about the Ted Lasso series, y'all! (And don't worry, our beloved football coach will be returning for season three in 2022.) 
Whether or not you've jumped on the Ted Lasso bandwagon, it's time to say howdy to these marketing lessons that everyone can learn from the show's meteoric rise to TV stardom. 
The Ted Lasso Series
There wouldn't be a Ted Lasso series if it weren't for some SNL skits, a network's new broadcast rights, and a television commercial. In 2013, NBC Sports had just acquired the U.S. rights to English Premier League soccer games. But as you're probably well aware, soccer isn't just a sport that Americans tune in to. (And soccer from a different country? Now that's a double whammy.) 
NBC Sports had a massive challenge on its hands: how to promote this new programming? The network realized it needed a familiar, humorous face to introduce the sport to its viewers. Enter Jason Sudeikis, the famous funnyman known for plating a character with "drill sergeant vibes" on Saturday Night Live during his eight-year stint on the show. "(NBC Sports) had like four or five ideas, and one of them was an American coach coaching soccer in London," Sudeikis said in an interview with Entertainment Weekly.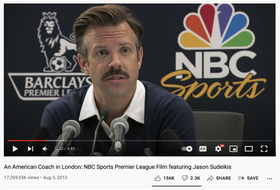 From there, the Ted Lasso character was born. The sketch-length commercial that eventually aired featured him, a new head coach of Tottenham Hotspur, playing on fish-out-of-the-water and culture-clash comedic themes. In a press conference, we saw him struggling to grasp the most basic rules of soccer, announcing that "any team I coach is going to play hard for all four quarters," before a journalist informs him that soccer is only made up of two halves. 
The commercial was a hit, so much that the network reached out to Sudeikis to reprise the role for a follow-up ad. "The whole story of that first commercial was that he gets hired to coach a professional soccer team, and he gets fired three days later, and we just thought it would be funny if he wasn't cynical or angry about that, that he just loved the experience, and he loved London, and he loved soccer," said Sudeikis. 
In 2015, Sudeikis, alongside writing partners Joe Kelly and Brendan Hunt, started to brainstorm other ways to use the Ted Lasso character. "I guess it's a dozen little things that go right that you're willing and ready to receive," Sudeikis described to Sports Illustrated. "After doing the second video (in 2014), it really unlocked elements of the character that we found very, very fun to write and portray and view the world through. So, one day in 2015, my [then] partner Olivia (the actress and filmmaker Olivia Wilde) came up to me and said, 'You know, you should do Ted Lasso as a show,' and I said, 'I don't know.' But after marinating on it, I thought maybe this could happen." Unfortunately, while the trio had an inkling that a full-length TV show had potential, the project was put on hold due to their other professional commitments. 
Then came a golden opportunity: In 2017, Bill Lawrence (creator of Scrubs and Cougar Town) approached Sudeikis for a project. While that one never panned out, Sudeikis pitched the sports comedy-drama to Lawrence — and now the rest is history.
Ted Lasso, Who?
For those who have not yet been introduced to the Ted Lasso series, the premise is relatively straightforward (and don't worry, no spoilers here!). 
Ted Lasso, played by Sudeikis, is an unrelentingly positive American football coach — Midwest accent, big mustache, you get it. Despite his complete inexperience with British football, he's hired to move to the UK to coach AFC Richmond, an English Premier League Team (you know, like Manchester United or Arsenal). 
Turns out his hiring was an attempt by Rebecca, the league's conspiring owner, to spite her ex-husband, sabotage the team, and run the whole thing into the ground. Luckily, Ted Lasso's folksy, optimistic demeanor and dedication to winning helps him charm over players, management, devoted soccer fans, and other skeptical English characters, all while humorously navigating encounters with British sarcasm and cynicism. 
Viewers loved it — the witty writing, overall cheery tone, and the cast's fantastic performances. Critics applauded the show's creators for adding more depth to the original commercials. "The Ted Lasso character, a dumb-American buffoon in the ads, has been made into a big-hearted, optimistic, even charming guy," a critic wrote in The Boston Globe. 
The show was nominated for a slew of Emmys — 20 in total! — and became the most-nominated freshman comedy in the history of the award show. And in 2021, the Ted Lasso series won the Emmy for Outstanding Comedy Series, among others. 
Beyond the awards, the show has bolstered Apple TV+ into the likes of other streaming giants like Netflix, Hulu, Disney, and Amazon. Before adding the Ted Lasso series to its roster, Apple TV+ had struggled to make a splash with its original programming, many of which saw tepid reviews. 
Just how Ted Lasso won over his naysayers, how did the Ted Lasso series win over viewers? With a great product and marketing strategy.
Running With Comfort Food TV
It would be remiss to categorize the Ted Lasso series as merely a sports comedy because you really don't need to like or even know football to enjoy it. (In fact, Ted Lasso barely understands it himself.) Instead, the show resembles the warm, fuzzy entertainment we've come to love in the last year, such as Schitt's Creek (the Canadian small-town comedy) or The Great British Baking Show (a low-stakes baking competition where the winner receives… nothing!). 
We've deemed these shows "comfort food TV": entertainment that makes us feel good and safe — worthy distractions from the grim reality of the world. This type of content conjures a sense of instant nostalgia, where its characters and the world they live in immediately feel familiar, even to new viewers. There's just something about wholesome and comforting entertainment where characters treat each other well that makes us smile, even if it's entirely fictional. (The opposite of Squid Game.)
The Ted Lasso series embodies all of these characteristics. The main character manages to stay compassionate, unflappable, and oh-so-nice even when insults and abuse are hurled his way. His Forrest Gump aphorisms are endearing in a way that feels motivational. "Ted Lasso has no right to be this funny," a critic wrote in Entertainment Weekly. "It's got a one-joke premise… But the new Apple TV+ comedy is a wonderfully amusing, surprisingly thoughtful sports sitcom that is, of course, not really about sports at all." Instead, like with Friday Night Lights, sports is simply a way to segue into themes of friendships, relationships, and being a good team member. 
You know how in marketing, we talk about the importance of delivering the right messaging at the right time and the right place to the right people? The Ted Lasso series, which was first made available in August 2020, is a perfect example. Around the same time, Apple started to offer a full year's subscription plan for Apple TV+ (for free!) to any customer who had purchased an Apple product. 
This proved to be a slam-dunk strategy — after months of lockdown, viewers were starving for original content, and many of these new Apple TV+ subscribers decided to give the series a go. As people searched for a dash of hope and positivity, the shows' uplifting nature meant word-of-mouth marketing did its work in attracting new viewers. Critics gave it five stars, and it quickly rose to the top of quarantine TV recommendation lists.
Get Ready to Gear Up
The Ted Lasso series is set in a rich, believable world, with the fictional AFC Richmond having an easily recognizable crest with a greyhound silhouette and identifiable home colors. So it only makes sense that to get the show's fans hyped for the second season, Warner Bros would go all out in making the Ted Lasso brand come to life via immersive experiences. (A lot easier than some of the other shows in its roster, including Game of Thrones.) 
They launched an online store with Ted Lasso merchandise — but instead of printing Sudeikis' face on a t-shirt, they designed everything to look like a legitimate team store. To support AFC Richmond, the show's fans could buy jerseys, sweatshirts, and tees, complete with team player names. People could even buy personalized jerseys for $69.99 (cheaper than the equivalent for real Premier league teams.). Items printed with the show's most popular catchphrases, including "Biscuits with the Boss" or "Be a Goldfish," were also up for grabs.  
While merchandising as a branding opportunity isn't new, we're seeing more of it come out of streaming services. For instance, Netflix has recently launched the Netflix Shop, an ecommerce store featuring limited-edition, designer-collaborated products for its various shows.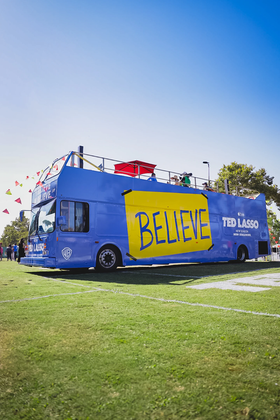 Ted Lasso's immersive marketing doesn't just stop at merchandising. Apple TV+ launched traveling marketing activations, inviting viewers to participate in Instagrammable fan experiences. Immerse yourself in a branded photo installation, take a ride on a double-decker "Believe Bus," or party at a themed tailgate. 
Shoot (Your Emails) for the Stars
Ted Lasso goes beyond offline activations: Take a look at this promotional email from Apple TV+ written from Ted himself: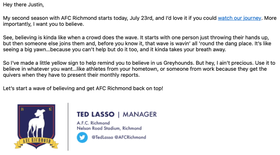 It's a clever, well-executed marketing email that checks off all the boxes we frequently describe in our email best practices blogs: It's short, creative, and has a strong call to action. Not only are subscribers invited to watch the new season, but they're also encouraged to download and share the included "Believe" graphic (a central visual motif that encapsulates everything Ted Lasso stands for).
The Roll-Up
While not all of us can transform an ad campaign into an Emmy-winning, multi-million dollar hit show, we can approach our marketing the Ted Lasso way: 
"We can't really be good partners unless we get to know each other, right?" Get to know your target audience — it's the only way you can be genuinely empathetic and understand what it takes to design products they want and need. 
"Taking on a challenge is a lot like riding a horse. If you're comfortable while you're doing it, you're probably doing it wrong." The best marketing comes from the most unexpected places. Rather than sticking to what you know, think outside the box, add a little spice, and let your creativity run wild. Whatever results you see, it'll be a good lesson.  
"I think that's what it's all about. Embracing change." Marketing is never stagnant. Trends, platforms, and best practices come and go. Embrace change and keep an open eye on the latest buzz and industry news so that you can move with the times. 

"I believe in hope. I believe in 'Believe.'" You've launched a campaign but aren't seeing your sales numbers budge. Don't worry — keep a positive attitude and be patient. Remember: Marketing is rarely an overnight success. Give it some time before you start tinkering with different elements.
Last updated on October 26th, 2021.