Unrolling: The Taylor Swift Brand
Topics Covered:
She's dropped four award-winning albums during the pandemic, broken two Spotify records in one day, and released a short film that had many of us sobbing into our pillows. Get ready: We're finally unrolling the Taylor Swift brand.
There's no denying her intense cultural impact since her rise to stardom, but there's more to Billboard's Woman of the Decade beyond making music we can't stop singing. In fact, much of her success can be attributed to a well-planned marketing and brand-building strategy, which has continued to evolve over the last fifteen years. 
Cue up Red (Taylor's Version), and let's dive into marketing, Taylor Swift style.
SHORT ON TIME? CHECK OUT THIS 3-MINUTE VERSION:
"The Story of Us"
The Taylor Swift brand needs no introduction. As many remember, 17-year-old Swift took the country music scene by storm with 2006 hits like "Teardrops On My Guitar." Since her debut, she has risen to the ranks of global pop fame, winning 11 Grammy awards, releasing an incredible 80 "Top 40" hits on the Hot 100, and heading the highest-grossing tour in American history.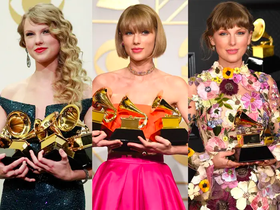 Though we're all familiar with her successes, we also had a front-row seat to the drama — from a decade-long feud with Kanye West to her decision to re-record her first six albums after Scooter Braun purchased her old label. 
But with every critic's scorn, Swift never fails to rise from the ashes, maintain her fans' loyalty, and reinvent her brand — achieved with strategies and tactics you'll soon see are taken from marketers' toolboxes. 
Her "End Game"? Social Media 
Move over, Kylie Jenner. Taylor Swift is here to demonstrate her mastery of social media — how it's a direct channel to her listeners, ways to generate excitement, and why it matters. 
Without it, the Taylor Swift brand would not be as powerful as it is right now. Swift is famous for dropping clues in her posts to build suspense for a new song or album, which her fans (known as Swifties) thoroughly dissect. A photo of seven palm trees? It's clearly a clue that her seventh album is in the works.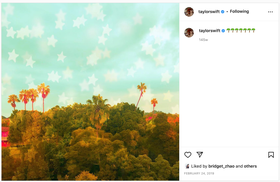 The Taylor Swift brand has long used social media as an opportunity to rebrand. After the controversy with Kanye West and Kim Kardashian — you know, the one with the secret recordings and the whole "I would very much like to be excluded from this narrative" statement — Swift disappeared from the public eye for over a year. 
When she was ready to return to the spotlight, her team wiped her social media accounts. Fans correctly guessed it was a signal for a new album. It later turned out that the Reputation era was indeed all about controlling her narrative and "killing" the old Taylor Swift brand. 
"Long Story Short," You Need to Tell a Good Story 
Swift continues to evolve as a songwriter, with recent albums Folklore and Evermore as examples of how she continues to build upon her storytelling through music. But even in the early stages in her career, Swift managed to depict love, heartbreaks, and friendships using catchy narratives incredibly relatable to her target audience. 
It's clear: People love a good story, whether in songs, novels, or ads, especially universal ones that almost anyone can identify with. 
"Begin Again" With New Content
If you're a reluctant Taylor Swift listener who can't seem to escape decade-old tunes, you're right: Miss Americana — which is Swift's moniker — is re-releasing her old albums.
Great content never goes out of style — Red (Taylor's Version) saw more than 90 million streams when released this November, a considerable feat considering the original was recorded ten years ago. Beyond re-recording her old albums, Swift also reimagines her hits in live performances by featuring new musical arrangements and guest performers. 
Take a page from the Taylor Swift brand book: Don't be afraid to repurpose your evergreen content and give it a fresh coat of paint — think top-performing blogs delivered in a podcast or ebooks transformed into colorful infographics. It's not only a fantastic way to excite your existing fans (or, in your case, customers), but it's also an easy way to cast a net to capture new audiences. 
"Sparks Fly" When You Have Great Fans
While your brand may not have fans that'll send death threats to an ex-boyfriend, the Taylor Swift brand is a fascinating case study in how to nurture your fanbase.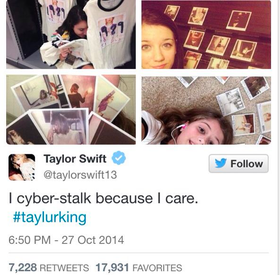 Can you imagine your favorite artist doing some of the things Swift is known for? 
#Taylurking — where Swift interacts with fans' accounts, likes their fan theories, pops in unannounced on their Instagram Lives, and reposts their content. 

Paying for a fan's college tuition and buying holiday gifts for fans, complete with a personal note. 

Inviting diehard fans to her house for a Secret Session, where she plays her latest unreleased album, bakes cookies, and hangs out. 

Rewarding fans with clues and theories sprinkled throughout interviews, social media posts, and lyrics. 
Taylor Swift loves her fans, which has been a huge reason why they've stuck by her side. They serve as next-level organic and word-of-mouth marketing, too — one quick interaction can spawn dozens of conversations about the Taylor Swift brand. 
"The Man" of Progressive Values
After years of remaining neutral in the public eye, Taylor Swift has recently made her values clear via lyrics, social media posts, and interviews. But she doesn't just talk about championing gender equality, self love, and LGBTQ rights — she endorsed Phil Bredesen in 2018, the Democratic Senatorial candidate in Tennessee (her home state), and encouraged voter registration. The impact of the Taylor Swift brand is real — within 24 hours, her post inspired over 65,000 Tennesseans to vote.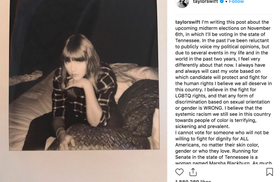 Since then, she used her "You Need to Calm Down" music video to encourage fans to sign the petition for the Equality Act; she called out the White House in her acceptance speech at the VMAs; and she stood up against sexual harassment with a $1 lawsuit. 
Take it from Taylor Swift: One of the best things a brand can do is invest in a cause beyond its bottom line. 
The Roll-Up 
Whether or not "Love Story" was your middle school jam, there's no denying the far-reaching effect of the Taylor Swift brand. 
Don't worry, though: No need to craft breakup songs to rise the charts and "come back stronger than a '90s trend." Instead, keep these key takeaways in mind: 
Nail down your buyer persona. Teenage girls looking to mend their broken hearts? Middle-aged women seeking the low-stakes drama of their youth? Knowing who your audience is can go a long way in delivering catchy content that grabs attention and keeps them hooked. 

Recognize your top fans. Thank them for being by your side, whether through loyalty points, unexpected gifts or perks, or a rewards program. 

Stand for something bigger than yourself. It'll help reinforce your brand values and give shoppers a reason to support you over competitors. 

Repurpose your evergreen content. As we mentioned earlier, great content never goes out of style. For example, you can transform a top-performing blog into a podcast or an ebook into compelling infographics. 

Grow constantly. Just like how you'll never get the same Taylor Swift era twice, don't be afraid to reinvent and pivot your brand over time, especially if you're seeing new buyer behaviors and trends. Not only will you be able to grow with your fans, but you'll also unlock new audiences. 
Last updated on February 10th, 2022.