UnRolling Netflix: How the Streaming Giant Entertained the World
Topics Covered:
Long gone are the days your entertainment choices were limited to the movie theater, cable television, or the DVD rental store down the street. Thanks to Netflix, the digital entertainment industry has forever changed. Now, we can lounge on our couches and binge-watch virtually anything to our hearts' content.
But it's not all sunshine and rainbows in the streaming business. Netflix's recent growth woes have dominated headlines, and, in case you missed the news, it's only a matter of time before the platform introduces, gasp, ads to its cheaper plans.
If you're confused about why Netflix is suffering through a rough patch or interested in how Netflix disrupted the entertainment world in the last decade, you've come to the right place. We're covering all of that and more, complete with how Netflix's rise to the top of the streaming wars translates into takeaways for marketers.
Netflix and Chill 
Ask anyone over the age of 30 about how they used to watch movies, and they'll probably offer a fond memory or two about picking out DVDs at a local Blockbuster… until Netflix swooped in and changed the game.
Launched in 1997, Netflix was purely a mail-based rental business famed for its massive media library until it made the choice to expand to streaming media services in 2007. (Fun fact: the company had been eyeing digital streaming for a while, but it took years for the technology needed for better data speeds and lower bandwidth costs to evolve.)
You're probably familiar with what happened after that — delighted by the convenience of streaming, we were more than happy to cut the cable cord. (Who has time for TV ads, anyway?) 
Netflix introduced Friends and The Office to a whole new generation, ingraining these shows even deeper into mainstream pop culture. Meanwhile, Netflix originals such as House of Cards and Orange Is the New Black began vacuuming up Emmys and Golden Globes year after year. In 2014, overshadowed by Netflix's dominance, Blockbuster was no more. Soon, "Netflix-ing" became everyone's favorite activity, while the phrase "Netflix and chill" entered our collective cultural dictionary. Tiger King defined the days of early pandemic lockdown, while Squid Game, released a year later, captivated the attention of audiences all around the world. Netflix was starting to look like it was on track to become a growth stock similar to Google or Apple.
But the rest was not, in fact, history.
Once a solo player in the streaming industry, Netflix started to face fierce competition from HBO Max, Hulu, Amazon Prime Video, Disney+, Apple TV, and Paramount+. In the last few months, we learned the company had lost more than 200,000 subscribers in early 2022 alone. 
The streaming giant also laid off employees of Tudum, its fledgling fan site, mere months after the initial launch. Rumors swirled that it would soon begin clamping down on shared log-ins. Beyond that, the company is looking into including ads as a revenue source — which leaders had long rejected in favor of a subscription model.
"Those who have followed Netflix know that I've been against the complexity of advertising and a big fan of the simplicity of subscription," said Netflix Chairman and CEO Reed Hastings. "But as much as I'm a fan of that, I'm a bigger fan of consumer choice. Allowing consumers who would like to have a lower price and are advertising-tolerant get what they want makes a lot of sense." (He's not wrong — research has found that 44% of U.S. adults who pay for a streaming service would prefer ads or commercial breaks in return for lower costs.) The plan to roll out cheaper plans with ads will likely come to fruition within the next year or two.
But this news, alongside Netflix's reporting of its slowest year of growth since 2015, sent shockwaves across the industry and stock market. Last month, the company lost $54 billion in market value in just one day.
Despite its growth challenges similar to those of other giant companies, Netflix is still, undeniably, the biggest player in the streaming world — a fact that's unlikely to change in the near future, especially considering its successful global expansion. That said, as a company that has revolutionized the way we consume content, Netflix offers countless marketing lessons on how brands spotting new opportunities can disrupt existing industries.
Netflix's Social Media Skills
With a treasure trove of content, Netflix has an A+ social media game. Hop over to its Twitter page, and you'll find everything from the heartfelt to the cheeky to the swoon-worthy while keeping things fresh, casual, and relevant.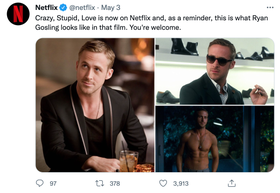 But beyond simply posting original content that promotes its new shows and movies (or hyping existing ones with behind-the-scenes footage), Netflix's social media strategy also involves reposting content from fans and celebrities alike. It's been an extremely effective way to rack up engagement from users.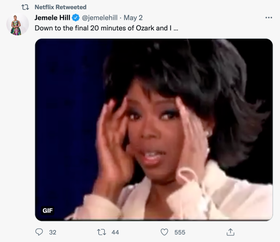 The key to Netflix's social media success? Not trying too hard. You won't find excessive hashtags, emojis, or uncreative phrases (like "you don't want to miss this" or "tune in on Friday") trying to explicitly sell its content. 
With so many shows and movies to promote, that approach would get old pretty fast. Instead, the tone and voice of Netflix's social media posts are tailored for each piece of content's unique audience to give them precisely what they want.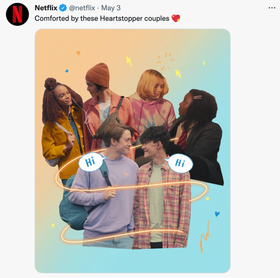 TL;DR? By using an unapologetically authentic voice curated for different audiences, Netflix communicates to and connects with its customers like a fan would — and trust us when we say that followers 👏 eat 👏🏾 it 👏🏼 up.
Experiential Thrills
If you thought to yourself, "I wish I could attend a Regency ball and find the love of my life" after binge-watching Bridgerton in your pajamas, we've got good news: As part of its season two promotional efforts, Netflix has hosted "The Queen's Ball: A Bridgerton Experience" for die-hard fans. (Don't worry if you missed it — the tremendous success of these experiential marketing efforts makes it likely the company will continue creating something similar for future seasons of the show.)
The Queen's Ball was a 90-minute immersive event held in multiple locations worldwide, complete with powder-wigged valets presenting Champagne, string quartets performing hits from the show, and even a Lady Whistledown scavenger hunt. In other words, it was everything a Bridgerton fan could ask for — minus an appearance by the dreamy Regé-Jean Page.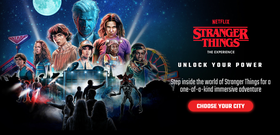 But this isn't Netflix's first foray into real-world events. In 2020, it held a Stranger Things drive-through event, and to promote the series La Casa de Papel, the company invited fans to participate in a heist experience.
Because Netflix's model involves dropping the entire season of a show in one day and sidestepping traditional week-to-week anticipation reserved for traditional network television, these experiential marketing efforts have done wonders for keeping conversations buzzing.
"People who watched Grey's Anatomy weren't just watching it on Thursday night — they were trying to find other ways to consume it. Scandal was not a show that people watched on Thursday nights and then just didn't talk about it the rest of the week," said Shonda Rhimes, producer of Bridgerton. "... Being at Netflix allows us to take that desire for the fans and to create a thing where you're allowing them to be part of the experience more than just on one night of the week or one hour a week."
Avoiding Decision Standstills 
Ever scroll through Netflix's homepage and feel a little spooked by how well they seem to know exactly what you want to watch? The company is famed for its recommendation algorithms and how it puts its data on people's viewing habits to good use. After all, with its massive content library, having Netflix bombard you with marketing messages promoting content you'll never waste time watching would be an unwise strategy, to say the least.

If you're a regular reader of this blog, you're probably aware of how much consumers value personalization and custom experiences tailored to their preferences, past purchases, and unique user journeys. In other words, if you use your data to find nuggets of insight to deliver content and experiences your audience really want, it's unlikely they'll get bored or feel compelled to check out what your competitors offer.
Giving Customers Their Fill 
It's undeniable that Netflix is going through a rocky growth period — it's evident not only from its quarterly reports but also from the app itself. 
If you're a victim of Netflix's cancellations (Santa Clarita Diet, The Baby-Sitters Club, Sense8 — the list goes on), you're not alone (and, unfortunately, not eligible for emotional compensation). Netflix may have once blown away the competition with its high volume of high-quality original content, but behind-the-scenes articles have offered some insight into the company's decision to cancel shows beloved by its viewers, instead focusing on new and cheaper programming.
In recent years, Netflix has leaned into a strategy of producing as much content for as many users as possible. However, without asking and answering the question of "What do users really want to watch?", Netflix has dug itself into a bit of a hole. 
With HBO Max and Peacock snatching up key pieces of popular content Netflix previously hosted, such as Friends and The Office, coupled with the company's decision to greenlight dozens of low-budget reality shows that nobody really asked for, it almost feels as if there's nothing good to watch on Netflix anymore. (Unless you enjoy learning about scams or the love lives of strangers.)
It all points to one thing: Netflix's current strategy focuses on acquisition rather than retention.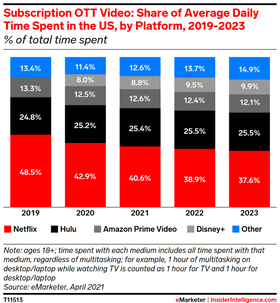 Netflix has seemingly forgotten one of the fundamental principles that made it such a success in the first place: a good product. Consumers have more choices than ever — not just in streaming programming but virtually everything they buy — and no amount of marketing dollars can save a business if the products are not up to par. Take it from advertising legend David Ogilvy himself: "Great marketing only makes a bad product fail faster."
In its quest for new subscribers in new markets, Netflix has, unfortunately, neglected its core subscriber base and sidelined their needs, hence, the large number of users who've unsubscribed in recent months. Remember: While it's important to grow your business by attracting more customers, don't forget to nurture and create value for those who've been with you since day one.
The Roll-Up 
Despite its fierce competition and wobbly start to 2022, Netflix is undeniably still the biggest leader in the streaming world with an incredible legacy — as a disruptor, it managed to pressure entertainment giants, such as Disney, to begin betting their future on streaming. 
So, what can brands learn from Netflix's rise to the top? 
Original and exclusive content will always win. The key? Knowing precisely what your audience wants by using your data to create thoughtful and comprehensive buyer personas.
Create unique messaging for different audiences to stay relatable and relevant. Segment your target customers, then customize your marketing efforts for each of them.

Keep an eye out for your competition. Even if you're currently an industry leader, don't get complacent — more often than not, your competition is right behind you.
Balance acquisition and retention. Be careful of spending all your time and effort chasing after a new sale — retaining new customers is not only more cost-effective but also worth it as brand advocates and loyal fans are some of the best marketing tools you have.
Last updated on May 18th, 2022.