Unrolling Glossier: Building a Beauty and Wellness Ecommerce Empire
Topics Covered:
Quick! What brand comes to mind when you imagine millennial pink? If the wildly popular ecommerce company Glossier was your answer, you're on the right track. 
There's a reason why Glossier is the epitome of direct-to-consumer (D2C) marketing: It practically invented the playbook for how modern brands can (and should!) connect with customers, celebrate authenticity, and leverage social media. 
Without further ado, here's everything you should know about this powerhouse brand — complete with all the tips and tricks you need to kickstart your own digital transformation. 
Wake Up and Makeup
The story of Glossier starts in 2010, with founder Emily Weiss launching "Into The Gloss," a beauty blog. Her goal was a noble one: to portray women authentically, rather than "tell them how to feel, what to think, and how you should look better." It was a purpose that ran against what she had observed in the fashion industry from her stints at Teen Vogue and Condé Nast. 
To create content for her blog, Weiss interviewed women about their makeup routines. This early engagement with beauty aficionados proved inspirational — in an interview with the Financial Times, she shared: "One of the insights that led to the creation of Glossier was actually my experience listening to women as I was interviewing them for the blog years ago telling me how much they loved their Lancôme mascara or how much they really loved their moisturizer. But reading between the lines, I didn't hear them saying that they loved these brands."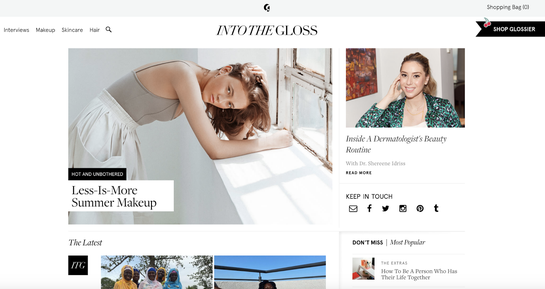 That acute insight into the failures of traditional beauty brands, coupled with research showing few brands targeting women who wanted simple, effective, and inexpensive beauty products, served as the catalyst for what would become Glossier. 
By 2012, Weiss launched a small ecommerce site selling four products: a moisturizer, a face mist, a skin tint, and a lip balm. The quartet was an unexpected hit, and the brand quickly expanded to color cosmetics, fragrance, and skincare. 
The accolades haven't stopped rolling in since. Fast Company named Glossier one of its "Most Innovative Companies" of 2017, while they also won Inc.'s "Company of the Year" award. Major publications covering the beauty industry, including Cosmopolitan, Allure, and Glamour, sang praises for its products too. 
In 2016, four short years after launching, Glossier surpassed $100 million in revenue, thanks to over a million new customers and the work of 200 dedicated team members. 
While the brand still operates as D2C, they launched several physical locations in New York, Los Angeles, and London in the last few years. They even entered a partnership with Nordstrom to debut pop-up booths around the country. In 2019, they raised an additional $100 million in venture capital, allowing the company to reach a valuation of $1.2 billion. Today, Glossier boasts more than 2.7 million Instagram followers — yet, it's clear the brand's journey is still beginning. 
Brows Before Bros
A massive part of Glossier's success comes from the unwavering loyalty of its customer base. Since the beginning, the brand has nurtured a direct and intimate relationship with its customers by constantly listening to what they say, need, and want. 
Interestingly, rather than define its target customer using demographics (such as age or location), the brand builds consumer profiles based on psychographics — a qualitative methodology describing shoppers' psychological traits and attributes. In this case, a Glossier customer is defined by their shared belief in the role that beauty plays in their lives. 
In a 2018 interview with Cowen & Company, Glossier's then-president and CFO Henry Davis said, "What separates Glossier from traditional beauty brands is we are not in any way confused about who our customer is." Unlike its competitors — whose customers are Walgreens or Target-like retailers that buy products to stock their shelves — Glossier's priority isn't launching the brightest and boldest new products. Instead, having a D2C model means focusing on meeting and exceeding the end consumers' needs and interests. 
With customers serving as the heart of their business model, Glossier: 
Asks for customer feedback and new product ideas via social media 
Provides communication channels between the team and customers 
Blurs the lines between models, influencers, customers, and staff 
As a result, Glossier's customers play a far more active role in helping the company shape its future. And maintaining such a tight-knit relationship with customers has paid off: According to Weiss, "70% of sales come from word-of-mouth organic connections." 
Lashes Speak Louder Than Words
Content plays a prominent role in Glossier's marketing strategy, with "Into The Gloss" still thriving all these years later. Beyond the blog, the Glossier team pushes out content on Facebook, Twitter, Youtube, Pinterest, and Instagram, all of which have six- to seven-figure follower counts. 
The content shared under Glossier's name is engaging, fun, and genuinely informative. From editorial how-tos to solutions on specific beauty issues, the brand doesn't just see content as a means to push sales, but instead as an opportunity to jump into candid community conversations about beauty. 
That's why you'll see their posts mentioning products from other skincare and makeup lines too, especially when they're discussing beauty routines for different skin types and skin tones. Creating various types of content — from videos to text-based articles — also helps reach different audiences with unique goals and opinions.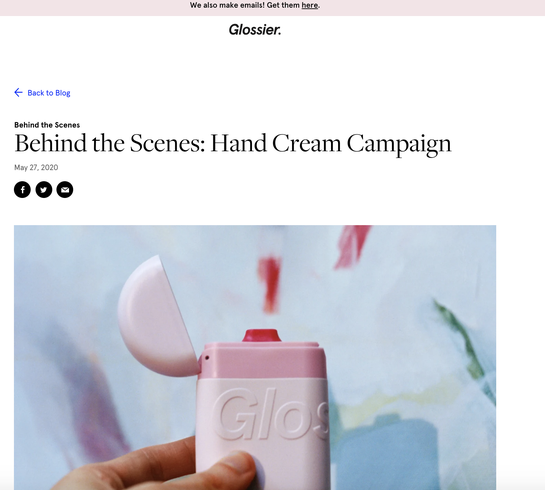 We can't stress enough the awesomeness of Glossier's content marketing. The "Get Ready With Me" video format that celebrities, influencers, and media publishers love? Yep, that was popularized by Glossier. A whole Instagram feed dedicated to nearly zero marketing team content and simply posts from customers, fans, influencers, and staff? Glossier did it first too! 
A rephrase of the old saying seems warranted here: Create authentic and generous value for your community, and they will come. 
Always On Fleek
Besides creating amazing content, Glossier uses its social media channels to establish two-way communication with customers.
Unlike other companies that see social media as a tool for a one-way marketing broadcast, Glossier uses Facebook, Instagram, and Twitter for listening, conversing, and product-generating purposes. 
Yeah, you read that right: Glossier takes inspiration from the conversations they're having with customers on social media to develop new products. "Before we even make anything, we make it because we learned from our customers what they are missing, both from a brand and a product perspective, that will make their lives better," said Davis. 
While other beauty retailers simply sell finished products to customers, Glossier's customers sit at the top of the development funnel. In other words, they are co-creators in every product. (Glossier even hosts a dedicated Slack channel for its top customers to share product ideas and feedback.)
Here's an example: The cult-favorite dual-use Glossier Milky Jelly Cleanser, which was a direct result of more than 400 customers commenting on an "Into The Gloss" post that asked readers to discuss their dream face wash. Many shared how they wanted an easier way to remove makeup and wash their face rather than use two separate products. 
By launching the 2-in-1 Milky Jelly Cleanser — even if it meant taking away potential sales had they sold a makeup remover and cleanser separately — Glossier created a product that customers quickly fell in love with. 
When designing the formula, the chemist even made sure to check off keywords such as "moist," "glowy," and "mild" that were frequently used in the comment thread. No wonder the cleanser is now the brand's third best-selling product!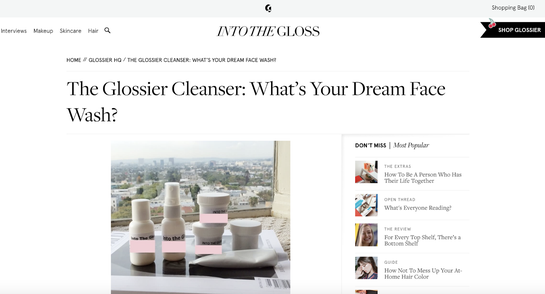 In addition to using social media for co-creation purposes, Glossier's accounts constantly repost user-generated content. It's fitting that Glossier's Instagram bio reads: "Glossier Inc. is a people-powered beauty ecosystem" — customers are made to feel like a true and significant part of the company's journey and success. 
A Natural Beauty
What differentiates Glossier from brands like L'oreal, Maybelline, and Covergirl is its branding. With the tagline "Beauty products inspired by real life," Glossier emphasizes its products are meant to accentuate one's natural beauty — rather than cover up imperfections. 
This resonated hugely with its millennial and Gen Z customer base — populations who have noticeably pivoted from brands upholding unrealistic beauty standards and instead turned to support those championing body positivity and inclusion.
I Came, I Saw, I Contoured
With Glossier more popular than ever, Weiss and her team eventually decided to expand the brand by building several permanent physical locations and pop-up stores. But no, this didn't mean they were ready to scrap the D2C model — the goal of brick-and-mortar was to serve a purpose greater than a shopping destination. The stores are a real-world opportunity for the brand to further nurture and build its community. (It's a move taken from the playbooks of other D2C powerhouses like Warby Parker, Away, and Allbirds.)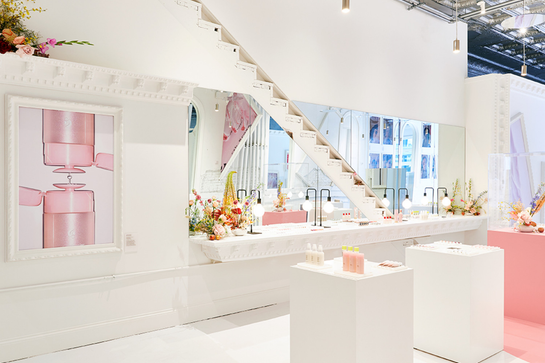 Glossier's store associates, also known as "offline editors," promote the locations as brand experience and community spaces for consumers to experiment with beauty. They're a playground for beauty lovers to shop and socialize — it doesn't hurt that they're highly Instagrammable too.
(Lip)sticking to What You Know Best
When it comes to explosive growth, it can be tempting to quickly launch more product lines in an attempt to win over new customers. But Weiss did not fall for this trap. She instead stuck to the products she knew best.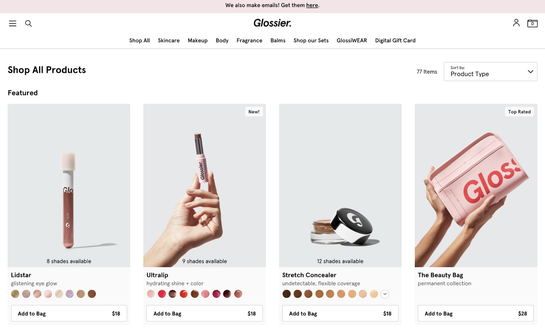 Today, Glossier still maintains a narrow product line with less than 80 beauty and skincare items. While this may seem like an extensive product catalog for a brand that started with just four, it's still significantly smaller than those of big-name retailers with countless iterations of existing formulas. 
This decision to stick to a smaller product line reinforces Glossier's branding that beauty doesn't need to be complicated or involve dozens of products and tools — just find the lipstick or mascara that works for you, and come back for more. 
The Roll-Up
Every ecommerce entrepreneur has probably eyed the likes of Glossier and asked themselves, "What can I do to reach that level of growth?" Though it's not easy to build a dedicated community, develop an unstoppable social media strategy, and design incredible products, it's not to say it's impossible either. Get started by:
Creating a strong value proposition. What makes you different from the rest of your competitors who are vying for the same pool of shoppers? Can you fill a market gap that no other retailers are paying attention to? Answering these questions will involve conducting immense market research and having thorough conversations with potential customers (which is a great starting point to developing those valuable early relationships!).
Involving your customers. From Instagram Story polls to dedicated Slack channels, there are a ton of ways to engage deeply with customers in a way where they not only feel heard but are also involved in the success of your company. Understanding your customers' immediate needs will pretty much ensure the success of whatever product you're planning on launching. 
Not being afraid to disrupt. There are a ton of old-school industries that have yet to embrace digital transformation and innovative digital marketing tactics. While it can be intimidating to do something new for the first time, taking the plunge poses a massive opportunity for success if you properly match your business offerings to new, digital-first shopping behaviors. 
Last updated on December 2nd, 2022.