UnRolling Duolingo: How Unhinged TikToks Made the Brand a Winner
Topics Covered:
If you've spent any time on TikTok, you've probably stumbled upon Duolingo's unhinged content. Whether it's Duo the Owl twerking or being menacing (but funny), Duolingo is famed for pushing the boundaries of what brands can do on the platform.
How exactly did the language-learning app rise to the TikTok charts, and more importantly, how can other brands achieve similar results? Here's everything marketers need to know about Duolingo's social media prowess.
Guess Hoo?
Duolingo is an educational app that leverages gamification and engagement to help you learn a new language, whether that's Spanish or Klingon. As you're probably well aware, an A+ product is not enough to rally a community of brand champions. While plenty of other companies offer similar products, Duolingo has savvily used social media marketing to grow into the most popular language-learning platform on the market.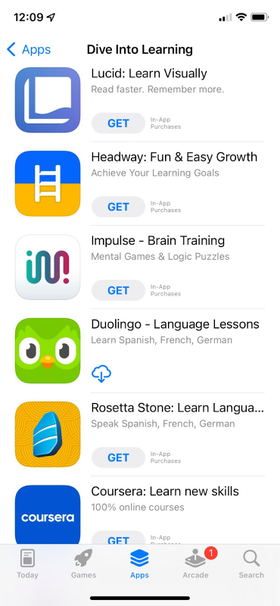 On TikTok, Duolingo blows other brands, regardless of industry, out of the water. Since it launched its account in February 2021, it's raked in 4.7 million followers and counting, with videos regularly racking up more than a million views.
Owl You Need is Courage
Duolingo's TikTok success did not happen overnight — in fact, according to its team, the brand's early videos that revolved around language learning were relatively lackluster, despite partnering with an agency. "It was fine, but it wasn't spectacular. We ended that partnership, and six months later, I felt as though there was still an opportunity with TikTok once we came back to our offices after the first lockdown in the USA," said Zaria Parvez, Duolingo's global social media manager. 
When TikTok reached 1 billion active users in September 2021, Duolingo knew that the time to invest in the platform was now or never. Despite the brand's willingness to take risks and explore new opportunities, the team had to spend a lot of time and resources testing and experimenting with different content to find something that resonated with its audience. 
With this openness to listen and iterate, Duolingo found a winner: Duo the Owl, the brand's mascot. In the company's first viral video, an employee sits on a chair while Duo looms over them, with the onscreen caption reading: "when you're just tryna do your work without being terrorized by an owl." (It's a reference to a popular joke about Duo threatening users who don't complete their daily language-learning lesson.)
Not Giving a Hoot
Now that Duolingo had identified part of its success formula, Duo the mascot became a major part of the brand's strategy. Realizing success on TikTok was all about capitalizing on the latest trends, the team decided to use Duo to do precisely that.
The Duolingo team began conducting more social listening to nail down precisely what their community wanted to see, then creating content around that. Unlike other brands on the platform that stuck to less polished but still safe content, Duolingo began posting videos that users labeled "unhinged" — it was funny, non-corporate, pushy, random, and outright passive aggressive.
In one post, Duo expresses its love for Dua Lipa — just because of how similar the two names sound. In another post, Duo is upset by those using Google Translate instead of actually learning a new language (the mascot wallows as Taylor Swift plays in the background.)
The team would match trends to ideas they had already conjured up, which helped them move quickly, create timely content, and be proactive rather than reactive. It worked: Users loved seeing Duo put a branded spin on the latest memes, and this approach was a massive game changer when it came to introducing the brand to new top-of-funnel audiences casually scrolling on the app.
We're Owl Ears
Duolingo doesn't just keep its huge community of fans excited by posting content they want to see — it also engages them with snarky replies to their comments. "It's funny because there seems to be this new transition from the authenticity that everyone loved about Instagram, as it was an authentic point of view on things," said Parvez. "Now this new generation of users are coming through video sharing, which is almost absurd and bases itself on craziness. For Gen Z, it looks to be based on this."
While this approach is not new and exclusive to Duolingo — Denny's, for example, is also famed for this sardonic humor on Twitter — it's been highly effective and popular on TikTok, where engagement such as likes and comments are rewarded with bigger reach. That's why you'll also see Duolingo occasionally pop up in the comments of trending videos.
Jack of Owl Trades
While Duolingo's social media strategy isn't limited to TikTok, you'll find a completely different set of content on Instagram and Facebook. On Instagram, its recent posts include pictures of the incoming intern team, fan drawings of Duo, and the occasional meme. On Facebook, Duolingo's account consists of posts promoting the newest language on the platform (High Valyrian from Game of Thrones, in case you're wondering) and upcoming competitions on the app.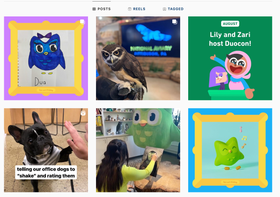 It's a wise move — while there are benefits to repurposing posts, the best strategy is to tailor your content to each platform's unique audience. By having Duo prominently featured across these channels, the accounts still feel seamless and cohesive while driving the message that language learning can be challenging but fun.
Owl in With Partnerships
Brand partnerships are a fantastic way to introduce your business to a new set of potential customers, and, unsurprisingly, Duolingo has taken that to a new level. In a TikTok partnership with Scrub Daddy this April, the two brand mascots get a little frisky, producing mini owl-shaped sponge babies. It's weird, yet it works — especially considering how Scrub Daddy has recently taken a page from Duolingo's playbook and is creating edgier content.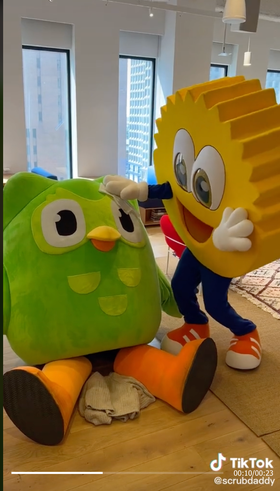 The takeaway? Unexpected partnerships can capture lots of attention — there's no reason to limit yourself to partners in the same vertical. Instead, consider those with similar values or tone and voice.
The Roll-Up
The key to Duolingo becoming a viral sensation is obvious: On social media, it's not about selling, but entertaining, connecting, and informing. While there isn't a one-and-done formula, TikTok was designed specifically for entertainment — that's why brands that humanize themselves, help their audience feel seen and heard, and lean into trending topics can win big.
TL;DR — Don't just emulate what Duolingo is doing, but apply their tactics in a way that is authentically aligned with your brand. That said, one of the best ways to take your brand to the next level is to use AdRoll. Our automation builder lets you launch, manage, measure, and analyze all your efforts across Facebook, Instagram, TikTok, and Pinterest, saving you time, unlocking better data, and achieving greater results. Get started today!
Last updated on November 14th, 2023.