UnRolling Bridgerton: How a Period Drama Became a Winner
Dearest Reader, the time has come to lace up those corsets and flip open your folding fans, for today, we're diving into the swoon-worthy world of Bridgerton. 
For those unacquainted with the titillating scandals and salacious misadventures of London's high society, have no worry, as it is this Author's great pleasure to introduce this sumptuous Regency-era show to you while uncovering Netflix's admirable marketing efforts. 
"You are a Bridgerton." - Violet Bridgerton
Produced by Chris Van Dusen with the great Shonda Rhimes of Grey's Anatomy fame, Bridgerton is currently one of the most sensational shows on television. 
The drama is based on a collection of eight best-selling romance novels by Julia Quinn. Spanning 1813 to 1827, we follow the lives, loves, and hookups of eight Bridgerton siblings who belong to a wealthy, well-known family in high-society London. 
In season one, we are allowed intimate access into the life of Daphne, the eldest Bridgerton daughter and a wide-eyed debutante, as she enters the marriage market. Season two, on the other hand, follows Anthony, the firstborn Bridgerton son, as he, too, navigates various trials and tribulations as he searches for love. 
Readers of the novels and viewers of the show are dazzled by the pressures, privileges, and preoccupations of the Regency aristocratic society — from carefully choreographed balls to the mysterious anonymous gossip columnist, Lady Whistledown, as she juicily uncovers the characters' personal lives. 
If these frothy romances and dramas of the social season all sound unbearably theatrical, you might be surprised to learn that Bridgerton is the biggest Netflix series ever, with season one streamed in more than 82 million households. Yes, Bridgerton has unseated other Netflix royalty, including fantasy series The Witcher and sci-fi drama Stranger Things. 
So, without further ado, here is how Bridgerton became the toast of the streaming platform. 
"I yearn for someone fresh, someone unexpected, to turn this season on its head." - Queen Charlotte
We would be remiss not to mention the fact that though Bridgerton may resemble the Pride and Prejudices of yesteryears, the show is, in fact, not an accurate depiction of life in England in the early 1800s. 
As you have probably realized by now, though Bridgerton does indeed hark back to a time of corsets, chastity, and curtsies, it's more akin to a charming fairytale that offers viewers a deliciously vibrant and indulgent dose of escapism. To achieve that, Rhimes and Van Dusen have diverged from historical reality and instead embraced modern aspects of race, gender, power, and sexuality in a way that refreshes a piece of historical fiction into one fit for diverse audiences in the streaming era. (They were also worried that a story based exclusively on the 19th century would feel too uptight.)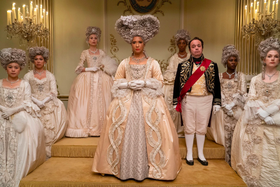 First, the casting. Jane Austen-esque dramas are traditionally presented onscreen as overwhelmingly white, but Bridgerton has made tremendous strides in adopting racially diverse casting. 
In the show, the majestic but mercurial Queen Charlotte is Black — not only is this character based on a real historical figure (King George III's wife), but new evidence suggests that she may have been the first Black or biracial British monarch. We are also introduced to Simon Basset (the Duke of Hastings), a Black, eligible landowning aristocrat, and his mentor Lady Danbury. These characters are refreshing to watch, to say the least — having been conditioned to see only homogous representation of royalty. 
Next, you'll also find classical interpretations of modern hits, like a cover by Vitamin String Quartet of Ariana Grande's "thank u, next" or Billie Eilish's "bad guy." Talk about creative license, indeed. 
Finally, there's the approach to the storytelling itself. You'll find scenes from the perspective of the "female gaze" — this means lingering shots of toned abs and impossibly sheer wet shirts. Dear Reader, trust when this Author says that all this feels extremely exhilarating, considering the precedent of female objectification in this genre.  
"Nothing less for a true love match." - Queen Charlotte
Dear Reader, you might be surprised to learn that Shonda Rhimes, the prolific showrunner, is in fact not an avid romance reader. However, she did admit to devouring the Bridgerton novels and, rightfully, wondering why there hadn't been more books of this genre adapted for the screen — despite the fact that we as a society are hungry consumers of any Jane Austen-related content. (Who can resist Timothee Chalamet as a dashing Laurie in "Little Women?") 
"It's fascinating to me that no one has really done it before," Rhimes told The New York Times. "Romance novels really lend themselves to the TV genre. They're visual; they're well paced; they have great plots."
That said, it's clear that a huge part of Bridgerton's success can be attributed to, well, novelty. We've seen growing demand for period dramas in the last few years, and Bridgerton uses the perfect formula that combines viewers' obsessions: the elegance (and British accents) of Downton Abbey mixed with the yearning romance of Korean dramas. In other words, Bridgerton fills a market gap. 
But most importantly, Bridgerton offers viewers drama that's hard to avert your eyes from.  Plus, the show is a visual spectacle, with Netflix not skimping on the production value — every opulent costume, dazzling jewel, and sprawling country manor helps further the fantasy. 
"Your move, your majesty." - Lady Whistledown
The holiday season isn't just good for online shopping and stuffing ourselves with eggnog — no, dear Reader, launching season one of Bridgerton during the 2020 Christmas season was a masterful move by Netflix. 
The period romance arrived on our screens at the end of an unprecedented year, and with nowhere to go and an eagerness for escape, households hunkered down to indulge themselves in the affairs of Regency-era London. 
It helped that social media was awash with interviews from the cast, chatter about the gorgeous outfits and catchy covers, and behind-the-scenes footage. This meant that viewers hooked on Bridgerton (or obsessed with Regé-Jean Page's smoldering gaze) could spend hours engaging with content and participating in discussions with other fans. Bridgerton's promotional strategy was word-of-mouth marketing at its best.
"I thought you ladies were taught to dance." - Anthony Bridgerton
Dear Reader, this June 2022, you're in for a delightful treat: The Queen's Ball: A Bridgerton Experience happening in Chicago, Los Angeles, Washington, D.C., and Montreal — and, guess what? Her majesty requires your presence.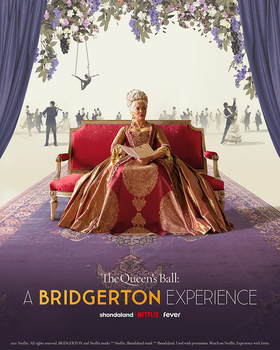 For just $49 a person, you will be whisked to a ballroom in the Regency era, where you'll mingle with other fans. The charming evening will be filled with:
Spectacular acrobatic performances 

Stunning dance shows 

Delicious cocktails 

Surprise interactive experiences with actors dressed in period costumes 

Melodies from the iconic Bridgerton soundtrack performed by a string quartet 
You can accept the invitation and become a guest at one of the most exquisite events in town here. For those who would much prefer to stay in bed in their silk chemises, here is your takeaway: When you have a world as richly built as the one in Bridgerton, experiential marketing is the name of the game.  
"Oh, I do relish a challenge." - Lady Danbury
Beyond experiential marketing, Netflix has also harnessed the power of partnership marketing to help develop the Bridgerton spectacle. In collaboration with Tanqueray, a gin owned by Diageo, we find ourselves a modern twist on the classic tea time fanfare. 
The "Make it T-Time" campaign features musician Joe Jonas, comedian Phoebe Robinson, and Bridgerton star Jonathan Bailey, with the two latter celebrities teaching "Joseph Jonas I" how to become a Bridgerton while sipping Tanqueray cocktails. (Confused? Well, people have been saying online that Joe Jonas looks like he could be a Bridgerton character — cheers to that.)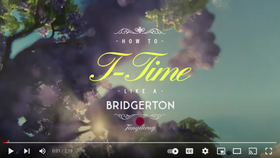 As part of the promotion, fans who share original photos or videos on Twitter, Instagram, or Facebook showing how they drink, dress, or dance "for T-Time" and using the hashtag #makeitTtime will have a chance to win:
A ticket to the Queen's Ball, complete with complimentary hotel accommodations, an appointment with a stylist who will help them into Regency-ready regalia, and a "T-Time" happy hour experience

A curated Bridgerton Watch Party alongside 10 friends at either a lavish hotel suite or viewing location decked out in Regency-era decor

A live oil painting session at a "T-Time" party in a luxurious hotel suite with 10 friends, who a stylist will costume in Bridgerton-inspired extravagant attire
Fans can also purchase limited-edition Bridgerton cocktail kits. Scrumptious!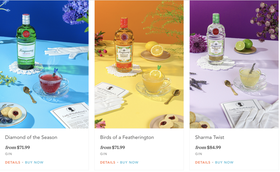 This partnership marketing opportunity has provided Netflix with a fantastic product tie-in that lets them generate some additional revenue, reward fans, and drive even more hype. 
"Dear Reader, let it be known that if there is a scandal, I shall uncover it. And share every last detail." - Lady Whistledown
We love a good mystery, don't we, dear Reader? In season one, viewers and townsfolk alike were enthralled by the mysterious Lady Whistledown, who you'll recall is the anonymous gossip columnist publishing scandal upon scandal, with no one escaping her scathing pen. 
Voiced by the unofficial queen herself, Julie Andrews, Lady Whistledown's hidden identity was a massive hook that kept us on our toes. (Though the answer was revealed at the end of season one, we will not be publishing such splendid spoilers here.)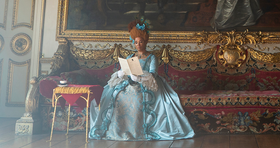 From TV to marketing, mystery and curiosity are one of the best ways to grab attention, and Netflix has gotten it right with the teasing of the "Who Is Lady Whistledown?" question and eventually rewarding viewers with the answer. 
The Roll-Up
In this post, we have uncovered the secrets behind Bridgerton's success and opened your eyes to all the Regency scandals that your heart desires, but now, dear Reader, we are here to impart a few marketing wisdom tidbits that you must take away with you. After all, you don't know the future that awaits and must be prepared for your brand's growth, no matter what pieces of pop culture explode in popularity next. 
If you want to rise as the diamond of the season, you must take creative risks. Bridgerton took many gambles with historical accuracy by abandoning traditional notions of race — and it paid off. When it comes to marketing in 2022, playing it safe is the riskiest strategy. You want shoppers to burn with desire or need, not apathy. 

Don't be afraid to push the boundaries. Much like how 17-year-old Eloise Bridgerton knows that she doesn't want to play by the rules, and how Bridgerton itself has transformed the historical fiction genre, remember that if you want to get ahead, you can't be afraid of changing the rules of the game and pushing past boundaries. That said, it's time to replace your old-fashioned marketing tactics and approaches with a strategy that genuinely reflects the values and diversity modern shoppers have come to expect. 

Leverage partnership marketing. Strike up a partnership with a complementary brand that shares similar values or customer demographics. Not only does this usually pose a lower level of financial risk, but it allows your brand to make exciting and creative decisions.

Reward your shoppers. There's nothing more satisfying than a happily ever after, so give your customers what they want, whether that's innovative new products, a fun and exclusive real-life experience, or a much-requested piece of behind-the-scenes content.
Last updated on April 20th, 2022.