The Shopify Success Checklist
Topics Covered:
Many direct-to-consumer (D2C) brands are leveraging Shopify, the ecommerce platform, to create their very own online store. Thanks to the platform's intuitive technology, it's incredibly simple for businesses with limited time and resources to sell products online.
Whether you're taking the first step and creating a Shopify store, have some experience with running one, or are already a full-fledged Shopify expert, it's important to understand the fundamentals of what makes any marketing strategy successful. To make sure you're on the right path of your ecommerce journey, we've put together a checklist to help you grow and optimize your Shopify store.
Optimize Your Way to the Top
How easily are shoppers able to find your online store? This is largely dependent on search engine rankings. The higher your rank, the more traffic your store is going to have. While Shopify's built-in search engine optimization (SEO) is useful, there are a few ways to reach that #1 spot even faster.
Work on the site structure

Improve your online store navigation by testing — even simple techniques such as rearranging main navigation items like "sign up" buttons can have an impact on your sales. Don't forget to tag your photos, and use descriptive link text for internal links.
Use the right keywords
Keywords are pivotal to optimizing your app listing page. They're the words and phrases that people are most likely to use when searching the app store for specific items. Set up a brainstorming session to get a list of these phrases and look to Google's Keyword Planner to help.
The main places where you can add keywords to improve SEO are page titles, meta descriptions, ALT tags, and your page's body content.
Make a statement with your store page
Browse the Shopify Theme Store for ready-to-use templates. It offers over a hundred themes that can be tweaked to fit your specific needs.
Build Brand Awareness
One of the biggest struggles in business is the ability to stand out in a saturated market. This is where brand awareness efforts kick in — you want your brand to be embedded in consumers' lifestyles so that they won't think twice about purchasing. Luckily, there are plenty of ways to leverage Shopify for increased brand awareness.
Maintain a blog

Use Shopify's built-in blog feature to segue readers into your world. You can write about anything, from how to use your product to general trends in your industry. Be mindful of maintaining consistency between your shop and blog.
Launch social media campaigns

Run social media ads through an aggregated growth platform to effectively optimize spend. Create, manage, and track campaigns without leaving the platform. Be sure to leverage tools that can even help you target shoppers who are most likely to convert based on your brand.
Ask for feedback and reviews
Incorporate a process to solicit customer reviews. If they're great, highlight these reviews in your store with Shopify Product. This provides a way for your customers to engage with you, as well as each other, to encourage sales.
Reach out to influencers
Offer free products in return for exposure, and make sure that the influencer you choose aligns with your company values and audience. Shopify offers multiple apps that allow you to search for and collaborate with "modern muses."
Use the Right Marketing Tools
As with any online-first business, deciding on which marketing tools to use can be challenging. The tools you choose will determine how well you can piece together your customer's journey.
The Shopify App Marketplace makes it easy by offering an abundance of options to choose from, showcasing reviews, and highlighting user ratings. You can easily play with many different tools at a low cost.
For a well-rounded marketing strategy, integrate plug-ins that encompass the following:
Analytics
It's crucial to have data about your Shopify store, your visitors, and where they come from. Google Analytics is a great way to get started.
Online advertising
Search for an app that lets you easily engage shoppers with dynamic web, mobile, and social ads. Don't be afraid to include different ad types (e.g., dynamic and carousel ads) into your marketing mix.
Email marketing
Emails serve as friendly, digital "hellos," and foster high-quality customer relationships. Find an email platform that allows you to target audiences, automate emails, A/B test, and reduce cart abandonment.
Customer support
Good customer support software is a big time saver and often an overlooked way to grow your store. Look for apps that provide live chat and a help desk.
Referrals
When it comes to marketing your retail store, referral marketing is a must. Go for an app that's able to automate the process of enrolling, tracking, and rewarding your customers for referring.
Product recommendations
Provide personalized product suggestions to your customers. Select a versatile app that enables you to upsell and show products based on multiple conditions like "recently viewed," "top-selling," and "handpicked recommendations."
Don't know where to start? Use the below flowchart to find exactly what apps you need to take your sales to the next level!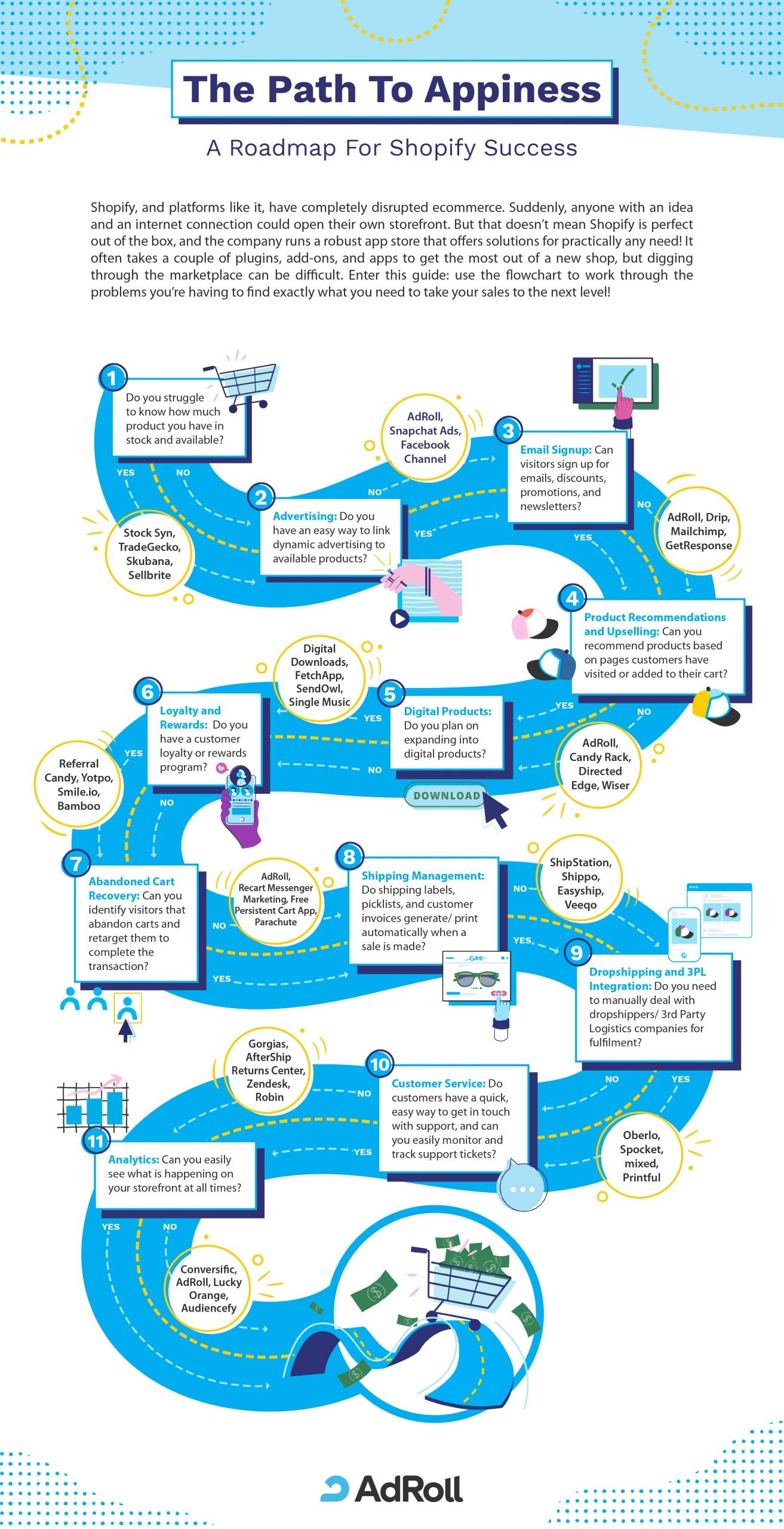 Checkmate With the Checklist
Remember that this checklist is for Shopify users of all stages — it's always worth checking if your store is fully optimized and whether there's a solid marketing strategy in place.
Last updated on September 16th, 2022.