The Ultimate Organic Pinterest Performance Template
Topics Covered:
Calling all Pinners! Do you know how well your marketing efforts on Pinterest are going? Can you confidently say your organic images and videos are successfully driving results for your store? Are you familiar with what types of content resonate most with your audience on the platform?
If reviewing your Pinterest account's performance is already on your monthly to-do lists, congratulations! If not, no need to panic — we've created a handy template so you can easily answer these questions.
While Pinterest Analytics does a great job of delivering data and insights into the effectiveness of your pins, the dashboard can feel a little intimidating when it comes to tracking big-picture results over time. Luckily, this template simplifies the complex numbers into more manageable ones, so you can better spot trends in user engagement and interaction and subsequently make better content creation decisions. (Feel free to use this sheet to highlight your wins to your boss!)
Psst: You can find all this data under the Analytics tab of your Pinterest dashboard!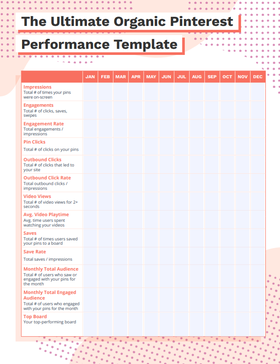 Improve Your Marketing, Save Time & Money
Learn more about how AdRoll can be your home base to integrate paid social advertising alongside display and native campaigns on the open-web, get consolidated reporting, make edits, optimize, and measure cross-channel performance. Learn more about our Pinterest ad management tool.
Last updated on March 17th, 2023.