The One-Stop-Shop Guide to Omnichannel Retail
Topics Covered:
Whether you recently launched your online store or consider yourself a seasoned ecommerce seller, it doesn't take an expert to realize that online selling is a constant battle between grabbing shoppers' attention and getting them to open their virtual wallets.
Ready to do anything it takes to rise above the competition? Yes! New automation platforms? Sign me up. Instagram now recommends a maximum of five hashtags per post? Consider it done. 
With changes to the ecommerce landscape happening at breakneck speed, it's critical for marketers to stay relevant in an effort to provide shoppers with the best experience. That said, one of the biggest trends we've seen is the rise of omnichannel retail. Here's everything you need to know about it. 
But First, What's Omnichannel Retail? 
Omnichannel retail is similar to multi-channel retail, where shoppers are connected to your brand through different touchpoints (online, brick-and-mortar, mobile). 
However, unlike multi-channel retail, omnichannel is integrated, meaning everything from digital storefronts to offline activations to customer service work hand-in-hand to help shoppers seamlessly move through the funnel.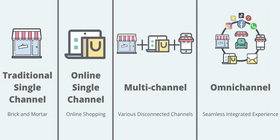 Picture this: A shopper who purchases a product from your ecommerce store may receive a "thank you" card in their package, which includes a discount, invitation to your loyalty program, details about your physical stores, and a link to a dedicated landing page. Visiting that landing page will trigger tracking codes, which will then launch retargeting ads on Facebook and Google that promote products complementary to those purchased. Plus, they're on your email list now, where they'll receive an email invitation to an exclusive customers-only Facebook group, offering members early-bird sale opportunities and special online events. 
Why Does Omnichannel Retail Make Sense?
Not only does omnichannel retail reflect how shoppers discover, interact, and purchase, it also allows brands to:
Get better insight into customers' behaviors and preferences. Integrating the data on shoppers' intentions and purchasing patterns across channels means you can better tailor your offers, personalize the shopping journey, and improve conversion rates. 

Stay top-of-mind. If you appear everywhere shoppers hang out (in a strategic way, of course — nobody wants ad fatigue!), you'll inevitably be top-of-mind when they're ready to purchase. 

Attract new shoppers. By combining your offline and online resources, you're not only upping your chances of attracting new customers but also increasing the likelihood they spend more. 

Improve customer retention. A huge part of omnichannel retail is engaging with shoppers even after they check out. Give customers what they want, and they'll likely return for more — in fact, studies have found that retailers using omnichannel retail strategies can boost customers' lifetime value by a whopping 30%. 
How Can You Get Started With Omnichannel Retail?
Ready to future-proof your brand with omnichannel retail? Explore our checklist to make the process as easy as possible:
✅ Mobile shopping. People want to shop wherever they are. Oftentimes, this means on their phones. If you're not ready to launch a full-fledged branded mobile app, consider this your cue to optimize your ecommerce store for mobile users. 
✅ Customer service. How can shoppers access help? Beyond a website chatbot or an email for questions and concerns, consider designing customer service into your social media experience. 
✅ Customer loyalty. From loyalty programs to brand communities, the ways you can boost customer loyalty are huge. Here's a guide to getting started with building your own community. 
✅ Shoppable social content. While it's key to meet shoppers where they are, it's no longer enough to post a product picture on Instagram and call it a day. With most social media platforms adding new ecommerce features, you'll want to check out this quick intro to shoppable social content.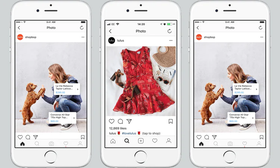 ✅ Digital marketing. Trying to manage all of your digital marketing efforts on their individual platforms is the epitome of siloing. To get started with omnichannel retail, you'll need a platform like AdRoll to integrate your ads, emails, and more into one manageable dashboard. 
✅ Multi-channel attribution. On that same note, good luck trying to measure the impact of your touchpoints and optimizing your budget without an integrated analytics platform. (AdRoll can help you with this, too!) For more on how multi-channel attribution for omnichannel retail works, check out this omnichannel retail attribution guide. 
The Key to Getting Started With Omnichannel Retail? AdRoll!
Thanks to its multi-channel solutions and integrated analytics capabilities, the AdRoll ecommerce marketing solution is the best way to holistically tackle your marketing efforts and provide shoppers with a unified brand experience. So, what are you waiting for? Get started by developing your omnichannel retail strategy now. 
Last updated on December 6th, 2021.