The 6 Top Beauty Ecommerce Trends of 2022
Topics Covered:
Everything changed in the last two years — including the beauty industry, which big brands and brick-and-mortar retail have long dominated. But there's a shift afoot as consumers gravitate toward direct-to-consumer (D2C) beauty brands like Glossier and Drunk Elephant, which are primarily available online. That's why by 2023, ecommerce is projected to account for 48% of beauty sales. These beauty ecommerce trends are yet another instance of how the pandemic has forever changed consumer shopping behavior. But it also reflects the influence of younger consumers, who prioritize convenience and quality, as they actively search for new products online.
Naturally, this transformation creates greater opportunities for the Davids of the beauty industry to compete with the Goliaths. Plus, beauty brands that sell online have access to data they don't likely get from in-store sales, leaving them better positioned to meet consumer demand in the future.
If you're a beauty brand selling online, here are the top five beauty ecommerce trends you need to know for 2022:
Clean Beauty Is in Vogue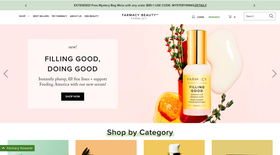 More broadly in the consumer product goods (CPG) industry, consumers continue to embrace sustainable products — and they're also gravitating toward clean beauty, which includes products made with natural and/or organic ingredients. This development, one of the most prominent beauty ecommerce trends, is a sharp reversal from the popular, name-brand products manufactured with chemicals, reflecting a growing awareness among consumers about what they put in and on their bodies.
Research shows the global market for clean beauty is expected to grow to $54.5 billion by 2027. However, it's important to note that products labeled as "clean" must meet certain standards, which vary depending on the market in which they are sold. So before you begin selling clean beauty products in a new country, make sure you comply with local regulations. Noncompliance could easily result in a reputational nightmare that would potentially be difficult to overcome — especially in a new market.
That being said, the growth of clean beauty demonstrates shoppers are less concerned about price compared to ingredients, sourcing, and outcome. This creates an opportunity for brands to connect with consumers through the values they share and with broader messaging about sustainability. It also invites companies to focus on more premium products in the category. 
Diversity, Equity, and Inclusion Should be a Priority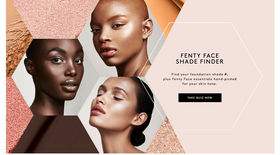 We also see more diversity, equity, and inclusion from beauty brands than ever before, which marks another significant departure from a historically limited standard. Research shows color options in cosmetics overall have grown 7x the rate of product lines in recent history. 
That means more consumers are likely to find shades to match their skin tones. However, there are still unmet needs, so additional opportunities for product development remain within this beauty ecommerce trend.
As one of the most significant beauty ecommerce trends, this one is driven by brands like Fenty Beauty and KKW Beauty, which have raised the bar for inclusivity in both product selection and brand messaging. Take Fenty, which offers 40 shades of foundation and a face shade finder quiz to identify the perfect match. The models on the Fenty site reflect an incredibly diverse range of backgrounds — and as consumers increasingly expect diversity in brand marketing and social media outreach, as well as product assortment, beauty brands would be wise to follow Fenty's lead. 
Technology Can Bridge the Offline-Online Gap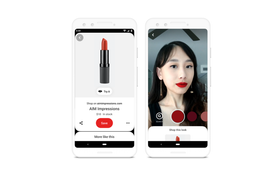 One challenge beauty brands face online is that they can't let potential customers try on products before buying them.
Savvy brands are bridging the gap with technology like augmented reality (AR), virtual reality (VR), and artificial intelligence (AI), giving shoppers a better sense of what the products will look like once they arrive in the mail.
Generally speaking, these high-tech executions tap into smartphone cameras to overlay products on consumer selfies. Prior to the pandemic, it was primarily the purview of big brands like L'Oreal, which acquired AR beauty company Modiface in 2018 to enable virtual try-ons. Store closures during the pandemic, however, forced brands to get creative with immersive technology to retain engagement, so this shift, among the burgeoning beauty ecommerce trends, has rapidly expanded as of late.
Social media network Pinterest, for example, now allows users to try on eyeshadow and lipstick virtually. Brands like Lancôme, YSL, Urban Decay, and NYX Cosmetics are reportedly among the first to embrace it. Another popular app, Snapchat, worked with AR developer Perfect on similar functionality late last year. And then search giant Google teamed up with both Perfect and ModiFace to enable even more virtual try-ons for Mac Cosmetics, Black Opal, and Charlotte Tilbury. 
While smaller beauty brands may still lack the resources to forge high-profile partnerships to align with the most high-tech of the beauty ecommerce trends, the mixed reality market — which includes both AR and VR — is expected to grow to $43 billion by 2024, so they will likely have more opportunities to embrace the technology soon if they don't already.
Product Personalization Takes Center Stage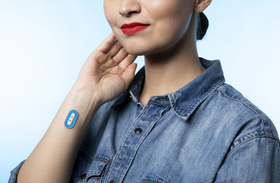 Today's consumers have also come to expect personalization in their interactions with brands — a 2018 study found 80% of respondents were more likely to buy from brands offering personalized experiences.
Meanwhile, skincare is among one of the biggest beauty ecommerce trends. This includes products like moisturizers, serums, and exfoliants, as well as those with collagen, vitamin C, and CBD. Not only are consumers seeking to prevent signs of aging, but they're also more aware of damage from the sun, which points to even further potential in anti-aging products.
These two trends collide in personalized skincare, which taps into some of the aforementioned technology. That includes Neutrogena's 3D-printed face mask, MaskiD, which it announced in 2019. But we also see today's ecommerce beauty trends reflected in products like a wearable sensor to measure skin pH and create customized products from La Roche-Posay, and personalized serums from Skinceuticals.
While these executions are still more the exception than the rule, the growth of D2C brands like Prose, which offers personalized hair care, indicates a broader opportunity within beauty for custom-made products, especially as consumer demand for personalized experiences grows. 
Social Media Isn't Just a Promotional Channel Anymore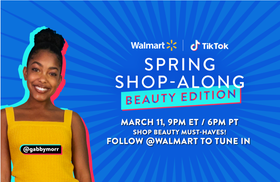 Another nascent development within beauty ecommerce trends is social selling, where brands not only target and engage consumers online but also allow them to buy products directly within the social platforms they use. Last year, Walmart hosted its second-ever shoppable TikTok livestream focused on beauty specifically.
For more information on boosting your brand's ROI through social commerce:
Though this is another early trend, the convergence of commerce and social is one to watch as social media has long been a discovery channel for consumers looking for new beauty products. 
It's worth saying that millennials are far more likely to make decisions based on social proof than prior generations, so including reviews on your website and in social copy can be a powerful motivator, too.
For a complete template for getting started on social media marketing: 
Omnichannel Marketing Is the Future of Ecommerce 
Beyond exploring technologies such as AR, product personalization, and social selling, it's time to add one more trend to your ecommerce dictionary: omnichannel marketing. 
For the unacquainted, omnichannel marketing refers to the process of integrating all your offline and online channels, so shoppers experience a seamless purchasing journey. Trust us — it's the future of ecommerce and a reflection of how shoppers currently interact with brands, so make sure to brush up on your knowledge of omnichannel marketing here.  
The best way to get started with omnichannel marketing? Finding the right tool, of course! Enter AdRoll — our omnichannel solutions not only bridge all your marketing efforts, but you also get a clear view of precisely how they're interacting with one another, courtesy of our Cross-Channel Performance Dashboard. 
Psst: We're also an official Shopify Plus partner! 
The Eye of the Beholder
While sales of beauty products declined during early lockdown — leading razor brand Schick to try to position eyebrows as the new lips at one point — the industry is nevertheless poised for huge post-pandemic growth, whenever that may be. 
Luckily, a few things are already clear: Younger consumers are reshaping the industry. And for beauty brands, these new beauty ecommerce trends create opportunities to expand their product lines, speak to new audiences, offer new functionality, and sell in new channels. For those looking for guidance along the way, AdRoll is here.
Last updated on November 4th, 2022.