Stand Out From the Noise: 6 Ways to Promote Your Podcast
Topics Covered:
So you've taken the plunge and created a podcast. But now what? Hello? Testing testing... Is anyone out there? Recording a podcast is no easy feat. Not only do you have to find the courage to put yourself out there, but you also have to figure out how to edit together an exciting episode. Pledging that level of time and skill means your podcast deserves listeners — and we're here to help you master the distribution process. Here are six ways to promote your podcast. Time to rack up listeners and get your voice heard (literally)!
1. Post on Different Platforms
How do you listen to podcasts? Whether your answer is Spotify or Apple Podcasts, the abundance of streaming platforms gives people the opportunity to discover content from all corners of the internet. 
iTunes, Spotify, and Google Play Music are good starting points for reaching a wider audience but don't be afraid to experiment with places like YouTube or Facebook's new podcast platform, too. 
2. Collab With Partners
It's always more fun to tune into a conversation rather than listen to one person drone on and on. That's why a great way to tap into new audiences is by inviting guests to your show, whether that's another podcaster, a brand partner, or an industry expert. Whether you're simply engaging in a discussion about a specific topic or opting for an interview format, the possibilities are endless. 
Once you've recorded an episode featuring a guest, you'll want to make it easy for them to promote your podcast. We recommend:
Keeping them informed on when their episode will air
Developing shareable content (e.g., pull quotes or images) with links to the episode
Drafting social copy that they can easily tweak to their liking
3. Promote on Social Media
If you've built a social media following, you've already got yourself a treasure trove of potential podcast listeners — the challenge is simply pushing them to check it out. Here are some tips: 
Offer a quick summary of your podcast's topic and format so potential listeners know what to expect 
Make your podcast's value proposition clear. Are you offering unique information? Entertainment? Why should they tune in?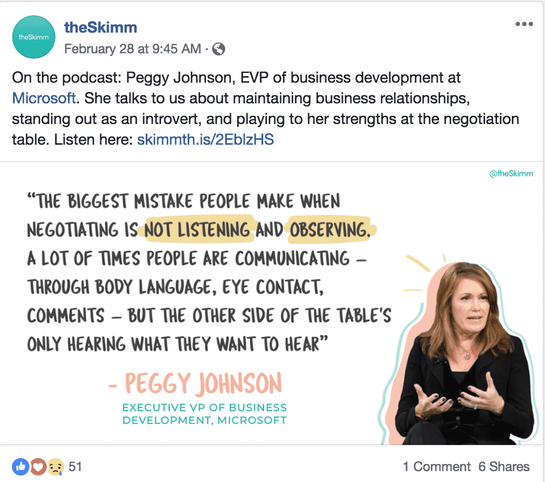 Once you've nailed down your messaging, don't just draft up a paragraph that links to your Spotify page and call it a day. You can experiment with: 
Sharing rich media, such as 15-second soundbites or video teasers
Creating images with pull quotes. (Not a fan of graphic design? Don't worry — Canva has a bunch of pre-made templates)
Pinning promotional posts about each new episode to the top of your social media profiles for the week
Posting behind-the-scenes sneak peeks in an Instagram story
Asking questions to your social media followers, such as, "What was your favorite learning lesson from this episode?" or "What are you interested in hearing about next week?" 
In terms of your posting schedule, we recommend teasing episodes 24 to 48 hours before they launch, then promoting them as soon as they're live. 
4. Use Podcatchers and Aggregators
Beyond the usual streaming platforms, people also listen to podcasts via podcast aggregating apps, known as podcatchers. If you use an iPhone, you probably have the iOS podcast app (you know, the one with the purple microphone icon) installed — that's a podcatcher. 
Having your podcast featured in a podcaster can boost your listenership significantly, as it introduces you to a massive audience looking to discover new things to listen to. While some have specific submission processes, others easily integrate with your existing RSS feed. 
Ready to promote your podcast to the masses? Here are a few popular podcasters to check out:
5. Run a Giveaway
People love free stuff, and the appeal of freebies or discounts can be a powerful promotional tactic to encourage more listeners to check out your podcast. Consider launching a giveaway for anyone who leaves a review on iTunes or tags a friend in a podcast-related social media post — even with a small budget, you can offer:
Branded apparel (such as T-shirts)
Stickers
Buttons
Product discounts 
A shoutout in the next podcast episode or show notes
A five-minute guest segment in the next episode
Of course, you'll want to promote this giveaway via your show and promotional channels (such as social media or your email newsletter). 
6. Throw a Virtual Launch Party
Want to see your podcast rise to the ranks of the iTunes charts? One huge component of reaching the "New & Noteworthy" list is how quickly you amass subscribers, downloads, and reviews in the first eight weeks of your podcast launch.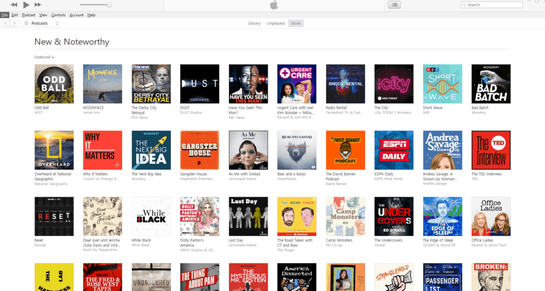 As you prepare to release your first episode into the world, make sure to prioritize launch events. One tactic we love is hosting a virtual or in-person listening party. Invite and involve everyone in your company, from teammates to company execs to external partners. Be sure to give your audience a reason to participate in your launch events as well, whether via a freebie, discount, or access to exclusive content. 
Get Listening 👂
Remember: Podcasts are innately a fun and intimate communication tool — so make sure your promotional strategy reflects that. Don't be afraid to get a little creative when you start to promote your podcast!
With these tips, you're well on your way to conquering the listening charts. For more tips and ideas on ways to transform your marketing into a conversion machine, check out the AdRoll Marketing Resource Library. (Or, even better, tune into our Unrolling Ecommerce podcasts.) 
Last updated on September 16th, 2022.