How to Create Content That Moves People and Search Rankings
Topics Covered:
In the early days of search marketing, SEO relied on tactics that didn't necessarily lead to the best user experience, even if they helped you climb Google's rankings. 
Today, it's a different story. 
As Google continues to develop its algorithm, what's best practice for ranking and what creates a great experience for visitors to your site are becoming one and the same. To futureproof your site, it's essential that you leave outdated SEO practices behind and instead focus on creating content that readers and search engines will love. Here's where to start.
Focus on Quality Over Quantity
There are plenty of sites that push out a mediocre blog post every week because they believe Google will reward them with higher rankings for frequently updating their site. But the fact is, supply drastically outweighs demand when it comes to the content your potential readers can consume. In fact, 70 million new articles are published on WordPress blogs alone every month according to Hosting Tribunal.
To stand out from the noise and make a dent in Google's search results, you need to make sure every piece of content you produce is great. You should aim for every piece of content you produce to be the best resource on its topic on the internet. 
Get this right and you'll thrill your target audience with your content, naturally rising to the top of Google's search results. But hitting these lofty heights is a daunting prospect for even the most seasoned of content marketers. And unless you have an entire editorial team at your disposal, you should dial back the amount of content you produce to hit those heights with every article. You'll also want to pick the topics you tackle very carefully. 
For the best results, there are two types of content you should create: 
Pick subjects you're a natural expert on. You wouldn't search for workout routines from HubSpot or DIY tips from IBM. Those are the brands you'd turn to for advice on CRM implementation, ERP integrations, and AI.  
Pick topics that require a big-time investment to get right. Put the effort into creating a comprehensive guide to a topic, which will provide useful content to your readers and appeal to Google's algorithm. After all, your competitors are unlikely to follow in your footsteps given how much time they'd have to invest in creating an even better piece of content — especially if they're operating from the paradigm of producing a blog post a month. 
Best Value Schools' guide to the best online universities is a great example of a comprehensive guide that offers value to readers by compiling a list of colleges and their annual fees: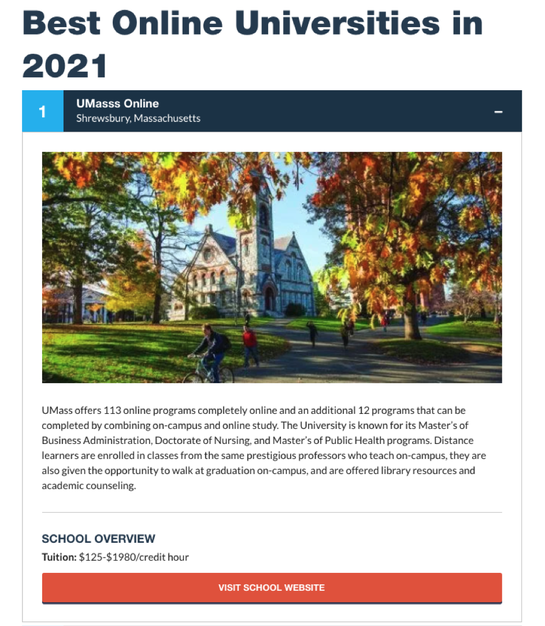 It's worth noting that comprehensive content can be even simpler than that to create. Take Beard Mountain's Yeard Mountain project, which documents what happened when one of the company's founders didn't shave for a year: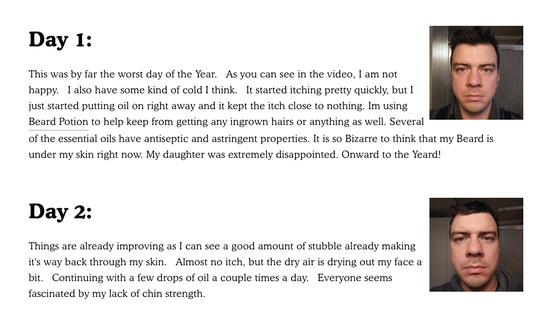 Creating content around a simple idea that offers value to your readers and requires a significant investment of time will help your site reach success.   
Refine Your UX
Provide site visitors with a great experience, and they'll likely stick around for longer and engage with more of your content. 
Bounce rate, time on site, and pages-per-visit are all factors Google considers when it's weighing up the quality of your site. Simply put: the more visitors engage with your site, the stronger your ability to rank in Google. And the higher you are in Google's search results, the more people are likely to land on your site. 
Therefore, UX helps create a positive cycle that can transform your site's success.  For the best chances of success, make sure to refine the UX of your content marketing pieces, too. 
If you're not careful, long-form content marketing pieces that are essential to grabbing the most lucrative top-of-the-funnel keywords can transform into walls of text that fail to hold readers' attention. 
Here are a few simple ways to refine the UX of your content to ensure it appeals to humans and Google's algorithm:
Get visual
Including images and infographics throughout your content is a simple way of making it more engaging. 
Here's why:
So, if you want your content to get more views and higher rankings and appear more credible, use plenty of visuals. 
For example, simple infographics can help drive home key points, such as the one below: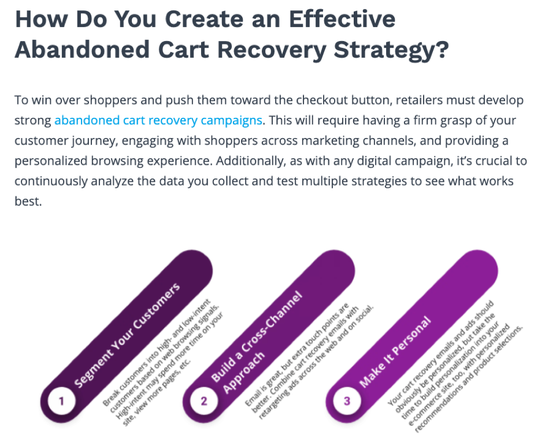 What's more, something as quick and easy as screenshots can help illustrate points, as in this article on Service Provider Pro's site: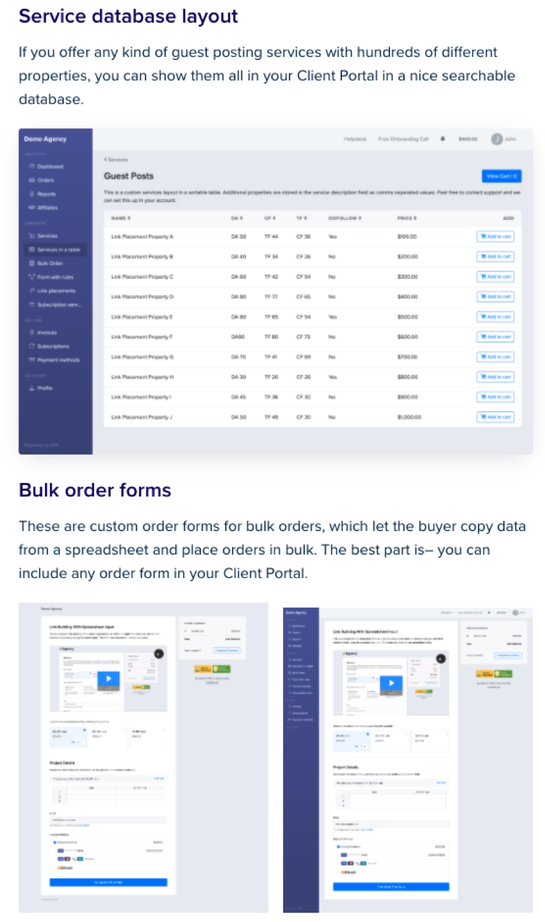 You can also make your content more scannable by highlighting key attributes, like quotes, as in Foundation Inc's guide to B2B marketing strategies: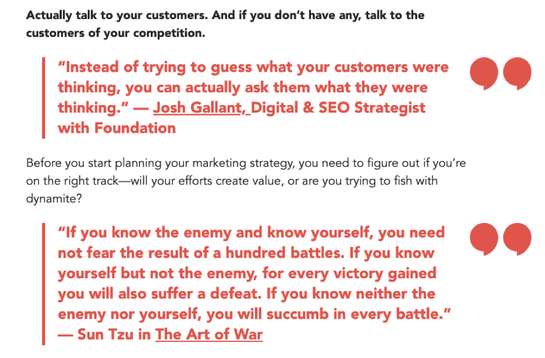 And if it fits your brand, consider breaking up heavy content with memes, just like  this article by Nadya Khoja: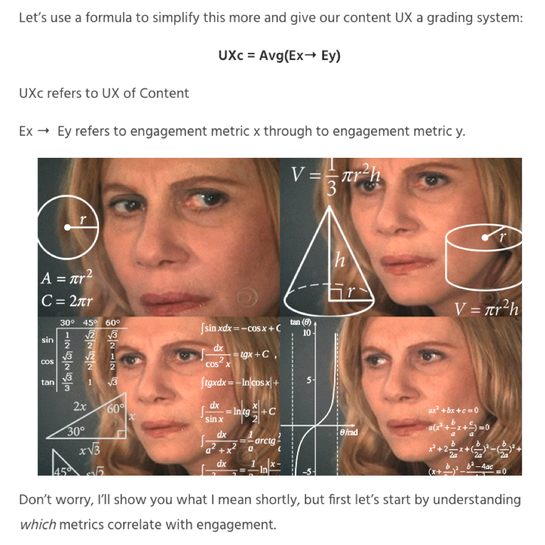 Make sure readers' eyes are drawn to the CTAs throughout your content to boost your conversion rates, too. Wave's guide to calculating cash flow is a great example of this done well — it's impossible to ignore the CTAs: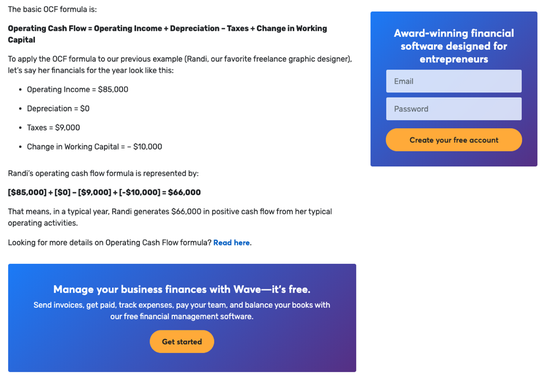 Make it easy for readers to find what they're looking for
The easier you make it for your readers to find the information they're looking for on your site, the more likely they are to remain on your site. That's because no matter how good your content is, readers are more likely to bounce off it than trawl through it to find the answer they're in search of. 
A great example is in VPN's article comparing NordVPN and ExpressVPN, which cuts straight to the point with a table that compares the two services side-by-side: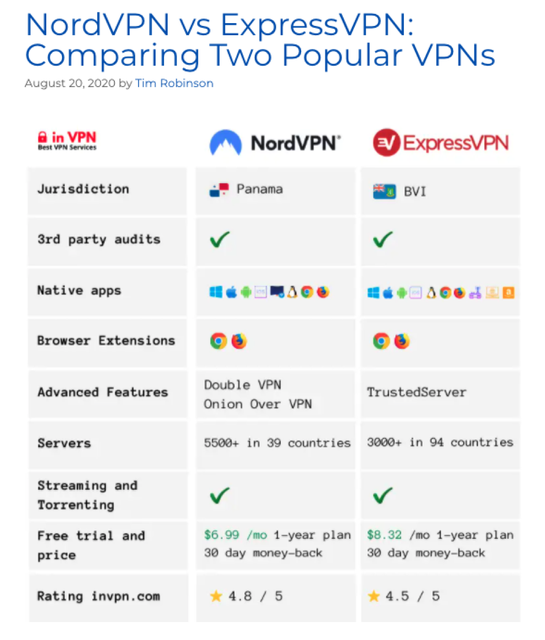 You'd also be well advised to make long-form content easier to navigate by including hyperlinks to each section in the introduction, as Venngage has done in this article: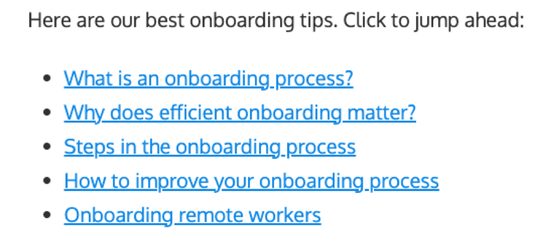 For the best results, follow Venveo's lead and include a sidebar that scrolls with the reader and includes links to each content section, as seen here in its guide to marketing to architects: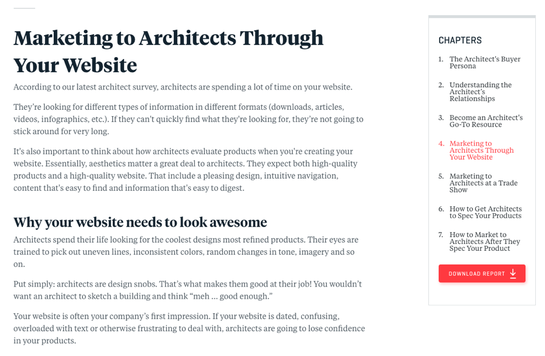 Alternatively, make your site more "sticky" by filling a sidebar element with links to related articles, as WebsiteSetup has in its guide to building an e-commerce site with Magento: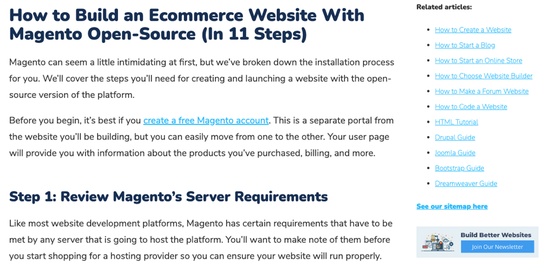 Be Smart With Your SEO
There are plenty of on-page SEO tactics that worked in the early days of search marketing. But now, they're more likely to get you a penalty from Google than a ranking boost. 
Google's ultimate goal with its algorithm is to measure the quality and relevance of a piece of content to a query in exactly the same way a human would. Eventually, there will be no disconnect between what Google rewards with high rankings and what searchers want. 
But that doesn't mean SEO will no longer be important for your content's success. Instead, what it means is you need to focus on the SEO factors that will matter tomorrow for long-term success. 
Here are a few key areas:
On-page SEO
On-page SEO best practices — such as including a page's target keyword in its URL, title tag, and header — aren't just helpful for Google. They also assist users in finding the content they're searching for online. Case in point: It's an SEO tactic that also benefits visitors to your site. 
The same can be said about linking out to authoritative sources from around the web, using exact-match anchor text, and including LSI keywords throughout your content.
These are all practices that help both Google's crawlers and human users understand the context and content of a page, as well as establish its relevance and authority. 
A great example of an SEO tactic that also benefits users is basing the subheadings of your content marketing pieces around long-tail keywords, as Hill Web Creations has done in its article on Google's People Also Ask boxes: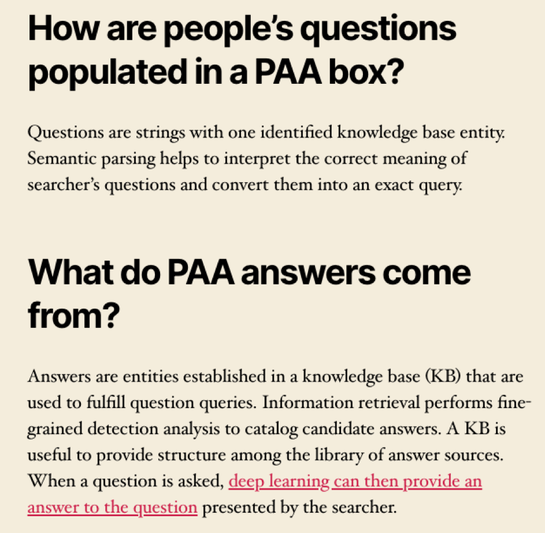 This is great for SEO, as it gives you an opportunity to rank for these long-tail keywords. And it's great for readers, too, as they can quickly skim your content to find the answer to the specific question they have. 
Before you implement any SEO tactic, ask yourself, "Does this benefit the user?"If it does, then it's going to give you an SEO boost — and service the visitors to your site for years to come. 
Site speed
Site speed is a direct Google ranking factor. Improve how fast your site loads, and you'll receive a ranking boost. 
Operating a faster site has obvious UX benefits as well, such as:
Luckily, Google makes it easy to ensure your site is as fast as possible with its PageSpeed Insights tool. That's because it's in the search giant's best interest that every site you find through Google offers a great experience. You might start searching elsewhere if Google kept sending you to sites that took minutes to load. 
One key aspect to keep in mind when you're optimizing your site speed is that the majority of all website traffic (52.2%) comes from mobile phones, according to Statista. And soon, the only version of your site in Google's index will be the mobile version once mobile-only indexing is rolled out. 
That's bad news for a site like A Gift Personalized, which has a mobile site that loads over 14 seconds slower than the desktop version: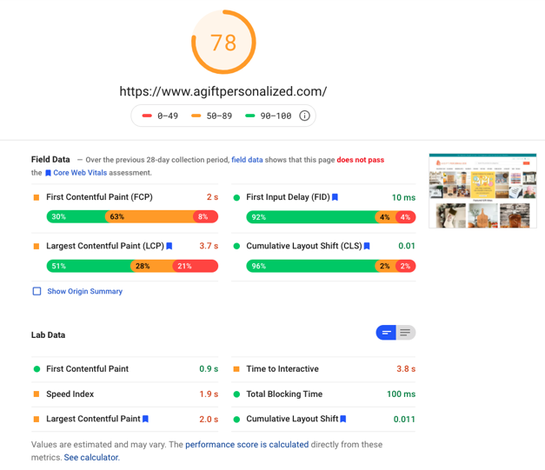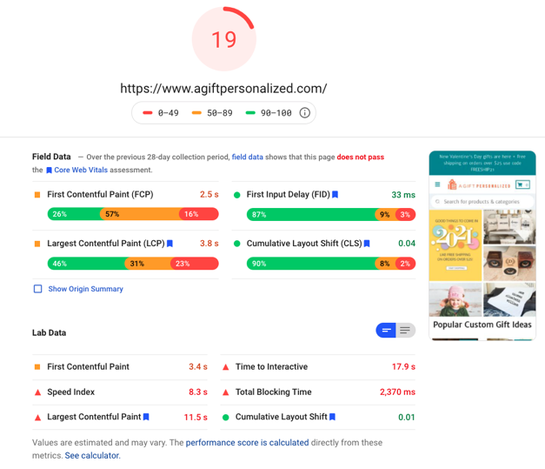 Site architecture  
Your site's architecture — the way its pages are categorized and connected to each other — is an excellent way to distribute link equity across your site, giving your established pages an SEO boost. 
It's also another great way to improve your site's UX, as it will make it easy for visitors to quickly navigate to relevant pages, keeping them on your site for longer and increasing the chances they'll convert to a customer. 
If you want to enhance your site's architecture, start by  linking related pieces of content together, as you'll see across this site: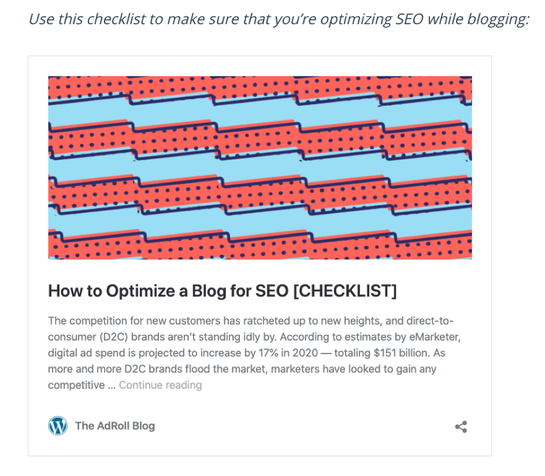 This naturally creates a topic silo, which helps quickly establish your site's authority and relevance on a topic in both your readers' minds and Google's search results.  
To reap the rewards of optimized site architecture, go through your existing content and make sure it includes plenty of links to related pages on your site. Plus, be sure to link to new pieces of content from established articles on similar topics to give your fresh content an SEO boost. 
Wrap It Up
Stick to these strategies and your content is sure to appeal to Google's algorithms and engage your readers, setting you up for success with search marketing for years to come.
Last updated on September 16th, 2022.