Online Education: Stories of Innovation and Inspiration
Topics Covered:
While it's true that most businesses have been in the process of going digital, the coronavirus has sped that process up tenfold — grocery stores have moved online due to high demand, fitness brands are offering virtual workout classes, and brick-and-mortar retail shops are focused on strengthening their digital presence. Small businesses are switching up their models to survive and, in the process, are displaying some ingenious displays of creativity and spirit. 
However, there are also companies that didn't have to pivot — the ones that are "made" for the stay-at-home economy. Entertainment companies such as Activision Blizzard and Nintendo are winners in the video game space, while Netflix and Hulu reign supreme in video streaming. Telemedicine companies are in the spotlight, and video conferencing providers are experiencing a massive surge in profits. 
Online education, in particular, is making a huge splash. MarketWatch has dubbed this time as "online education's moment," which comes as no surprise: Schools have closed down, so students are turning to online courses and tools. People are restricted to their homes, so they're looking to learn new skills or hobbies through virtual classes. And businesses want to boost customer engagement, so they're incorporating online learning into their marketing strategies. 
This article covers a wide range of stories and anecdotes from online education brands that are thinking outside the box. We hope that you can draw inspiration from these (and learn a thing or two!) to better shape your marketing strategies moving forward.
In this article:
Trainicity 
Looking to the Future
Online Education Brands With New Ideas
Trainicity
We sat down with Trainicity, an online learning company, to take their pulse on the current economic landscape and to ask the all-important question: What can marketers do to thrive during times of uncertainty?
Accessible information for all 
If there's one thing that Greg Waddoups, the CEO of Trainicity, is passionate about, it's accessibility to higher education. "Money," he stresses, "should never be the barrier to learning." It's a value that Greg took away from his time at Western Governors University (WGU), where he served as Director of Institutional Research. Unlike many other online universities, WGU is committed to keeping tuition low so that students can graduate with as little debt as possible. 
At Trainicity, their values are similar — they develop learning strategies and create custom training courses to help their clients meet their business objectives without breaking the bank. They work with infopreneurs and industry experts who lack the tools and knowledge to build learning courses but possess valuable content that they want to share with a broader audience.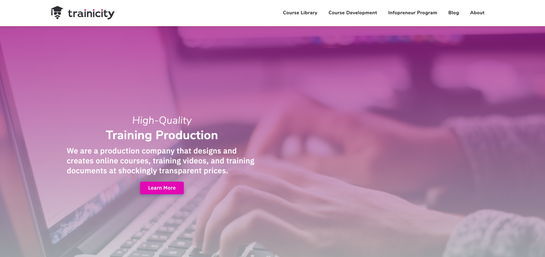 Trainicity considers their clients as partners — together, they'd develop the courses and then eventually split revenue, with the end goal of spreading powerful knowledge that makes a difference. 
With the spreading pandemic, Trainicity faced a dilemma — is it fair to charge people for online learning material during such a challenging time? On the one hand, the company didn't want money to be a barrier to learning, even if their courses are affordable; but on the other, as Greg wryly notes, "You can't make a business by giving things away." 
So, the team at Trainicity settled on a compromise — they looked internally and debated over the question, "What can we do to make this current situation more tolerable for other people?" They eventually decided to address the rising levels of anxiety and stress around the coronavirus. Due to the uncertain state of the world, they believed that offering some sort of stress relief would be valuable knowledge.
Trainicity reached out to an infopreneur who they were in the process of creating a stress management course with. "We pitched the idea of making the stress management course available for free," says Greg. "We wanted to provide something immediate that would make a difference in peoples' lives." 
Although Greg admits that the course won't make money in the short-term, he thinks that in the long run, it'll prove more valuable overall: "We could've made a profit with the stress management course or turned out a fast course on working from home, but we didn't want to be seen as a profiteer in all of this. We want to be considered good corporate citizens. And candidly? We're going to get a lot of feedback on the free course through channels like LinkedIn and Facebook — what's working and what's not. All of this information is going to help our business in the long run." 
Lesson #1: Put yourself in your customers' shoes. It's crucial to show empathy during difficult times — ask yourself, "What do my customers need most right now? How can my business help reduce their anxiety and make them feel a sense of safety and stability?" 
In Trainicity's case, they used their skills of packaging and distributing valuable knowledge and content to help people de-stress physically and mentally. They found a happy medium between putting their customers first and keeping their business afloat. "You won't confuse me with Bill Gates, believe me," laughs Greg. "I always think that the purpose is more important than the business. I'll never make a million dollars this way, but guess what? I sleep better at night." 
Quality or bust 
According to Greg, the quality of the content you provide will be the distinguishing factor between success and failure. "I think that the experience we're having right now is going to change businesses fundamentally. Many people will continue to work from home because, in addition to employee costs, spaces are also a huge expense. Online learning will be more and more important, which means two things: It has to be affordable and it has to be high-quality."
Trainicity strives to provide both for their clients: "People think that great online education is expensive, but that's not always the case," says Greg. "As for content quality, the key is to listen to customers' voices. We mine content and feedback from both LinkedIn and Facebook. We also do surveys to get an understanding of what they like, don't like, and adjust how we develop and deliver courses accordingly." 
Lesson #2: It's all about quality. Simply throwing content online without rhyme or reason doesn't equate to effective learning. You have to make sure that your learning materials tell a story with a beginning, middle, and end. 
Online education as an engagement tool
This isn't just a pivotal time for online education companies; it's also an ideal time for other brands to incorporate online learning into their business strategies, too. "There are a lot of companies that are starting to use online education to teach users how to use products — in a way, almost using it as a marketing tool," says Greg. "For example, we work with a company that's created a medical device. They're using online learning to teach people how to use their product for optimal results."
But Greg warns that if you're starting out with online learning, you have to be careful: "There's a misconception that creating online learning materials is easy — that it's just throwing content online."
He goes on to explain, "You don't just hop on WebEx and become a great teacher. It's a gift to do it well. Sometimes, people are over-confident that they know what they're doing, that they don't need an expert to actually translate knowledge in the right way, on the right platform. And the result of this is people getting a negative outlook towards online learning because there's so much bad online learning out there. There are so many tools that you have to bring to the table in order to engage people — you have to think about synchronous interactions, asynchronous interactions, community boards, discussions, the list goes on." 
Lesson #3: Don't hesitate to seek out the proper guidance. While forgoing professional advice may save you money in the short-term, it may hurt your brand's image in the long run if your online learning courses are ineffective and ultimately pointless. Talk to an expert, even on a consultative basis, to piece together what you're trying to accomplish. 
Creating an effective online learning experience
When asked for his advice for creating an effective online learning experience, Greg gives the following pointers: 
Assess what you're trying to accomplish. Whatever you do, set your goals in place first. Then, work to design an experience that can meet your objectives.
Consider all elements of implementation. For example, if you're using Zoom, make sure that you have somebody to take care of the technical aspects while you're presenting.
Send out material beforehand. Because this pandemic has been thrust on us so quickly, people don't have time to build modules and things like that — send out material that you want people to read and understand before an online course. Include some questions, an agenda, and other information to help them prepare. 
Initiate followup conversations. It's essential to follow up with people immediately after they've engaged with your online learning material. As mentioned before, it might be worth creating a message board or a forum to interact with participants.
Evaluate, evaluate, evaluate. Drop your ego and glean feedback from all the participants. If they've picked up on what you're teaching and have successfully applied it, you're golden. 
Lesson #4: Don't offer a generic experience. People aren't just looking for helpful and accurate information — they're looking for an experience that equals to or trumps that of the classroom. Greg believes that when it comes to online learning, you should "mix it up — make it more interactive."
Looking to the Future
And as for future trends? Greg is anticipating a reliance on blended or hybrid learning, which is a combination of online and face to face interactions. "People will benefit from learning both together and separately," he says. "It'll be a powerful way to impart leadership skills, communication skills, and much more." He mentions that during this challenging time, universities are already experimenting with hybrid learning, mixing online conversations with learning modules, and face to face time via webcam. 
If there's one thing that Greg is sure of in the midst of all of this uncertainty, it's that the current crisis will leave a lasting impression on the future of education.
For additional trends, check out this audio clip from our interview with Greg:
[playlist tracklist="false" artists="false" ids="4813"]
Online Education Brands With New Ideas
Here are six additional online education brands that have found success by pivoting their marketing strategies (and the lessons that marketers can learn from them). 
MasterClass
MasterClass is known for their pre-recorded online classes that feature people who are among the best at what they do, from movie director Ron Howard to writer David Sedaris to chef Gordon Ramsey.
In this increasingly grim market, people are hesitant to spend. The team behind MasterClass knows this, which is why they recently added free, live Q&A sessions with these same stars to members and non-members. It's the company's way of making itself more accessible to a broader audience that perhaps can't rationalize paying $90 per class or $180 for a yearly all-access pass, especially in this economically challenging time. 
Pro tip: Offering this sort of "freemium plan" is an excellent strategy to consider because it's a cross between "free" and "premium" — people are getting your core features at no cost and can choose to increase functionality by paying the subscription fee.  
Udemy
Udemy is an e-learning platform that boasts "the world's largest selection of courses." 
Since the pandemic, they've been offering flash sales of up to 95% off popular classes like project management, web development, and even photography. They're quick to emphasize that once you've made a purchase, you'll have lifetime access to the courses on the Udemy website and app.
Pro tip: Take a page out of Udemy's book and look into providing flash sales to generate buzz and boost brand awareness efforts. 
Rosetta Stone 
Language learning company Rosetta Stone is solving the problem of keeping children engaged while in isolation. Co-President of Rosetta Stone Enterprise, Matt Hulett, recently announced the launch of a free 3-month Rosetta Stone subscription for all children and students globally. 
The company released a press release that said: "Rosetta Stone is here to support parents and students in this unprecedented time of school closures due to the COVID-19 pandemic — with no strings attached and no pressure to purchase in the future."
Pro tip: If there's a global situation beyond your control that has taken priority in your customers' lives, consider opportunities to contribute in these areas. For example, your company could donate a portion of sales to a specific cause, partner with a charity to produce a limited edition product, or — as Rosetta Stone did — find a way to help parents during their time of need. 
(Extra) pro tip: Rosetta Stone has copy on their landing page that approaches the situation with humor: "Give your cat a break and talk to one of our expert coaches in your new language for free." Consider thinking outside of the box with your messaging. Think about your customers' biggest pain points (in this case, loneliness) and provide a solution. 
LinkedIn Learning
LinkedIn Learning offers video courses taught by industry experts in software, creative, and business skills.
To address their part in the pandemic, the LinkedIn Learning team created a social campaign with the hashtag, #InItTogether. The posts lead to a dedicated resources page where people can explore job and volunteer opportunities, and access the latest news. 
Pro tip: To drum up engagement around what you're doing to help customers at this time, use a hashtag campaign to gain social media attention. 
Pluralsight
Pluralsight, an online education company that offers video training courses for software developers, has announced it's giving new users free, unlimited access to its entire library of more than 7,000 technology courses for all of April.
In an effort to encourage people to stay at home, Pluralsight co-founder and CEO Aaron Skonnard announced: "I'm so excited to see what you learn, and what you create this month." 
Pro tip: Simultaneously tackle brand awareness and customer retention efforts by running promotions for new users and extending memberships for existing customers who are affected by the virus. 
EDHEC Business School
While EDHEC — one of Europe's leading business schools — isn't originally an online education brand, they made international news when they managed to transition all of their courses online in just ten days. But, it's not just their swift hop to digital that's making the headlines; it's also the way their marketing team is engaging with their students and the public during lockdown restrictions.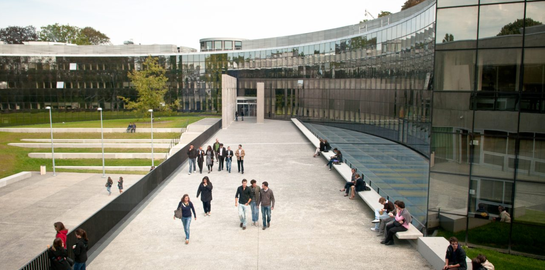 Sonia Gastaud, Head of International Marketing, Master Programmes, gave us an inside scoop: "Instead of feeling sorry for ourselves, we put our creative hats on. We thought, 'Well, there's nothing we can do but wait for this to be over, so let's focus on something we can control — let's work with our student ambassadors and let them shine. It's their story, not ours.'" 
So, how did the team accomplish that? Sonia explained, "We created a social campaign and hashtag to share positive stories of how students are living and coping during these unprecedented times. This campaign really helped capture the closeness between students and how close our community is." 
Sonia went on to share a few examples of heartwarming stories, including one where a French student offered an American student a place to stay when she couldn't return home during the lockdown. "Students are already getting over-bombarded by the news. Sometimes, what people expect from the marketing team is lightness."  
Pro tip: It's essential to connect with your audience by sharing relevant stories that they can relate to, and showing that you care. Ask your customers questions about them. According to Sonia, asking something as simple as, "What's your song of the day?" draws a lot of engagement. 
For additional trends, check out this audio clip from our interview with Sonia:
[playlist tracklist="false" artists="false" ids="4812"]
Download our eBook on online education here. 
Last updated on September 16th, 2022.