How to Visualize Your Ecommerce Marketing Funnel (Template Included!)
Topics Covered:
Are you gearing up to launch your first Shopify store? Perhaps you're already in charge of an ecommerce powerhouse with six figures in sales? Either way, there's one task you should pay massive attention to: your marketing funnel.
But first, a quick recap. The marketing funnel is divided into five stages, all of which warrant their own tactics and strategies: 
Awareness: How can you get your brand on potential customers' radars? How can you attract their attention in a sea of competing brands? 

Consideration: How can you engage and create connections with potential customers, so they're one step closer to purchasing from you?

Conversion: How do you ensure shoppers complete the sale rather than abandoning their carts?

Loyalty: How do you encourage existing customers to return for more? What are some ways to ensure existing customers are happy with their products and shopping experience?

Advocacy: How do you leverage the loyalty of existing customers to attract new ones? (This is where the marketing flywheel comes in!) 
As the shape of the funnel implies, shoppers start at the very top. Then, as they experience your different marketing touchpoints, they'll gradually work their way down. To pinpoint future improvements, it's critical for marketers to familiarize themselves with their existing ecommerce funnel — and here's where we can help.
Using this graphic, map your current marketing efforts to the different stages of the funnel. (We provided some examples to get you started.) Are there certain stages where you're not putting enough resources? On the other hand, are there areas where you're overdoing it?
Armed with these visualized answers, you'll be one step closer to better understanding your target audience and their needs. It'll even help you encourage them to take the next step, leading to more customers and sales than ever before.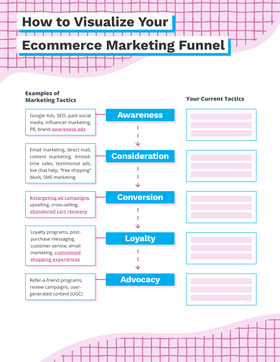 Ready to embark on a journey of even more marketing success? Download the AdRoll app for Shopify.
Last updated on November 8th, 2021.