How to Use Google Trends to Inspire Your Marketing Strategy
Topics Covered:
Google Trends: It's every data lover and trend seeker's best friend. Curious if it's too early to hang up holiday decorations? Search "Mariah Carey All I Want for Christmas" on Google Trends for that reliable December spike. Maybe you need to validate whether bucket hats are truly back in style (or if your Gen Z cousin is just trying to make fun of you). According to Google Trends, bucket hats are popping!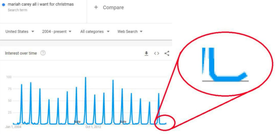 The verdict is in: Google Trends is a fantastic tool that offers a treasure trove of marketing-related data that can level up your brand, eliminate your product development guesswork, and increase your chances of delivering relevant and catchy content. Here's how.
Generate Ideas for Blog Posts
It's not always easy to produce compelling content on topics your audience is genuinely interested in. If staring at a blank page is the bane of your existence, you're in luck, because Google Trends can transform your content marketing into a much more efficient and enjoyable process. Additionally, while it's great to create a library of evergreen content, capitalizing on timely topics — with the help of Google Trends — can give you a huge boost in traffic.
Once you have a nugget of an idea (and perhaps you're unsure about the number of clicks it'll drive), plug it into Google Trends — it'll then spit out relevant and related topics and queries, complete with the search volume. If it's not trending, it's probably not a piece of content worth creating; use these results as the basis of your content strategy.
Identify Seasonal Trends
Do your ecommerce brand's sales fluctuate depending on the time of the year? Are you struggling to determine when to stock up on particular products? If so, Google Trends can come to your rescue.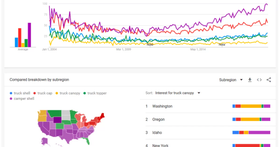 For example, if you're an apparel retailer who sells heavy winter coats, you can use Google Trends to see what time of year people search for winter apparel the most. (Hint: It's probably way earlier than December!) Using this information, you'll have a better sense of when to promote particular products, schedule your ads, and stock up on inventory.
Improve Search Engine Optimization (SEO)
Using Google Trends is a great way to improve your SEO, namely for keyword research. Once you identify relevant and trending keywords, you can use a keyword tool to determine whether it's worth pursuing — if the keyword is too popular, you might have a hard time ranking highly.
Conduct Product Research
Not sure if it's worth expanding to a particular new product or product category? Maybe you're interested in selling products adjacent to current items in your store, or perhaps you're just launching a dropshipping business and need some ideas on where to start? Regardless of why you need to conduct product research, you can head on over to Google Trends for reliable info.
Pro tip: Niches can skyrocket quickly, and you'll want to stay ahead of the curve. With that being said, make sure you factor enough time for production, marketing, and sales — you don't want to hop on a trend only for people's interest to wane immediately.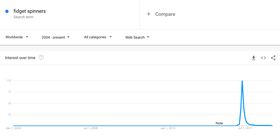 Start Searching!
Marketing is all about capitalizing on what's popular right now — luckily for you, Google Trends is free for all to use.
Want more insights into fantastic tools and tactics to take your brand to the next level? Check out AdRoll's Marketing Resource Library today!
Last updated on December 20th, 2021.