How to Build an SEM Strategy (Checklist Included!)
Topics Covered:
You know all about SEO. But what about SEM? Now that might be a term missing from your marketing dictionary. 
Read on for all things SEM, from the basics to the best SEM strategy tips. 
What Is SEM?
SEM — or search engine marketing — generates traffic from search engine results pages (SERPs) via paid efforts. By bidding on keywords related to your brand and products, SEM uses pay-per-click (PPC) ads to reach new customers searching for relevant items. 
It's a mighty tactic because you're grabbing the attention of shoppers who are actively searching for similar products to purchase. 
What's the Difference Between SEO and SEM?
Think of SEO as earned traffic, generated organically via keyword placement, content strategy, and site architecture. SEM, on the other hand, is bought traffic, in which you're paying Google for visibility.
SEO and SEM are even better when they're paired together, though. The former is a great way to reach top-of-the-funnel shoppers, while the latter attracts their bottom-of-the-funnel counterparts. 
Case in point: It's essential to include both an SEO and SEM strategy in your marketing plan. 
How to Build an SEM Strategy: A Checklist
✅ Choose the right keywords. You can create an awesome ad, but if you don't target the right keywords, you may not drive the best results.
Brainstorm. Develop a general list of relevant long-tail (phrases with 3+ words) and short-tail keywords (one or two words). Make sure you have a mix of both — it'll attract shoppers with different purchasing intents. Then, use a tool like Google Trends to find related keywords and terms with high search volume. 

Conduct competitor research. Determine what your competitors are ranking for, so you can better identify opportunities to outrank them. 

Narrow down your list. Try to match your keywords and content to various points in the buyer journey. Another good practice is to use a keyword research tool, such as SEMRush, to check the search volume of your keywords — the ideal keywords will have a medium level of search volume. (Too low and you'll have a small audience, too high and it'll be extremely competitive.) 

Organize keywords based on ad groups. You want to create precise ads — by grouping your keywords, you can craft better, more relevant ads, headlines, and CTAs. 
✅ Design your ads. PPC ads don't come cheap, especially in competitive industries. That's why it's worth your time to craft and test various creative options that genuinely grab attention and compel shoppers to click. 
✅ Choose your budget wisely. Nobody likes overspending, but underspending can also cause less visibility for your ads. We recommend using the Auction Insights in Google Ads to optimize your budget. 
✅ Review and optimize your site. It's unfortunate, but it happens: Your ad manages to drive a click, but the shopper doesn't take any action on your site. Make sure the journey from PPC ad to your site is as seamless as possible — in other words, ensure your site loads quickly, has quality content, and contains the product that the ad promised.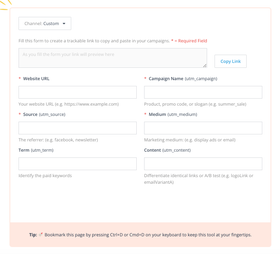 ✅ Confirm your analytics and tracking are working properly. Don't forget to use UTM links when possible. AdRoll has a free UTM link builder to help you out. 
✅ Continuously test and optimize. Similar to any marketing effort, you won't know what will work until the data starts rolling in. As you begin determining which creative and keywords are performing the best, adjust and optimize your SEM strategy as needed. 
It's Time to Rise to the Top (of SERP Pages)
With this SEM strategy checklist, you'll rise to the top in no time. For more ideas on driving clicks, traffic, and conversions, check out the AdRoll Marketing Resource Library.
Last updated on January 18th, 2022.