Home and Garden: The Businesses Thriving in a Time of Crisis
Topics Covered:
Millions of businesses have been thrown into a tailspin, but in the midst of it all, home and garden has emerged as a bright spot, seeing increased demand from consumers. As it turns out, the nationwide lockdowns have inspired many consumers to use their newfound time at home to improve their environment. Retailers selling all kinds of products for the home — ranging from fluffy pillows to home improvement supplies — have seen product sales surge, both instore and online. 
Estimates vary, but according to Forbes, spending in home goods and related categories saw an increase of 220% from the first week in March 2020 to the first week in April 2020. It may come as a surprise to some that the home and garden sector has emerged as one of the success stories of the pandemic at a time when restaurants and brick-and-mortar retail stores are seeing historic declines in revenue and temporarily closed manufacturing facilities have caused massive supply chain disruptions. But it seems that consumer psychology can help explain why the home and garden industry has seen such a strong rally as people hunkered down and began sheltering-in-place. 
"In times of crisis, research shows that people will engage in more comfort-seeking behavior," professor of Consumer Psychology at the University of Southern California, Jorge Barraza, explains in a recent Forbes article, adding that this may incline them towards more indulgent purchases that will make them feel comfortable in the short-term. This is the same reasoning behind why vice or sin stocks (alcohol, cigarettes, and other types of products that can be seen as "unethical or immoral") generally either see little impact on their revenue — and often a lift in sales — during a recession. 
The consumer drive to find small comforts during a time of major uncertainty has had an unexpected impact on brands in the home and garden space. And while some companies we spoke to already had a direct-to-consumer (D2C) business model that they could leverage for increased sales, other brands used the pandemic as the impetus for speeding upshifts to e-commerce that would have previously taken much longer to implement. 
But this increase in consumer spending hasn't been all rosy for home and garden brands. The pandemic still disrupted global supply chains and brands that had brick-and-mortar stores saw in-store sales decrease significantly. This has forced companies to make some pretty drastic changes in order to continue operating and find ways to meet consumer demand. 
Despite all that, some brands have taken creative approaches to transform crisis into opportunity. Here are a few home and garden brands that have found smart, innovative ways to respond to the current pandemic and continued to build their businesses — sometimes in surprising ways. 
In this article:
Good and Bed 
Léon & George
Cariloha
Horti
How to Not Just Survive, but to Thrive
Good and Bed
Good and Bed is a family-owned and operated textile manufacturer, distributor, and D2C company that focuses on bedding and linens.
"My mother started the business about 25 years ago in Bogota, Colombia," says Sebastian Morales, a co-founder of Good and Bed, who explained that his mother used to hand-make sheets for their family when he was a child. "Many of the products began in our home and later became the foundation for our business." They now sell to brands in a number of countries in the Western Hemisphere. 
That kind of heritage story put Good and Bed in a strong position before the pandemic hit. According to market research by FMCG Gurus, "Established brands should push heritage to offer reassurance around value." As consumers reacted to all of the uncertainty around the future by tightening their purse strings, brands with heritage became a symbol of stability. Just like after the Great Recession, heritage became synonymous with quality, and quality synonymous with value.
But heritage alone wasn't enough to get Good and Bed through. Strong market positioning can only do so much against the challenges of decreased spending, disruption of supply chains, and a near-total breakdown of retail norms. Instead, the company used its heritage as an inspiration for ways to solve its challenges, not as a solution all by itself.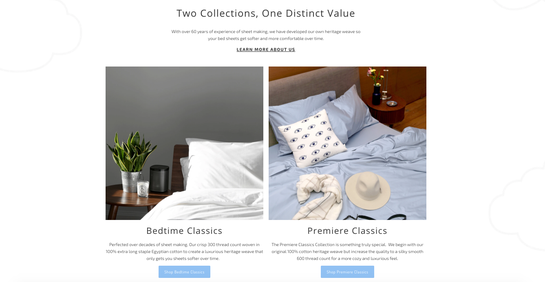 Back to the beginning
One of the first challenges that needed to be addressed was a simple and straightforward one: where to get products to sell. Like many other manufacturing facilities, Good and Bed's main factory in South America was effectively shut down for two months due to the pandemic. 
With a vertically integrated business model, figuring out a solution was more complex than just finding another manufacturer that could produce their products. Instead, Good and Bed decided to go back to its roots. 
"There's this quote from Mark Twain, and it says, 'history doesn't repeat itself, but it often rhymes,'" says Sebastian. "Going back to the early days of the business, when we got our first orders and didn't have our own manufacturing space, we relied on a lot of smaller satellite shops to deliver individual parts for the order and we amalgamated it all, piecemeal."
"What we did this time is we cut the fabric in our factory and then we would deliver the pre-cut fabric to our seamstresses' homes so they could sew and stitch from their homes," he continues. "Maintaining safety and social distancing guidelines has required a lot of creative engineering on the factory side. All our employees are like family to us. The main person who cuts the fabric has been with us since we started so we wouldn't be anywhere if it wasn't for their hard work and dedication," he adds.
This out-of-the-box approach to keeping their manufacturing chugging along ensured that they were able to continue to fulfill orders that were coming in, while keeping their existing manufacturing employees safe and still able to work. It also highlighted an opportunity for Good and Bed to support local healthcare workers in their community. 
With the company's seamstresses working from home to sew bed linens from pre-cut fabric, they found that the leftover fabric they had could be used to help ease the shortage of personal protective equipment (PPE) for healthcare workers in the frontline of the pandemic. This led Good and Bed to begin manufacturing face masks and disposable biosecurity overalls for first responders.
Rethinking sales channels
Having secured production, Good and Bed turned their attention to a bigger problem. Prior to COVID-19, the majority of their sales came from retail partnerships with brick-and-mortar stores. As the pandemic raged, retailers closed their doors across the country leading to a distribution problem for companies like Good and Bed.
"We've seen a massive jump in retail distribution [direct sales through the Good & Bed website] and that has been the biggest increase for us," says Sebastian. "On the wholesale side, we partner with big retailers such as Wayfair and Wal-Mart, and we have seen an uptick in sales on the online dropship model with them. But we haven't seen any new orders from storefront retailers. So I think we are turning more towards online sales, as the traditional storefront retailers are closed."
This shift to e-commerce isn't new. Even giant home retailer Bed Bath & Beyond has invested $250 million into digital transformation efforts — going so far as to turn 25% of their physical stores into e-commerce distribution centers. The pandemic, however, has accelerated this transition. With retail stores closed, brands have had to figure out their e-commerce strategy immediately if they wanted to survive.
For home retailers with physical storefronts, the message is clear: creating a digital presence and finding ways to sell to customers outside of a physical location is critical. Whether that means transitioning to e-commerce sales or implementing a BOPIS model (Buy Online Pickup In-Store), customers need more convenient and safe ways to buy from brands.
How Good and Bed are rethinking their sales channels:
[playlist tracklist="false" artists="false" ids="4847"]
The Takeaway
Smart brands look to their past to find innovative solutions for their future. Rather than trying to constantly race forward, the fastest growing brands will be constantly examining the things they do versus the things they did, and adjusting processes as needed.
It's never been more important to be online than now, but it's not too late to jump in even if you haven't previously. For companies that haven't made the full transition to digital-first, there has never been a better time than the present.
Léon & George
Millennials, squeezed between two recessions and feeling priced out of purchasing a house or starting a family, have turned to houseplants as a substitute. According to the National Gardening Association, millennials made up about 25% of the $48 billion spent on lawn and garden products in 2018. That number has been growing steadily and is set to continue getting bigger.
The millennial obsession with houseplants has run headfirst into the trend of "pandemic gardens." Reuters reports the pandemic has spurred an interest in gardening not just because gardening can feel therapeutic and provide stress relief, but also for the ability to supplement personal food supplies. Sales for seeds and supplies for vegetable gardens have seen sharp increases, and so have plants that cater more to design and decor than to survival. 
Léon & George, a premium online plant shop, found itself right at the heart of the plant craze as the COVID-19 crisis set in. But just being in the right place at the right time isn't always enough. The four-year-old startup still had to contend with legions of competitors, startups and established legacy brands alike. For Léon & George, the answer to standing out from the crowd was to not be part of the crowd in the first place.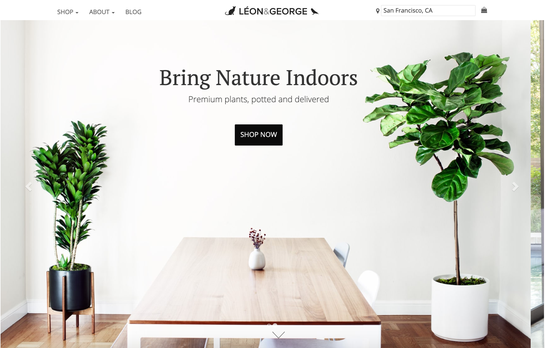 Get out of your comfort zone
Léon & George was born as a white-glove plant delivery service catering to young, hip San Franciscans. But founders Nico and Ron saw an opportunity to do more — to expand beyond delivering plants locally and bring their luxury experience to the country at large.
The pivot that came just in time for the pandemic actually sprung from the organic growth of their local business. "We had reached stability with local deliveries and we're starting to feel comfortable in California," says Director of Marketing, Renée Christensen. "A good thing to remember in business is if you're comfortable then you're not doing things right. It's no secret that there's been a growing demand for houseplants over the last few years, and we knew that if we wanted to meet that demand, we'd have to move out of our comfort zone. So we decided to start shipping our plants nationwide."
Renée explains Ron and Nico came from a design and engineering background. They brought that same engineering mindset to plants — the mindset that good enough could always get a little bit better with some hard work and creative solutions.
Léon & George immediately zeroed in on a big problem that stood out in the plant space: quality and experience. The industry was largely controlled by giant legacy players that hadn't updated their offerings in ages. Shopping at these stores felt impersonal, the products not very high quality, and then throw in the inconvenience of having to find the right plants, pots, tools, and put it all together, and it just was an outdated model for consumers who, nowadays, expect more.
Make business personal
The name Léon & George came from Ron and Nico's beloved pets — George is Nico's parrot, and Léon is Ron's cat — who loved the "indoor jungles" the founders created. They were the inspiration behind the company, not just in the branding, but for another key differentiator: personal is better when it comes to brands. And personalized is even better than that.
Léon & George saw personalization as a way to reach plant-loving millennials who cared just as much about their home's overall interior design aesthetic as they did their fiddle leaf figs. From the beginning, the company sold plants in design-savvy pots that were ready to be showcased as soon as they were unboxed. 
"That's an important detail because so many of our customers want to enjoy beautiful indoor greenery, but it can be quite the hassle to get it. What we want is that with just a few clicks, you can get that beautiful plant you saw in a magazine."
Selling personalized plant and pot combinations was a game-changer. Instead of competing with nurseries, big-box home improvement stores, and other plant delivery startups, Léon & George quietly sidestepped into the home decor vertical — a vertical where they were unique in offering live plants. Rather than fight for market share in a growingly competitive category, Léon & George created a category of one: they personalized their own market, using personalized offerings for customers.
How Léon & George makes customers feel cared for: 
[playlist ids="4848"]
The Takeaway
It may seem obvious, but the best way to get ahead is by figuring out what consumers want that no one else is doing, and zero-in on it with laser focus. Whether that's quality, speed, cost, or something else — focus on what's important, and the rest will come naturally.
Personalization is the next big thing; start planning for it now. Whether that's personalizing your marketing so that each customer gets messaging just for them, or products that are designed for individuals instead of demographics.
Cariloha
Cariloha has a long history of becoming whatever it needs to be to survive. The 13-year-old brand started out under the brand name "Del Sol" as a collection of souvenir kiosks scattered around cruise port locations selling island leisure products like watches, purses, and sunglasses. 
But standing out in the crowded souvenir and tourism market is challenging, and the brand was finding it difficult to differentiate itself. A test run of bamboo shirts that completely sold out within two weeks was the catalyst that the company needed to rethink their entire product line and business model. So Del Sol became Cariloha — a company that sells apparel, accessories, and home products made from bamboo, a sustainable material that's pesticide-free and rapidly self-regenerates when cut down. 
Today, the company has a D2C e-commerce site, a successful wholesale operation, and 65 retail showrooms across the mainland U.S., Hawaii, the Riviera Maya, and the Caribbean. But when the pandemic hit, all but two of the stores were forced to shut down. 
Pivot fast
Vice President of Digital Commerce, Jason Bertrand, says that like many companies, Cariloha began losing money mid-March 2020 and urgently needed to find a solution. They decided to switch the focus of Cariloha's online sales (which were largely focused on luxury bedding) to its store inventory (t-shirts, tank tops, yoga pants, and accessories). 
Cariloha took a big gamble on putting their unsold inventory front and center and used discounts, sales, and the scarcity model to turn dead stock into emergency revenue. "What we were able to do fairly quickly is pivot and run daily deals on products that we have excess inventory of, those that are more normally sold in stores," Jason explains. "A lot of our stores are in touristy destinations where people are more likely to buy shirts, shorts, and polos than a pillow or a mattress."
This strategy could have easily backfired without the right planning. According to Fast Company, no brand should make a mid-pandemic pivot before asking themselves, "What are the biggest challenges my current customers are facing right now that we can solve?" Answering that question can help companies identify what products they should be reprioritizing during and post-COVID-19.
The sudden pivot to focusing on selling their in-store goods online for reduced prices appears to be paying off: "We've seen a lot of strong activity online since the stores closed," says Jason, adding that since the supplier inventory they normally sell online is shut off, they've been able to spend more money than usual on raising brand awareness.
Brand value is a hard thing to quantify. But creating a strong brand that connects with consumers can have a huge payoff during times of market uncertainty. And Cariloha's increased focus on building brand awareness had a surprising side effect for the company — it tapped into consumers' nostalgia over travel and tropical vacations. 
"We are fortunate in this current climate that we still have a lot of products that speak to comfort. We also have a brand name that has this 'island' lifestyle associated with it. Since a lot of people are missing travel and the tropics, we like to position our brand in that way," explains Jason. 
Consumers are tired of lockdowns, tired of COVID-19 news, and tired of "new normal" after "new normal." Cariloha scored a big win because they realized quickly that what consumers really wanted right now was to be reminded of a time when life was fun and breezy.
Give more, get more
Like many other brands that produce and sell textiles, Cariloha has taken this opportunity to find ways to give back to their community. They've partnered with Mauli Ola, an organization that teaches children with different disabilities to surf, to manufacture face masks and they have donated masks and sheets to hospitals and frontline workers who need them. 
"It's been cool to give back as a result of the COVID-19 situation," says Jason. Cariloha's community support program has not only provided critical supplies for workers on the frontline of the pandemic, but it's also created a lot of goodwill for the brand. 
Companies can build deeper relationships with their customers by creating community outreach programs that align with their corporate values and mission statements. According to research from Accenture, 63% of consumers want to purchase from purpose-driven brands. Companies that find ways to connect their community outreach campaigns with their customer base can see a boost in engagement and customer satisfaction.
The Takeaway
Some of the biggest brands in history started life doing something completely different. Don't be afraid to play around with business models or radically change things up to keep up with what customers want and need.
Giving back doesn't just feel good; it's good for business, too. Companies that make a habit of giving back will find it easier to bond with consumers and build lasting engagements — the gold standard for brand building.
Horti
Started in Brooklyn, Horti takes a high-tech approach to the classic dilemma facing modern homeowners: "What kind of plant should I buy, and how do I keep from killing it?" The company offers a highly-tailored plant subscription box service that pairs potential "plant parents" with the right plants and builds customers' plant knowledge and confidence by slowly building up from simple greenery to more care-intensive vegetation.
"It's kind of like getting a karate belt in planting," says Puneet Sabharwal, CEO, and founder. "We start you off on really easy plants and then you elevate to slightly more difficult plants." 
Sabharwal says he began Horti with business partner, Bryana Sortino, three years ago as an experiment. He initially coached 20 to 25 of his friends through each stage of the plant buying process in detail, guiding them from selecting the right plants to what to do if one of them gets a brown leaf. As demand from his friends and acquaintances grew, Sabharwal saw an opportunity to turn his hobby into a business.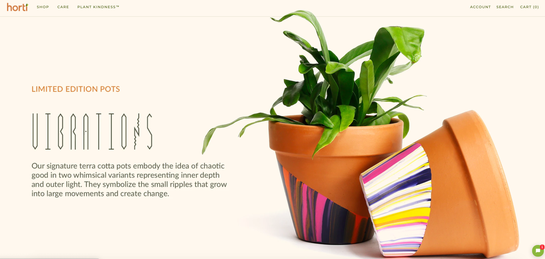 Give the people what they want
The customer base evolved naturally over the first two years with friends passing on their recommendations to their acquaintances. Puneet spent no money on ads but managed to gain organic traffic just from recommendations because friends and friends of friends were becoming exasperated trying to find plants that worked for them.
The majority of Horti customers are novice indoor planters wanting to learn "how to not be plant killers;" the rest are what Puneet describes as "seeking instant gratification" — customers who want to fill their space with plants all at once. So on top of the progressive subscription service, Puneet designed a system to order collections of plants, including a product named "Order a Jungle" — a large collection of plants that harmonize with each other in order to fill up a living space in one shot. Suddenly, Horti had addressed two of the biggest customer needs in one service.
Horti had defined what marketers call a Unique Selling Proposition (USP). People Research explains, "The main idea of the USP strategy is to present an advantage that the market will connect specifically to this specific brand and through this create a consumer preference and propensity towards the brand versus its competition." When brands have a clear USP, customers immediately recognize the product's appeal. With a focus on education and the ability to order an entire home's worth of plants, Horti correctly identified two.
"We felt like there was a gap in this market where a lot of decisions were being made about plants based on aesthetics (whether it's a pot or a plant itself)," explains Puneet, regarding Horti's USP. "We saw that when you bring plants home without knowing much about them or about the type of environment they need, a lot of people without the exact knowledge they need will lose these plants. That lowers your confidence in plant care at home. Eventually, you feel like you're a really bad 'plant parent,' or you will continue to buy more plants, but you'll do it in a way that's not sustainable." 
Horti grew with no marketing by offering a service that few others provided and appealing to some very specific buyer needs. 
Reimagining retail
Horti has a small "Horti PLAY nursery," but apart from this one physical retail outlet (which Puneet describes as more of an "experiential" tool than a revenue-generator), the majority of sales are online. And not just online, but subscription-based. As physical retail stores were closing due to shelter-in-place orders, Horti was able to largely continue as before.
"We were really worried in March because we weren't sure if we would be able to sustain the business or ship our plants as much as we want to," says Puneet. "But the foundation we created for setting up the online store over the past three years was really good. Mostly focusing on selling via our online platform has been playing out really well and has been paying off." 
And because the online infrastructure was there, and because Horti already catered to consumers' need for instant gratification with the "Order a Jungle" package, they were able to capitalize on a wave of customers stocking up on plants. According to the New York Times, horticulture businesses across the U.S. saw a surge in demand. And so in March, rather than seeing a reduction in revenue, Horti saw three times as much retail business. 
This paints a telling story of the changing landscape in retail. The traditional model of physical retail went the way of the dinosaurs years ago, sure, but even early online models are starting to fall to the wayside. The era of an e-commerce presence being a background to physical locations is giving way to a new range of digital-first businesses. These companies start online and build their business models online. They are able to personalize services better and can carve out niches that wouldn't work if they had to support a brick-and-mortar business. Horti found success because they didn't take a traditional company and move it online — they found success because they built a company that could only thrive in a digital space.
The Takeaway
Find the thing that makes you unique and lean into it. It's easy for competitors to copy products, business models, and marketing strategies. It's impossible to copy passion and excitement about what your brand does best.
Great digital brands don't just move an existing business model online — they redefine legacy models from a digital-first perspective. That means radically rethinking how things are done and what's possible, but the payoff is always worth it.
How to Not Just Survive, but to Thrive
Challenger brands can learn a lot from how these innovative home and garden companies have made their way through the pandemic and found opportunities for success by adjusting their business models, product offerings, and brand messaging to match the new reality for many consumers.
Brands have to be willing to think outside of the box, practice resilience, and be open to rolling out new products and initiatives quickly in order to respond to market conditions and consumer needs that are changing on an almost weekly basis. 
By looking at how other brands have successfully navigated the chaotic waters that the COVID-19 pandemic has brought to the retail landscape, challenger brands can find ways to continue to thrive once the dust settles. 
Last updated on September 16th, 2022.