D2C Brand Spotlight: italist
Italy is one of the leading countries in fashion shopping — it's a universal truth. Not only does "Made in Italy" imply a high quality and luxuriousness, but Italian retail buyers are respected for their meticulous eye for trends and new labels. For Italian and non-Italian brands alike, Italy is a key market for tourism and shopping also because of its advantageous pricing — typically 30-40% lower than other parts of the world. 
Because of complex import-export rules, luxury Italian shopping is generally thought of as "unobtainable" outside of Italy. You must be there in person to partake. That is until italist, an online marketplace fully dedicated to Italian luxury multi-brand retailers, came along.
Merging Luxury Fashion and Technology
Diego Abba, CEO, and founder of italist, always had a fascination with the queues of tourists outside Italy's boutiques. While long lines usually mean a sale, Italian boutiques always have lines — whether items are on sale or not. 
"I think it's a combination of two things," Diego explains. "First, it's difficult to find certain items outside of Italy, and secondly, people want to take advantage of what they call the 'Italian retail price,' meaning no complications on custom declarations and payments." 
So, Diego started italist to provide the Italian shopping experience worldwide. The website brings designer women's, men's, and kids' fashion to one place so that shoppers won't have to hop from store to store. Every item on the site is carefully curated from over a thousand brands, so high quality is guaranteed.
"The goal is to become the luxury e-commerce site," says Diego. "You can find in-season, authentic, impossible-to-find items from around the world, for up to 40% off." 
It was a venture that was a long time coming. "Although my focus was primarily on media tech, I've been in and out of the fashion industry for 20 years," says Diego. "That makes it easier to bridge the two completely different worlds of fashion and tech. Silicon Valley has had great difficulties in comprehending and investing in luxury fashion, and the fashion world is still far from fully embracing technology. I think we're novel in the retail space because we provide consumers with an excellent product selection, price, and convenience of ordering."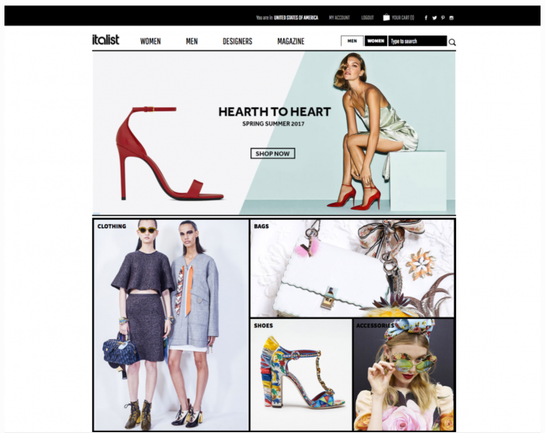 High Fashion in the Time of Covid
The luxury sector hasn't escaped unscathed by the impact of COVID-19. Many have had to transition to digital storefronts, and forecasters expect a short season with a 30-40% decrease in revenue for the year. 
However, the shift to online-only has only propelled italist's growth — retail therapy is now in high demand to combat quarantine blues, and people are spending more and more time online.
"Logistically, we were prepared, thanks to our omnichannel strategy," says Diego. "We're always thinking ahead and we utilize big data and analytics, which is rarely done in luxury."
Inbound Marketing FTW
It's this strong omnichannel marketing strategy that's created the foundation of their strong business today, even amidst a pandemic. And a critical component of that strategy is italist's inbound marketing efforts.
Diego and his team have placed an emphasis on the following:
Creating valuable content
italist does an excellent job with storytelling via their online magazine, which features content that their customers actually want. The magazine is chock-full of designer interviews, articles on the latest trends, and spotlights on their most engaged ambassadors. There's also a focus on educational content, including fashion advice such as what to pair with combat boots or ways to wear a scarf.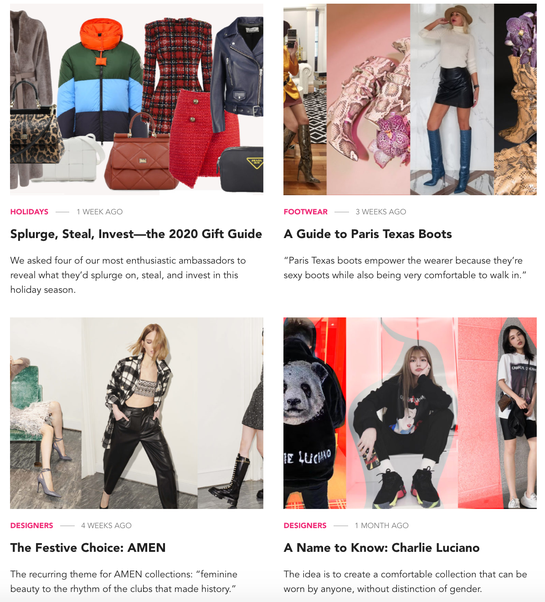 Pro tip: Be sure you know your audience before producing content. Build an audience profile and ask yourself: What do they want? What are their pain points? Where do they go for inspiration? What questions can you help them answer?
Leveraging social media and user-generated content (UGC)
In addition to their magazine, italist also prioritizes social media in their omnichannel strategy, particularly Instagram. "Through social media, we try to inspire our ambassadors and customers to wear and talk about us, engage with us, and we want to promote that on our site. I like this dual conversation, and I love that we have so many customers sending in their photos with our clothes. This is the dialogue I want to create; what I want to achieve in the end is a place that people can expect to go to to find rare treasures — like a discovery site, as opposed to a simple shopping site with lower prices."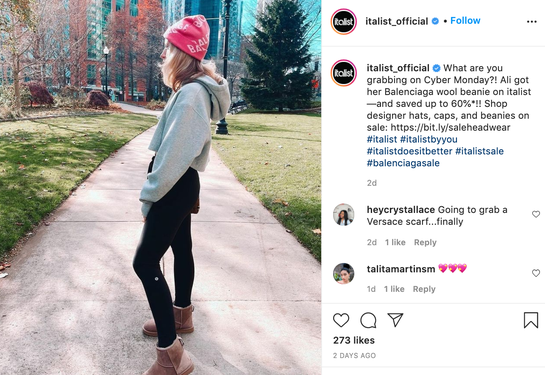 Pro tip: Don't restrict user-generated content to your customers — source internal content at no extra budget. Incentivize employees to share their experiences with your company or product through social media or your blog. 
Being strategic with emails
Emails are another critical component of italist's marketing strategy as the perfect way to introduce and educate new users on their brand. 
"We first welcome any new subscribers with emails around the basics of our site. We explain our unique business model and our price advantage. Many customers aren't familiar that the same item in a different place might vary in price, depending on the region. We explain our process of selection, our partners, and explain our customer reviews and feedback."
Pro tip: First impressions do matter. Create an automated onboarding email sequence — sometimes called a "welcome flow" — and continually experiment by adding or removing steps in the sequence and switching up delivery times.
Listen to your customers 
According to Diego, he makes it a point to always carve out time to read "every single review that comes to the company." His team then adds them to a dedicated "Reviews" tab on their website and their emails to subscribers.
Pro tip: If you see a negative review, don't leave it hanging — address it as soon as you can to show that you care about customers and their experience with your brand. 
What's Ahead for Luxury Fashion
When asked about what the future of luxury fashion retail will look like, Diego admits that it's unclear. However, he predicts that more and more hybrid retail models will emerge — and that companies will have to pivot drastically. "Many businesses will have to rethink their value propositions," he says, "And rethink their supply chain, logistics, and how they capture big data and analytics. It'll all come down to having an effective omnichannel strategy." 
Predictions aside, there's one thing that's clear: italist has always been, and will continue to be, ahead of the curve, thanks to their extreme focus on quality products, customers, and data. 
To see our interview with Diego, check out this episode of AdRoll Live:
Last updated on September 16th, 2022.