Clubhouse Marketing: Everything You Need to Know
Topics Covered:
It's the platform where celebrities like Oprah and Ashton Kutcher hang out. Mark Zuckerberg and Elon Musk are there, too. Recently valued at $4 billion, Clubhouse is one of the buzziest new social media apps, offering a space for uncensored audio group chats on virtually any topic.
Since the beta program ended in July 2021, Clubhouse's mysteriousness has lessened a bit. No longer invite-only, Clubhouse is the hottest playground for brands looking for new ways to connect with customers. 
Here's everything you need to know about Clubhouse marketing, from what the platform is to how you can get in on the action.
In this article:
What Is Clubhouse?
How Does Clubhouse Work?
How Can You Use Clubhouse to Connect With Customers?
Getting Started With Clubhouse
Get Chatting
What Is Clubhouse?
Clubhouse is a social media app where users can participate in audio-only chat rooms. Launched in March 2020, it hosts a thriving community where people can join or create their own "Rooms" to discuss any topic of their choosing. It's a place to learn new things, discuss current events, and meet people with similar interests. 
"Our goal was to build a social experience that felt more human — where instead of posting, you could gather with other people and talk. Our "north star" was to create something where you could close the app at the end of the session feeling better than you did when you opened it because you had deepened friendships, met new people, and learned," wrote the founders in a blog post about the company. 
In the beginning, however, the platform was marketed (and limited to) a select group of notable people, including celebrities, Silicon Valley hotshots, industry thought leaders, and well-known influencers. It was the place to be — and despite the exclusivity, the platform was valued at $100 million within a year of its launch. Soon after, the app expanded its user base by opening a beta program that allowed each new member to invite up to two friends. Curiosity caught on, and the platforms' base expanded from 600,000 active users in December 2020 to over two million in just a month. 
Fast forward to today, and Clubhouse has opened the platform for anyone to download from the app store. Open it up, and you'll see professionals, business leaders, and brands discussing a range of topics. 
How Does Clubhouse Work?
Clubhouse's premise (and interface) is relatively simple. When you open the app, you'll see a homepage that lists live Rooms related to interests you've previously selected. From the homepage, you can click on the search bar in the "Explore" tab to check out suggested Rooms, Clubs, and other relevant users you're interested in following. You can also quickly see all the upcoming scheduled rooms by clicking on the calendar icon.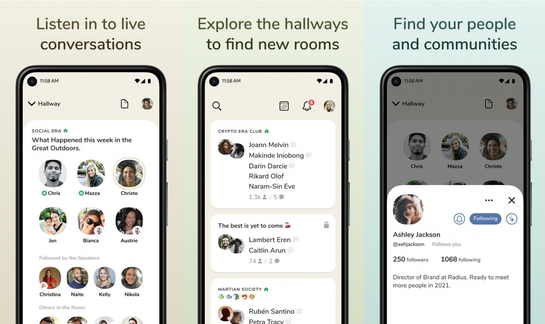 How do rooms work?
You can think of Rooms like a Zoom meeting or webinar, where most people are muted, and no video feed is available. As an attendee, you can:
Join or leave a Room whenever you want.
Tap the "Raise Hand" icon if you want to speak up or ask questions — your Room moderator can either unmute you or ignore your request.
See the profile photos and names of other participants in the Room.
Starting a Room is also a simple process — you can choose between Rooms that are:
Closed (limited to specific users you invite)
Social (available to your followers)
Open (available to any Clubhouse user)
Once you've started a Room, you are automatically assigned a moderator role. You may also be assigned a moderator role by someone else who launched the Room — say, if you're co-hosting an event with a friend. As a moderator, you:
Receive notifications for new Room attendees.
Receive notifications of attendees who have clicked the "Raise Hand" icon and are requesting to speak.
Have the ability to add people you follow to a Room. (They'll receive an invitation notification.) 
A Room only ends after the final moderator leaves, or if a moderator manually ends it. In other words, a Room with more than one moderator can last an indefinite amount of time.
What is a club?
Beyond just creating temporary Rooms, you can also create or join Clubs, which act similarly to Facebook or WhatsApp groups. Once a user joins a Club, they'll receive a notification when the club's manager starts a Room. 
How Can You Use Clubhouse to Connect With Customers?
Demonstrate your brand values
In the last few years, numerous surveys have shown consumers prefer supporting companies with authentic messaging and strong brand values rather than shop with bland big-box retailers. 
On that note, Clubhouse poses a new opportunity for brands to share their values with customers in ways that feel authentic and trustworthy. Similar to TikTok, it allows brands (or the people behind them) to be personable and approachable — and perhaps even vulnerable — within a community space. This can do wonders for building connections and driving brand loyalty. 
Build a community
When it comes to building a community, creativity can go a long way, especially if you prioritize relatability. After all, we've seen branded Zoom hangouts (and even happy hours!) explode in popularity during the pandemic. While Clubhouse allows you to host structured conversations, there have been some interesting use cases as well — one troupe of stage artists even performed an entire audio-only production of "The Lion King." 
Ecommerce brands looking to experiment with Clubhouse marketing can consider hosting Rooms with no specific topics — and instead use it as an opportunity to connect with customers on a personal level. It's also a great way to get more insight into those valuable customer profiles or even obtain feedback on your latest products. Remember: Marketing is all about building relationships. 
Showcase your expertise
From the start, Clubhouse's goal was to create a space for thought leadership — users logged in to learn about the latest news, tips, and ideas from industry leaders. 
To attract new audiences and build credibility, brands can consider co-hosting Rooms with other experts in their niche. Allow attendees to ask questions about your company or industry. For example, if your brand mission is all about championing environmentally friendly business practices, you can launch a Room that candidly discusses the topic. You can also invite your customers to an audio-only tour of what happens behind the scenes when they click the "buy" button, from sourcing ethical materials to finding greener delivery options. 
Getting Started With Clubhouse
If you're getting excited about all the possibilities Clubhouse offers but are also feeling a little nervous about hosting a live, uncensored, and unscripted conversation that anyone can tune in to, don't worry: Here's what to know before you get started, plus some best practices to transform your brand into a Clubhouse marketing superstar. 
Conduct your research
The key to mastering any social media platform — new or not — is conducting thorough research before diving in. To get started with Clubhouse marketing, download the app, scroll through, explore, and ask yourself these questions:
Are there any Clubs related to your brand, product, or industry? How often do they host Rooms? What are the common topics they discuss in the Rooms?
Are there any unique conversation formats that your competitors or industry-adjacent companies use? What are some ways to create an improved experience for your community? 
What are some existing content marketing strategies that you can adapt for Clubhouse? For example, do you currently organize and create any podcasts, webinars, virtual events, or videos?
Who are some thought leaders of industry experts that you can potentially partner with?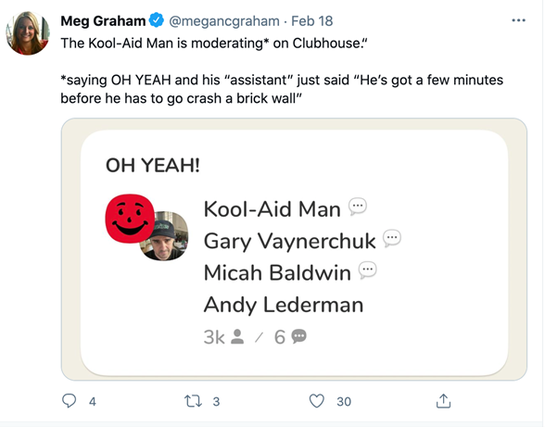 Optimize your bio
Your Clubhouse bio is the first thing users see when they click on your profile, so it's worth the time to make it engaging. Think of it as an opportunity to establish your brand identity and credibility. 
The best bios will:
Clearly state your brand and what you do. (e.g., Are you an apparel company, or do you sell wellness products?)
Describe how your content can help Clubhouse users. What is your intention for being on the platform? 
Provide relevant social proof, awards, and accolades. 
Include information on what Rooms or Clubs you host.
Use line breaks and emojis to emphasize particular details and split up chunks of information.
As always, try to include as many relevant keywords as possible (without coming across as forced) to increase the likelihood of a user finding your profile from Clubhouse's explore page.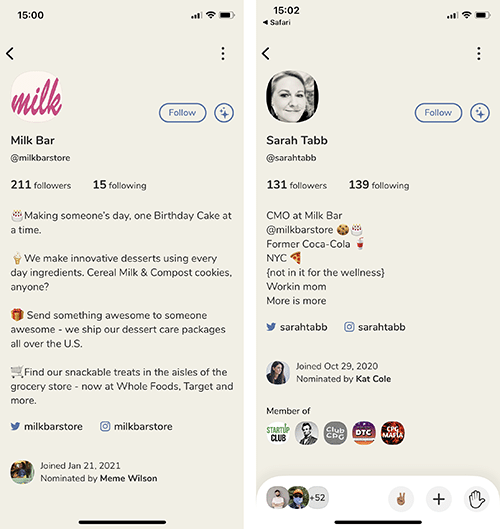 Participate in relevant clubs and rooms
The best way to attract attention on Clubhouse is by being an active participant. To get your profile in front of other users, be proactive in joining rooms relevant to your industry. Don't be afraid to speak up — as long as you have something genuinely interesting or valuable to say. Participating in conversations is the first step to positioning yourself (on behalf of your brand) as an industry leader worthy of a follow. 
Pro tip: While the benefits of joining large Rooms with thousands of users may seem obvious, we've found that it's a lot easier to get invited on stage to speak in smaller Rooms. 
Start a room
Finally, it's time to host your own Room. As a moderator, you have a few tasks:
Keep the conversation flowing by inviting others to participate (rather than dominate the entire discussion). 
Speak candidly and offer valuable content. 
Ask questions that unlock insight into your target audience (that you can later use to inform your Clubhouse marketing strategy).
Think of your Room as an event. Rather than simply starting a Room whenever you feel like it, schedule one for later, so you're able to promote the date and time across your other marketing channels and drum up excitement. 
Share the mic
Listening to one person drone on and on is no fun. For Clubhouse, two, three, or even four voices work a lot better than just one. That's why the app makes it easy to co-host Rooms with other members of your team, micro-influencers, or even relevant brands and creators in your industry. It's a win-win situation for everyone involved — not only are you able to offer a more engaging experience for listeners, but you're also able to tap into new audiences. 
For example, the founders of Glow Recipe, a beauty brand, recently partnered with a body-positive influencer to host a product launch on Clubhouse: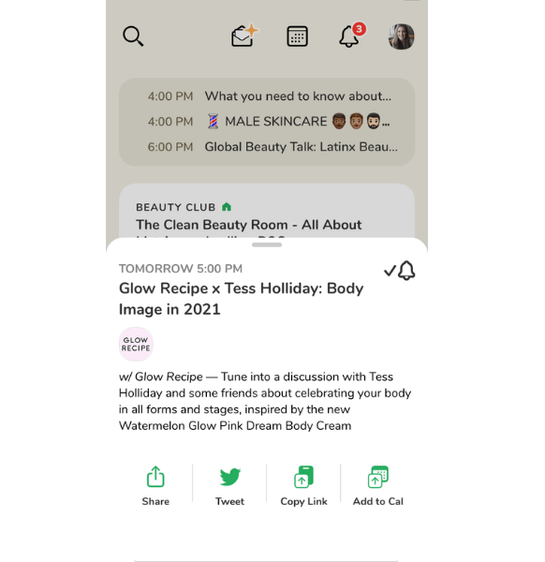 Their listeners were able to ask questions about the brand and product in an intimate conversation with the founders. And the best part? The nature of Clubhouse meant they could easily dive into deeper topics, such as the lack of representation in the beauty industry and what consumers want brands to improve on. 
Pro tip: To make sure your Room runs as smoothly as possible, collaborate with your co-host partners to create a general outline of what key talking points you plan to hit. 
Get Chatting
Clubhouse is a fantastic new way for brands to connect with their customers, spark thoughtful discussions, form valuable bonds, and create entertainment — all at the same time. 
But succeeding at Clubhouse marketing will require patience and tremendous creativity. If you decide Clubhouse marketing is suitable for your brand, we encourage you to get started ASAP. As more companies flock to the platform, the space will become increasingly saturated, making it significantly more challenging to stand out. Now is the time for experimentation and growth. 
Want some more ideas that'll take your marketing to reach new heights? Of course you do! Check out the AdRoll Marketing Resource Library for everything you need to feel inspired. 
Last updated on September 16th, 2022.