An Introduction to Selling Wholesale for Shopify Plus Merchants
Topics Covered:
There are only so many orders you can fulfill before you start fantasizing about better strategies to grow smarter and faster. Here's a secret: There's an easier way to scale, and it's called wholesale selling. 
If images of Costco or Alibaba's overwhelming websites come to mind when you think of wholesale selling, try to banish them, at least temporarily. Unlike what you may expect, selling wholesale doesn't have to be an intimidating experience when you have the right tools, plans, and partners.
Here's everything to know about selling wholesale for Shopify Plus merchants, from tips and tricks to how to get started. Get excited! 
What Is Selling Wholesale?
Wholesale selling for ecommerce brands is straightforward: You sell your products to other retailers for a reduced price, typically at least 50% off. Your customer (which in this case is the retailer) takes on the responsibility of selling your products to their customers at a higher price. In other words, if you love ecommerce but dislike all of the tedious marketing tasks that come along with it, wholesale selling may be perfect for you.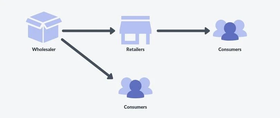 With wholesale selling via Shopify Plus, you can enjoy:
An increase in repeat, reliable purchases 

Higher average order values (AOVs)

A self-service wholesale channel for customers — that's less time spent managing wholesale orders via phone or email 

Higher return on investment (ROI) — reliable repeat customers mean less money spent marketing to new ones

A new set of customers or even markets

More time to focus on product development
How to Get Started With Selling Wholesale
Shopify Plus merchants can take advantage of numerous new solutions, including more automation and personalization capabilities, plus access to features that make selling wholesale easier than ever.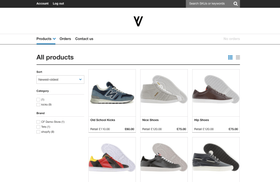 Pro tip: Don't know where to start? Use our checklist to guide you through the necessary tasks related to wholesale selling, from operations to storefront design to marketing. 
Tips for Acing Your Wholesale Selling Strategy
With selling wholesale serving as an entirely separate business-to-business (B2B) sales channel, you'll need a new set of marketing tactics and strategies compared to what you're familiar with:
Build relationships with your wholesale customers. Even though you're selling to another business, it doesn't mean there isn't a human element involved. Similar to B2C selling, wholesale works better when you connect with the customer. For instance, talk with them to better understand how to serve their needs, build target audience profiles, and reward their loyalty with discounts or other freebies.  

Make sure your wholesale and B2C Shopify sites are distinct — or else you run the risk of confusing consumers. Shopify Plus allows you to launch a password-protected wholesale store that only approved retailers can purchase from. You can then add a link to your regular store's footer that allows retailers to express their interest in buying in bulk. 

Expand payment options. Selling wholesale often involves different payment terms than B2C selling. Rather than accepting immediate or invoice-only payment, consider offering net-30 options — but note that you'll want to screen retailers and request references before accepting these terms. The key is to offer various payment options that your wholesale customers can pick from.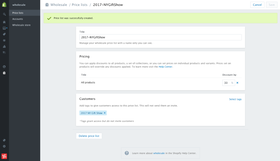 Seek out your own wholesale customers. Though some wholesale customers will find you organically via your B2C website, more often than not, you need to be more proactive. This means reaching out to retailers who you think would be a good fit, attending trade shows, and joining wholesale marketplaces. 

Give them an incentive to purchase. Similar to how you offer flash sales and irresistible promotions on your B2C Shopify site, add some buying motivation for your wholesale retailers, too. Think free samples, bundle deals, free shipping, or low order minimum requirements. 
Get Started With Shopify Plus Today
With Shopify Plus, juggling the B2C and B2B sides of your business is a one-two punch. If you're ready to hop on the wholesale train, check out the AdRoll app for Shopify and Shopify Plus merchants — you'll instantly level up your marketing and boost the chances that an interested retailer will find your store. 
Last updated on January 5th, 2022.