Abandoned Carts for Shopify Merchants: Tackling Them Before, During & After They Happen
Topics Covered:
We all know abandoned carts are no joke. With 70% of all online shopping carts abandoned, ecommerce stores lose a whopping $18 billion in annual revenue — and with more people shopping online than ever before, this number is set to grow.
It's not all doom and gloom, though. We recently hosted a webinar with three ecommerce marketing leaders from AdRoll, Yotpo, and Cohley who shared expert advice on how to tackle abandoned carts before, during, and after they happen — here are the key takeaways. 
Psst: And if you haven't already, make sure to download the Abandoned Cart Recovery Playbook for Shopify Merchants for even more pro tools, tips, and tactics. 
Tackling Abandoned Carts Before They Happen
Using UGC and reviews to build trust
Lack of trust is one of the top culprits for shoppers failing to check out, so user-generated content (UGC) and reviews are hugely beneficial to back up your value propositions when shoppers are near checkout.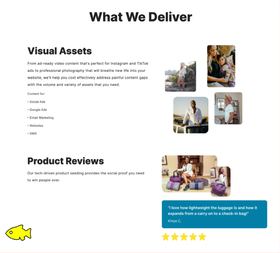 Here are some top tips to keep in mind when generating and leveraging UGC to recover abandoned carts:
Sprinkle social proof throughout your site, including on product image galleries

Make your review process as simple as possible — consider offering smart review prompts and cross-channel review opportunities (e.g., email or SMS)

Create email follow-ups reminding customers to leave a review

Feature reviews, testimonials, and UGC in abandoned cart recovery ads
Launch a loyalty program
Loyalty programs can go a long way in driving a sense of urgency and offering incentives for shoppers to follow through with their purchase. After all, nobody likes leaving potential perks, awesome freebies, or irresistible discounts on the table.
When it comes to using loyalty programs to reduce cart abandonment, it can be as simple as reminding members of their available rewards or how close they are to leveling up to another loyalty tier.
Tackling Abandoned Carts While They Happen
Optimize your checkout process
Cluttered or unnecessarily complicated checkouts are major red flags that can cause shoppers to abandon their carts.
To optimize your checkout process, we recommend:
Keeping the number of design elements and colors to a minimum

Removing checkout fields that aren't immediately required for order fulfillment

Adding more payment options like PayPal, Afterpay, and Klarna

Allowing shoppers to check out as guests (rather than requiring them to create an account)

Providing shipping and fulfillment costs upfront throughout the site
Add more trust factors at checkout
Beyond streamlining the process itself, Shopify merchants can use trust factors to reduce cart abandonment rates at checkout:
Add return and exchange policy links to remind shoppers which options are available if they're dissatisfied with their purchases

Use a help chatbot to help shoppers get immediate answers to their questions

Include trust badges to appease shoppers' data security worries
Tackling Abandoned Carts After They Happen
Use retargeting ads and emails 
Retargeting is one of the most powerful marketing strategies available to brands, especially when it comes to addressing abandoned carts.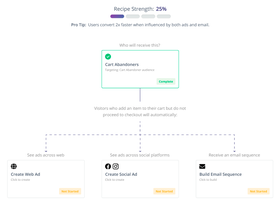 Here's a pro tip: Rather than choosing between retargeting ads and emails, create a strategy that combines both. 
Our research has found that when used together, retargeting ads and emails can double conversions (compared to only using ads). They also reduce the time it takes a shopper to convert by half.
To maximize the effectiveness of your retargeting efforts:
Feature specific products in your ads and emails (ideally the ones that the shopper had just abandoned)

Offer extra checkout incentives to make purchasing irresistible (e.g., promo codes, free shipping, and bonus loyalty points or rewards)

Experiment with the timing of your cart abandonment retargeting campaign (e.g., 1 hour, 24 hours, and 48 hours after checkout abandonment)

Test urgency driving features, such as cart expiration countdown timers, with Shopify apps

Use appealing lifestyle images rather than plain product photos
Get started with an SMS abandoned cart recovery solution
If you want to level up your retargeting efforts even more, consider using SMS to recover your abandoned carts — 98% of all SMS messages are opened by consumers and have an 8x higher engagement rate than email.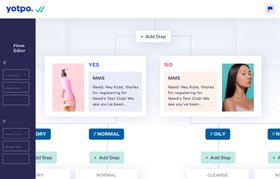 The best practices involving SMS are similar to emails and ads: Make sure to A/B test your campaign and build personalized paths to purchases using flows and custom conditions. Additionally, try to segment your subscribers using data points (such as their behavior and attributes) whenever possible and use an SMS marketing solution with a compliance-first approach.
Learn More About Abandoned Carts
Ready to transform your abandoned carts into new opportunities to impress customers and unlock more sales? We've got examples of how Shopify merchants put these tips and tricks into action — see how they rose to new heights by watching the webinar!  
Last updated on April 21st, 2022.