Holiday Ads Tips: 6 Ways to Optimize Your Ads for the Holidays
Topics Covered:
It's the most wonderful time of the year! The days are starting to cool, the leaves are turning orange, and consumers are indulging in all things pumpkin spice. 🎃 🍵
Over the years, the holiday season has become an increasingly key time for brands to capture sales. With this year being no different, we've conducted early research on what marketers can expect going into the fall and winter. So, without further ado, here are some key trends you can expect, as well as 6 holiday ad tips to help optimize your digital ads this holiday season. 
Celebrate the Holidays in Your Ad Copy
Here at AdRoll, our researchers have found that November and early December are the only times in the year when brands have a higher average clickthrough rate (CTR) for ads that reference the holiday season, compared to ads promoting a sale, discount, or fantastic deal. (During the rest of the year, ads that include any kind of promotions are the top performers when it comes to ad engagement.)
Come the holidays, amp up the festivities a little more! We've all had a tough year, and it's time to live it up. Write creative copy that gives shoppers cause to celebrate. 
Pro tip: Using seasonal and holiday-themed emojis are a great way to grab attention fast. Pop in a snowman ☃️, Santa 🎅, or menorah 🕎 emoji into your ad copy to convey a festive mood. 
Oh, and try not to be vague, either. For example, "Save $150 on Black Friday doorbusters" will always be more compelling than a headline that just reads "Thanksgiving Deals." 
Choose Your CTAs Wisely
Launching ads during the holiday season can sometimes feel like sending a gladiator off to the Colosseum. With so much competition for consumers' attention, it's crucial that each element of your digital ads is tested, optimized, and somehow creative — easy to say but tremendously difficult to do, to say the least. 
Our research found that during the last few holiday seasons, "Shop Now" and "Learn More" are the most commonly used CTAs (in fact, they make up over 75% of CTAs combined). Compared to last year, 2021 consumers' engagement with ads that include the "Shop Now" CTA is twice as high compared to "Learn More."

The lesson here? When crafting CTAs, go for strong, active verbs that make taking action feel irresistible to shoppers. While it pays to be creative in marketing, your CTAs during this extremely pivotal holiday period need to be clear, direct, and short. Don't be afraid to stick to the standard "Shop Now" — it works for a reason. 
Use Holiday-Specific Images
The holiday season means gifts, warmth, family and loved ones, eggnog… we could go on. The point is, alongside headlines, CTAs, offers, and copy, you also need holiday-specific images to tie everything together with a shiny bow.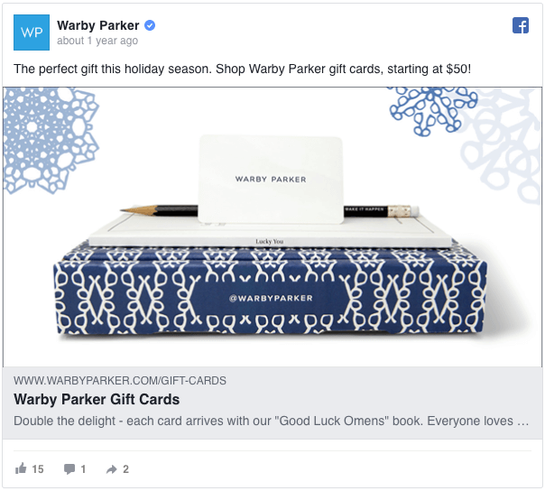 This holiday season, be sure to use a relevant holiday theme in your creative. This means:
Taking lifestyle photos that evoke a holiday sentiment (think snow for Christmas or pumpkins for Halloween.)
Featuring products related to the holiday season, e.g., gift bundles. 
Adding holiday-specific graphics, borders, or other elements to ad visuals. 
Find Your Perfect Audience
You should clearly understand your buyer persona, with all focus groups and audience research done and dusted by the time Q4 rolls around. The holiday season is a cutthroat period for ecommerce brands, and you need to start targeting interested shoppers early for the best results. The last thing you want to do is spend your precious marketing dollars on people who may not be interested in your products at all, just because you didn't do the necessary legwork. 
One easy audience group to tap into? Gift-givers. This holiday season will likely be the first time families can come together in over a year, meaning a lot of shoppers will be eager to open their wallets and purchase presents for their loved ones. 
However, targeting gift-givers will require a slightly different strategy. While it's easy to determine shoppers' personal preferences and send them ads related to things they want, it gets a little tricky when it comes to advertising products they can buy for others. Here are some quick tactics:
Leveraging social proof. Use social proof from existing happy customers to convince shoppers their loved ones would love your products. 
Creating top-of-the-funnel content. Gift guides and even Buzzfeed-style quizzes can be easy ways to help shoppers decide which products would be perfect for their loved ones. 
Bundling gift sets. To make it easy for shoppers to buy something their recipients will love, create bundles of your top products.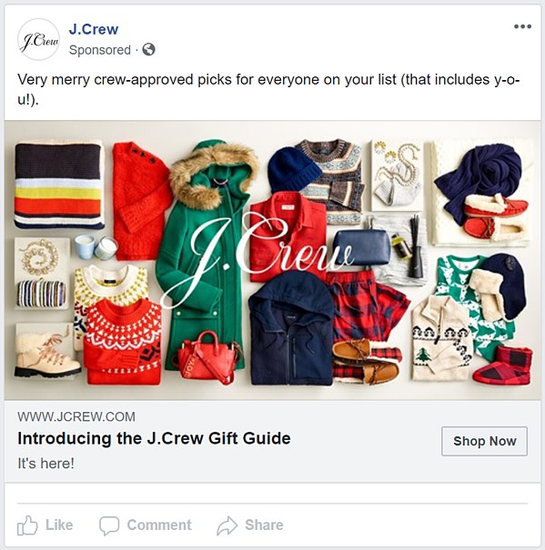 Need help? AdRoll combines machine learning and AI to help you launch ads that reach your ideal customers — that means more sales, conversions, and growth. Get started here. 
Design Competitive Offers
Come the holiday season, every store you visit will be offering 20% off, if not even more ludicrous deals. So, to compete against other retailers on heavy-shopping dates, your promotions must be clear, simple, and highly compelling. 
But this doesn't automatically mean you have to slash your prices (in fact, doing so willy-nilly can easily destroy your profit margins and damage your brand image!). No, there are a ton of alternatives to discounts, including freebies, exclusive experiences, and add-on perks — here are some ideas on how to wow shoppers without promotions. 
And remember: free shipping and returns will be the bare minimum this year. Be sure to plan your operational processes early, as there will likely be widespread delays. 
Remove Unnecessary Text From Images
If you plan to launch digital ads this holiday season — or really, anytime — there's one huge thing to keep in mind: the less text, the better. This is also applicable to video thumbnail images. 
While Facebook has quietly removed its "<20% text in image" rule for ads and no longer penalizes text-heavy ads, it's still good practice to keep your images clean and clutter-free. While the platform isn't enforcing the rule anymore, their guidelines still state that "images with less than 20% text perform better."
Winter Is Coming
You might be sweating in your shorts and flip-flops right now, but trust us: winter is coming fast. Prepare early, and you'll guarantee a successful holiday season filled with cheer and sales. 
We know how intimidating and stressful the holiday season can be, which is why we've created numerous resources on how you can make it as smooth-sailing as possible. Check out the AdRoll Marketing Resource Library.
Last updated on October 10th, 2022.