5 Ways to Optimize Your Customer Reviews Program for Conversions
Topics Covered:
Reviews, testimonials, user-generated content (UGC) — social proof is not only here to stay, but it's also more important than ever. Customers have trained their eyes to seek out both five-star and one-star reviews, choosing to only support reputable and trustworthy companies they've deemed worthy of their hard-earned dollars. 
On the other side, this poses a massive challenge to growing brands — while having a great product certainly helps, it's no longer enough to grab attention, encourage clicks, and boost sales. 
So, are your customer reviews optimized for conversions? Let's take a closer look at five ways to make some improvements. 
Why Are Customer Reviews Important?
We love data here at AdRoll, so we're letting the numbers tell the story:
Shoppers who see social proof on an ecommerce site convert at a 161% higher rate than those who don't. 

Having ten reviews on a given product can boost conversion rates by 53%. 

92% of shoppers trust social proof over other types of advertising.

In our internal testing, AdRoll saw 32x the conversion rate at less than half the CPA when using customer reviews in ads. 
Not only does a robust customer reviews program increase conversions, but there are also a ton of other benefits: You're building brand trust, encouraging community-led product discovery, and collecting valuable UGC that you can then use in your other marketing channels. 
Don't Be Afraid to Ask
If your products' review sections look a little barren, why not just ask customers to leave you some? Email and SMS are two of our favorite ways to approach this. (In fact, Yotpo lets you send emails that collect reviews directly, meaning customers don't even have to leave their inboxes! These in-mail forms boost review collection by 6-8x.) 
Feel free to request reviews more than once, too. Here's where having a great automated email platform comes in handy. 
Test Your Review Collection Timing and Frequency
While we'd love to give you a concrete "best time" for review requests, the truth is that it all depends on your product and industry. Only ask for reviews after a customer has received the product and had time to use it. This may be a few days or even a few months if your product benefits don't take effect immediately. 
Keep It Simple
The biggest deterrence to a customer leaving a review is complexity. Nobody likes waiting for browsers to load, log in to a site, or click through a dozen pages — after all, they're doing your brand a favor for writing a review. 
You'll want to make it as simple as possible for them to compile their thoughts and upload their photos, which means incorporating tools like smart prompts. Goodbye, brain fog! 
Reviews + Retargeting Ads = A Winning Formula
The easiest way to start using reviews in your web, social, and email ads is by featuring your product's star rating or sales volume. Pair it with a snippet of a review describing its value proposition, and you've got yourself a winner.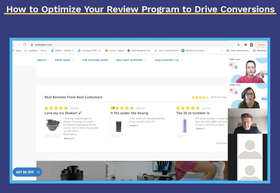 One brand that's been doing a fantastic job with this is Ice Shaker, a D2C brand that sells insulated protein shakers. They've used Yotpo to collect over 2,000 reviews, which they've then featured in their AdRoll-powered retargeting ad campaigns. They've seen great results in attracting new shoppers to try their products out, as well as encouraging existing customers to return for more. 
5 ⭐s Here You Come!
If you're interested in learning more about improving your customer reviews program, make sure to check out this fun webinar co-hosted by AdRoll and Yotpo! 
Last updated on November 15th, 2021.